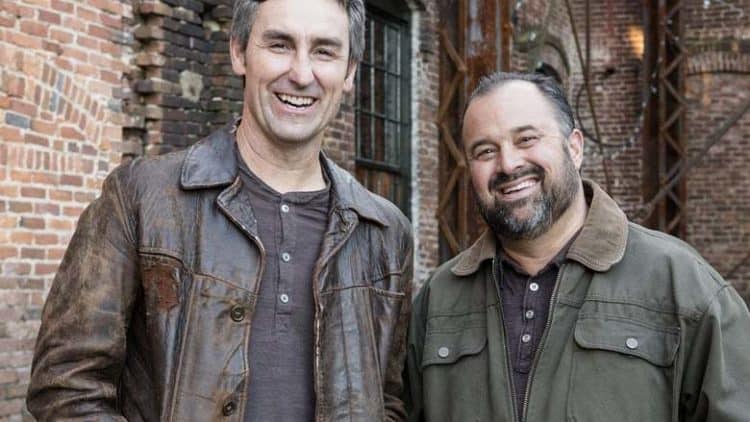 Reality shows come under fire for being suspected to be fake and "The American Pickers" has not escaped the wrath of fans. For instance, people have claimed that the found items are usually planted and the negotiations are for the camera since they agree on the price beforehand. Whether fake or not, the truth is it still remains an enjoyable show that has managed to film over 20 seasons. For such a successful show, you must be wondering what the cast makes; wonder no more.
Frank Fritz
Frank may have become a familiar face due to his appearance on "The American Pickers", but his celebrity status does not stop him from getting negative publicity. He once was arrested for driving under the influence of alcohol and Xanax and later charged with OWI first offence. Another time he was on the spotlight for failing to deliver to a buyer a polarimeter whose price they had agreed to be $300. Well, no person in business ever made his money without stepping on a few toes. That said, if you thought television is not a wise career choice, wait till you hear that Frank makes about $500,000 from every season of "The American Pickers."
The show set Frank on the right career path since from a young age, collecting antiques was his passion. Before being on the series, Frank was not famous, and he does not mind not being known to some even today. Although he has always loved collecting antiques, he still is not thrilled by the fame it brought him. According to Frank, the excitement is not about being on camera and finding new things, but getting to meet new people. Well, for someone who is only in it to expand his social circle, Frank is surely getting paid handsomely for the shaking of hands.
However, even before making his way onto our screens, Frank was still getting to meet new faces every day through his firefighting and fire inspecting job. With a firefighter getting an average of $22.53 per hour or $46870 per year, the career change has seen the net worth of Frank rise. Frank receives $10,000 per episode of the show, but his income does not come from "The American Pickers" alone. He also has a shop, Frank Fritz Find, where people can buy all sorts of antiques. Additionally, the vintage collector authored a book, How To Pick Vintage Motorcycles, inspired by his love of the ride since his teenage years. Cumulatively, Frank Fitz is reportedly worth around $5 million according to Hollywood Mask.
Mike Wolfe
Mike is not the type of person to hear a person being given credit he does not deserve. Therefore when he knew that people thought that he and Frank were business partners, he set the record straight. According to Mike, they never were co-owners of the business. Instead, Mike allegedly had been collecting vintages for over 25 years, and he only labeled the enterprise in 2000. However, they both do not hide the fact that they were in the same school, Bettendorf High School, from where they knew each other. The contradiction is that while Mike is adamant that he was in the collection business alone, other sources claim that Mike and Frank were in the business thanks to a mutual friend who wanted a joint venture.
Whatever the truth may be, the fact remains that Mike has become synonymous with the show. It was a struggle to make it to television because according to Quad-City Times, Mike's attempts to land TV deals never bore any fruits. His luck changed when he got the contract with History Channel.
His passion for antique collection also dates back to his childhood, and he might have been motivated after selling a bike for $5,000. He also makes about $500,000, and his net worth is $5 million. Besides being on "The American Pickers," Mike also makes his money guest-starring on other television shows such as NCIS where he starred in one episode as himself. Mike and Frank seem to have very similar interests considering that Mike also has an antique shop, Antique Archaeology, which gets lots of visitors every day.
Danielle Colby
Danielle has an infectious energy which made her earn a spot among the vintage collectors of "The American Pickers" after being asked to manage Antique Archaeology by Mike Wolfe. The quick and unexpected rise put money in the bank for Danielle but cost her first marriage. Danielle revealed that her husband could not handle the fame and the relationship ended up crumbling. Still, the money she makes is not as much as Frank's or Mike's. Danielle only makes about $54, 837 annually according to Reality Star Facts. The funny thing is that History Channel had refused Danielle to come on board claiming their contract was with Frank and Mike only.
However, the amount is higher compared to the rest of the employees who are paid about $8,000 less. It must be because her managing job entails a lot of work, including budgeting for Mike and Frank while they are on the road, and coming up with viable business plans. She also is responsible for finding a buyer after liaising with antique collectors who are willing to sell their stuff. While we are told never to mix business and friendship, Mike and Danielle have gone against this advice. They have known each other for 20 years which explains why Mike entrusted her the business. The closeness has been speculated to be more than that, but the two clarified they are best friends, nothing more.
While a take-home salary of $15,000 per episode would be lucrative to some, Danielle still finds the time to make some dollars on the side. She is a skilled Burlesque dancer who was in a professional dance group that performed in Iowa and Illinois. Danielle also owns a clothing boutique in Chicago which has been in operation for more than eight years. Although we know her due to her work on "The American Pickers," she still would have become famous due to her owning a roller derby team in which she also performed. Unfortunately, she left the group due to many injuries. Dance is her passion, but anything related to arts will still do the trick for Danielle.