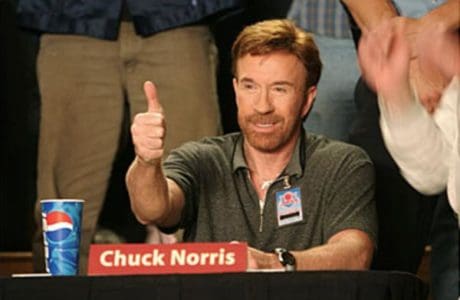 The way Kevin Burwick of TVWeb puts it this almost felt like a Hail Mary to get Chuck Norris in on Hawaii Five-O for a cameo after so much time spent trying. The fact that his son is the stunt coordinator for the show does make feel as though a cameo should have happened some time ago, but more than once it would appear that scheduling issues took precedence and the legend didn't get the chance to show up on the program as desired. Now, near the end of the show, it would appear that Norris is finally going to make that brief appearance, though it would appear to be coming in the second to last episode which makes a lot of people wonder just how the finale is going to top a moment that has Chuck Norris in it. That's kind of like having the 4th of July fireworks and expecting people to listen to a PSA at the very end when it's all said and done. Still, getting Chuck Norris on the show is still a big deal since the guy is a boost to just about any program he happens to grace with his presence as his notoriety has only continued to grow throughout the years.
Another question being asked is if Norris will show up for a cameo on the upcoming reboot of Walker: Texas Ranger, since of course he was the first and in some people's minds only Walker given that he kind of made the whole show. That question might not be answered for a while to come since production is shut down at the moment and will likely stay that way for the foreseeable future. One would think that the show would bring him back at the very least as a nod to his character and to acknowledge just who's to thank for the program even being around to reboot. Chuck Norris has been a part of pop culture for so long that a lot of people that are still too young to remember a lot of his exploits are still fully aware of just how great he is since the guy is someone that's been around during the time of legends and has created his own legacy throughout movie after movie and show after show in the decades he's been around. At this point it's pretty obvious that age is starting to catch up with him a bit as he's looking a little more worn and wizened, but plenty of people are still more than willing to talk him up and speak of his exploits and the uncounted memes that make him out to be one of the toughest guys around. Ethan Wolff-Mann of Thrillist has a few more facts about Norris that some folks might want to check out.
There's just something about Chuck and has been for a long time now that makes a lot of people believe that he's worth following and believing to a very impressive degree. It could be that he's backed up a lot of his own hype and hasn't relied solely on the movies and TV to build up his reputation. He's one of those that has put in the work and has held an impressive record that has earned him the kind of regard that a lot of people still give him. This is one reason why just about anyone would love to have him on their show, since he's an icon in an era where icons appear to be popping up everywhere with far less achievements under their belt and more demand for respect because they're human beings. Norris is the kind of guy you respect largely because he's been there, done that, and yet he remains one of the most humble people around and appears very easy to talk to. Somehow it doesn't sound as though getting him on the show had anything to do with ego, money, or even creative differences, but was limited to scheduling and when he could actually make the trip out. Obviously this time around he decided to put other things on hold so that he could make the trip and make an appearance on the show.
Whatever capacity Chuck tends to show up in on any program or movie he's usually seen as pretty awesome no matter if he fights or not. It's hard to say anything negative about a legend that doesn't always embrace his own popularity but kind of flows with it, accepting what people think of him while just rolling with it as things go along. He might only be appearing on one episode but it's likely going to be one that fans of the show will remember for a while to come since certain stars have the ability to draw in the fans and make them recall just where they were when they saw them at one time or another.