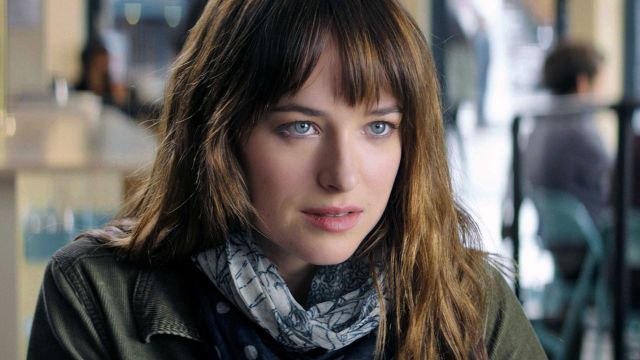 With a little over ten years in the acting industry, Dakota Johnson has become a fan favorite. Johnson has turned herself into a household name, following her appearance in the wildly successful Fifty Shades series. For the most part, she prefers to maintain a low profile and doesn't toot her own horn. That does not stop the paparazzi from meddling, especially when it comes to her relationship with Coldplay lead Chris Martin. A lot can happen in a decade. This is true for Johnson, whose real shot gaining the attention of the public would have been through her famous parents. Here's how she turned that around:
A Hollywood Upbringing
Dakota Johnson is no stranger to the world of acting since she was born in it. Her father, Don Johnson, is famed for appearing on Miami Vice in the '80s. Johnson's mother Melanie Griffith also rose to prominence in the '80s, appearing in films such as Body Double and Working Girl, for which she won a Golden Globe Award. In an interview with Drew Barrymore, who was also raised in Hollywood, Johnson dished out on aspects of her unorthodox upbringing. " It makes you, like, really adaptable. Kind of a malleable person, and you can be anywhere." She said. Johnson also revealed that, as a child, she jumped from school to school and was also homeschooled. " I struggled so much with homework and all the things that you're supposed to learn when you are consistently in one place." She added.
An Interest In Modeling
As a teenager, Johnson was interested in acting, but could not pursue it at the insistence of her parents. She took to modeling instead, which was as close as she could get to the industry at the time. She would take photoshoots for Teen Vogue alongside other celebrities' children. Those moments would come full circle when, upon her success, Johnson would grace the cover of Vogue. In the fun and entertaining shoot, we would learn that Johnson likes to do her own makeup, and has quite the hard time channeling her inner supermodel. She would need tips from Karlie Kloss on how to make herself taller, and drink 'model' water using a straw and a wine glass. At the end of it all, we'd see her face just how she likes it; with the most minimal makeup possible. Johnson has bagged a couple of modeling gigs in the past, including working on a campaign for Australia's Wish.
Starting Out As An Actress
Johnson's start in the acting industry began in 1999 when she portrayed the role of Sondra in Crazy in Alabama. It wasn't until 11 years later that she was ready to fully pursue a career as an actress. Prior to starting out in the profession, Johnson attended acting classes with Tom Todoroff. Her first job came in 2010 in the form of the Mark Zuckerberg biopic The Social Network, in which she played the role of Amelia Ritter. Between then and the time she landed the role that gained her worldwide fame, Johnson appeared in a number of films, including Beastly, For Ellen, and Goats, in which she played the role of Minnie. Johnson landed a minor role in 21 Jump Street, a makeover of the show that brought Johnny Depp fame. The film, starring Channing Tatum and Jonah Hill, brought Johnson some form of recognition.
A Short-Lived Stint On Television
In 2013, Johnson landed a part on the Fox series Ben and Kate, where she portrayed the main role of Kate Fox, a single mom who was just trying to keep it together and take care of her daughter Maddie ( Maggie Elizabeth Jones). At a past interview, Johnson revealed that she bonded quickly with Jones and Nat Faxon, who played Kate Fox's older brother, Ben Fox. The show was however canceled after a single season. Johnson's next stint on television would be on The Office, in which she appeared on the final episode. Way before she earned the world's attention alongside Christian Grey, Dakota Johnson was an employee of Dunder-Mifflin, at least for a single episode. She served as the newest accountant after Kevin (Brian Baumgartner) was fired, and was uniquely spotting a blonde look.
'Fifty Shades Of Grey' And Worldwide Recognition
Prior to landing a role in Fifty Shades of Grey, Johnson appeared in a number of films, including The Five-Year Engagement, Date and Switch, and Need for Speed. In 2015, Johnson appeared in more films, including Fifty Shades of Grey, which gained her worldwide fame. While the movie was a hit commercially, many critics found it to be an injustice to the book. In her review of the film, Susan Wloszczyna wrote: " But not even all the architecture porn in the world–Taylor-Johnson does love a panoramic shot of phallic skyscrapers twinkling at twilight against a cloud-covered cityscape–can compensate for a story that quickly goes limp once "will she submit or won't she" becomes the primary question. Blindfolds, riding crops and whips are employed but do little to heat up matters. Ana, it turns out, is none too pleased with the idea of punishment as a turn-on. But if anyone is punished by "Fifty Shades," it is the audience. By the time the screen goes black, leaving much unresolved and little in the way of a real climax, no one can blame those who loudly groaned after realizing they have to wait for the inevitable sequel for any sort of real satisfaction."
Transitioning Into Production
Since achieving worldwide recognition, Johnson has reprised her role as Anastacia Steele in the Fifty Shades of Grey sequels, Fifty Shades Freed and Fifty Shades Darker, both of which were commercially successful. Her film career continues to soar, having appeared in more productions, her most recent one being The Lost Daughter, in which she portrays the role of Nina. In addition to having a steady career in front of the Camera, Johnson has transitioned into securing work behind the camera as a producer. 2022 will mark her entry into that aspect of filming, with two films, Am I Ok? and Cha Cha Real Smooth marking her production debut.Fifty Shades Darker
Tell us what's wrong with this post? How could we improve it? :)
Let us improve this post!