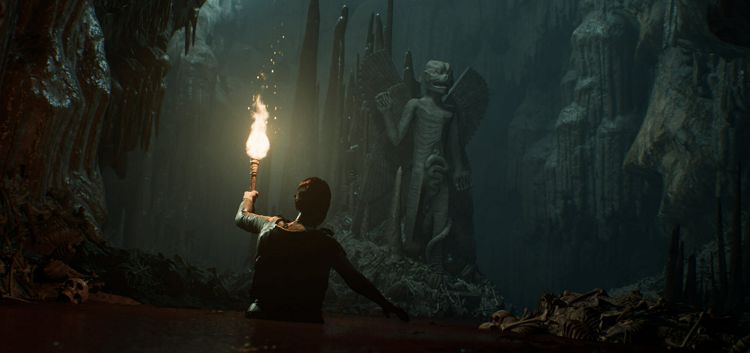 The Dark Pictures Anthology: House of Ashes is the newest installment of this unique horror series. The first entry, Man of Medan, was released in 2019 in which sparked an annual release of two more chapters. In 2020, Little Hope came out, and now House of Ashes is available. Back in 2015, Until Dawn crept its way into players' homes worldwide which garnered some rather universal praise. It brought back the long-dormant adventure games of yesteryear, in which players took control of situations through multiple choice. Somewhat similar to the "point and click" games that dominated PCs during the 90s, Until Dawn revitalized this concept. This ultimately birthed The Dark Pictures Anthology series for this current generation that's building up a rather robust saga for itself.
Developed by Supermassive Games, The Dark Pictures Anthology: House of Ashes is an interactive survival-horror drama. The plan is that this series will be stacked with eight installments. The fourth installment, The Devil In Me, is scheduled to be released in 2022 and will serve as a "season finale", of sorts. All of the games have connective tissue in various degrees, even though each story consists of different characters and themes. The story of House of Ashes takes place in 2003 during the Iraq war. Players will be involved with five distinct characters who are trapped underneath a temple. Even though that situation is harrowing enough, ancient creatures who were ripped from their slumber due to the turmoil above, stalk these characters in the dark. It's up to the player to find a way to escape this tomb before it's too late. Depending on the decisions players make, it can have dire and long-standing consequences. If lucky enough, all of the characters can survive this ordeal. Thus, it's also entirely possible that everyone can die. Therefore, this game comes with multiple endings which entice various playthroughs and experimentations.
Video:
As Above, So Below
House of Ashes is certainly an upgrade from the other installments in many ways. The developers over at Supermassive Game took note of all the complaints and concerns regarding all of the annoyances of the previous installments. Starting with Until Dawn, the camera angles were fixed and it was difficult to really see or address situations that were unfolding. To rectify this problem, the developers implemented a 360-degree camera in which the player can control freely. This helps give a more immersive and cinematic feel to the game which, in turn, helps with the decision-making process. Even though the main feature of interactivity is multiple-choice, there are also some light quick-time events peppered throughout the playthrough.
Speaking of which, there is also some adjustable difficulty levels that players can utilize. What this does is basically slows down the QTE segments and gives players some breathing room to make some split-second decisions. The monsters in this installment are essentially vampires that avoid sunlight at all costs. Hence, the characters in House of Ashes sport a flashlight that's attached to their firearms. This can be used to find new pathways and shine light into murky areas that seem rather foreboding. Given that these blood-sucking parasites don't fare well with any form of illumination, these flashlights can act as a good deterrent, as well. The decisions that players will need to make aren't really cut and dry. Sometimes, things will be within a morally gray area to where the pressure can force a player to make a decision with a heavy heart.
Shared Trauma
Surprisingly, even though this is a survival-horror game, House of Ashes comes with varying modes that players can try out. One would assume that this would be a standard adventure that's akin to The Walking Dead from Telltale Games. The Dark Pictures Anthology is taking things to the next level. The core experience can be found in the "Theatrical Mode." This will most likely be the main reason that gamers of this series will try this entry out. Then again, there are other interesting features available. One is called "Shared Story." This is a returning multiplayer option where two players can take control of different characters throughout varying chapters during a single playthrough. This is an innovative prospect that hasn't really been seen before in other games of this sub-genre. Supermassive Games are taking the initiative to make The Dark Pictures Anthology titles something special and their multiplayer creations are often regrettably overlooked.
It is also possible that two players can share a sole chapter together, feeling like they're literally in a horror movie. Hence, since the story is being played through two different angles, this can cut the playthrough in half. Therefore, the "Shared Story" option is ideal for a party night or even sleepovers, for that matter. Another feature is called "Movie Night." This is basically the same as the "Theatrical Mode," however different players will take on the role of their respective characters. Therefore, it is solely up to them to make decisions for one of the five main characters. If the character dies, then the player is out of the game. At the end of the game, there will be a summary that showcases how the players did and they will be given rewards accordingly. This game mode can be a nice little way to spend Halloween night, or just on a gloomy evening with friends.
The Horror That Binds Us
The Dark Pictures Anthology: House of Ashes is something that every horror fan should check out, at least once. This is especially true for players who dug Until Dawn. Even though these games may have their quirks, there is no denying that there is something fresh to them. The overcrowded survival horror market can make it easy to step over a title that glowing with potential. Given that the next installment, The Devil In Me, is scheduled to come out next year, maybe it is a good time to get acquainted with this series. There is a surprising amount of depth to them and the replayability factor can go a long way. So, any player that is hankering for a horror title that isn't really centered around combat or stealth, maybe that should give The Dark Pictures Anthology a try.