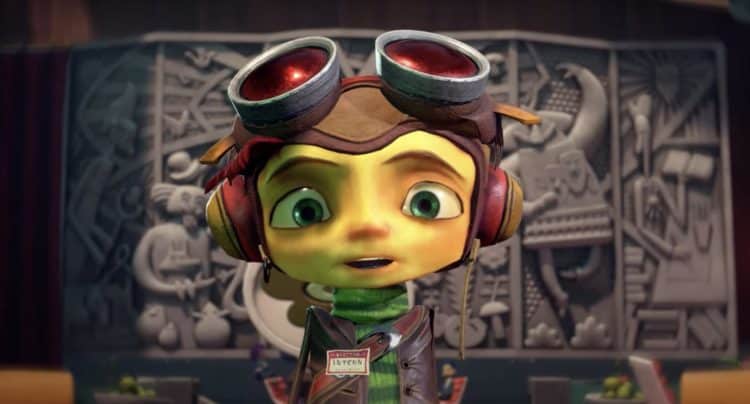 After almost 20 years of waiting, Psychonauts 2 just went gold. Every once in a while a gem shows up that makes a small splash and builds a cult following years later. Psychonauts was released in 2005 by Double Fine Productions and it was a mind-warping platformer that explored the inner depths of the consciousness. Players take control of "Raz", a kid with advance psychic abilities that runs away from the circus to join a summer camp. This camp is full of other kids that have the same psychic powers and they're training to become special spies called "Psychonauts." Within the camp, there's something mischievous afoot bubbling in the background and Raz must enter the minds of all the characters to unravel the mystery. There will be new characters introduced along with old friends that will need help.
Despite the fact that this game only sold 100,000 units when released, it received sparkling reviews with its writing, unique level design, and innovative gameplay. Close to fifteen years later, the news that a sequel is coming is reigniting interest in this title. Players are now reintroducing themselves with Raz and his friends and prepping for the next adventure with Psychonauts 2. The story picks up right after the last adventure and players won't need to worry about playing the first game to know what's going on. There will be a recap with everything once Psychonauts 2 boots up. Hence, there will be no need for players to go back and play the original unless curiosity strikes them.
Video
Going Mental
Even though Psychonauts is now stepping into the current generation, the classic look and feel will remain intact. Of course, everything is going to play smoother and will have much better fidelity. The basic gameplay fundamentals are still going to be there. Double Fine Productions aren't really reinventing the wheel with their IP. It appears that they are playing it safe and simply enhancing everything that made the original special. This time around, Raz will become an intern within the Psychonauts HQ. Even though his dream is to become a full-fledged agent, he is not quite ready. He will be going on missions and will be receiving on-the-job training with a host of new characters. These characters will act as the anchor with Psychonaut's story, giving Raz clues about the mystery. One example is Gisu, who is an engineer and skateboarding fan, that will teach Raz rail grinding. Another character is Adam Getty, who will be the bookkeeper of the Pscyhonauts's lore in which players can use to learn more about this universe. The other new characters will be, Norma, Lizzie, and Sam Boole.
These characters will teach Raz some new "Psi-Powers" which will help him navigate NPCs' mental stages. These types of powers include; pyromancy, cryomancy, levitation, and telekinesis. Even though the game will play in a third-person perspective, there will be segments to where it will become a 2D platformer. The developers over at Double Fine Productions are obviously using these segments to show players how they see the world. Players will actually control Raz running through a novel, using the words and sentence structure as platforms. Another segment will have Raz hopping along on x-rays and hospital machinery to make his way across. There is going to be a new level of creativity with Pschyonauts 2 level design, especially with the new specs now available. Psychonauts 2 will be packed full of new ideas regarding stages and characters.
Mind Your Step
Any player that has played the first installment will notice that the game feels aged. This is the natural course of things when it comes to game design. Psychonauts is almost 20 years old, after all. Even though Raz will be going on adventures in other characters' minds, he will also be exploring his own mind. Raz has some of his own issues to address, including his family's water curse. Raz will also be able to read the minds of characters, opening up a window that shows what they're thinking with something called "clairvoyance." This can be used just for kicks and also to expose secrets on a level. Another new little feature in Psychonauts 2 is called "mental connection." This changes the minds of characters, simply by connecting thought bubbles that are found throughout the levels. This feature can also be used to help Raz grapple up to higher places and even whip enemies closer for melee attacks. The mental connection will be a primary element with the new levels that will also serve with progressing the story.
When it comes to enemies, there are quite a few new ones in Psychonauts 2. In the form of gargoyle and demons, these are the manifestation of "doubts" and "regrets." They will be crawling everywhere in the characters' psyche and they will be a constant danger to Raz. Thus, sensors will also be around in this sequel. Their job is to squelch the thoughts that don't belong in a character's mind, including Raz. They will be a constant nuisance to players during this adventure. They act almost like the agents in The Matrix trilogy. Raz will also be able to conjure up a thought bubble to use as a balloon to float across pitfalls. In terms of fighting, Raz will be equipped with a myriad of new moves. He can use a "psychic beam" that blasts an energy beam from Raz's head to blow holes in enemies. Plus, he also comes with a "psychic punch", to where Raz can use to knock enemies back. Additionally, Raz will also have some new unlockable abilities that will help him with exploring and combat as the story progresses.
Unlocking Memories
Psychonauts has built a healthy fan base in the last 15 years. The sequel just went gold a couple of days ago and it won't be long before it will be in players' homes. The original was a refreshing platformer that introduced a whole world of level design and gameplay mechanics. It appears that the sequel will be adding a new layer of its foundation for the next generation. Psychonauts 2 is slated to be released for the Xbox and PC on August 25th.
Tell us what's wrong with this post? How could we improve it? :)
Let us improve this post!