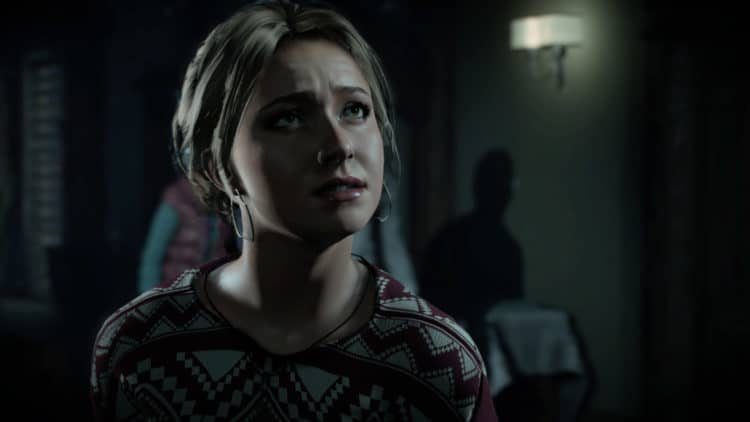 Horror fans might remember [easyazon_link identifier="B00MV7KVP4″ locale="US" tag="tvovermind00a-20″]Until Dawn[/easyazon_link] from 2015. After all, the PS4 title received praise from a wide range of criticis, which enabled it to far exceed the video game developer Supermassive Games' financial expectations. In this, Until Dawn was helped by the fact that it was a remarkable title with few that are capable of matching it in a meaningful sense.
Story-wise, Until Dawn is centered on a group of friends who are invited by Josh Washington to a lodge on Blackwood Mountain for some wintertime fun. The first time, some of the friends play a prank on Josh's sister Hannah to run into the woods, which in turn, causes Josh's other sister Beth to follow her. Unfortunately, the two sisters are pursued by an unknown creature to a cliff's edge. A stranger manages to kill the unknown creature with a flamethrower, but he fails to rescue the two sisters who proceed to fall.
The second time is when the main part of the plot starts up. Once again, Josh invites the same group of friends to the lodge, though with the obvious exceptions of Josh's two sisters. It isn't too long before things start going wrong. In part, this is because Josh pulls a prank on the group in retaliation for their role in causing his sisters' disappearance. However, it takes no more than a short period of time before it becomes apparent that there is something else on Blackwood Mountain. Depending on the player's choices, it is possible for them to uncover much information about what is happening on the mountain as well as what has happened on the mountain, with examples ranging from Hannah and Beth's final fate to the true nature of the unknown creatures lurking upon it. Eventually, the player is able to call for assistance that will arrive at dawn, though it is the player's choices that will determine whether any of the characters survive long enough to be evacuated via rescue helicopters.
Summed up, Until Dawn is something of a love letter to the horror genre as a whole, which is the kind of thing that can appeal a great deal to horror fans. However, what makes it most remarkable is the way in which its story is told. For example, there isn't a single dominant perspective for the plot. Instead, the player will take on the perspective of a wide range of characters, thus enabling them to cover much more of the events on Blackwood Mountain than otherwise possible. Furthermore, the player's choices as one character can have an important impact on the options that are available to the player as another character, thus making for a remarkable range of outcomes. In fact, it is perfectly possible for one play-through to end with a total of eight survivors, just as how it is perfectly possible for another play-through to end with no survivors whatsoever. As such, while Until Dawn is an excellent homage to horror movies, it is an excellent video game with plenty of replayability as well.
Are We Ever Going to See an Until Dawn 2?
Naturally, since Until Dawn was so successful, people have been wondering about the potential for an Until Dawn 2. For instance, Supermassive Games's announcement that its latest release The Dark Pictures Anthology: Man of Medan would be released for three platforms triggered a huge amount of speculation about whether its close working relationship with Sony was over. Something that prompted Supermassive Games to state that said relationship remains intact by pointing to a number of titles being developed for Sony platforms that haven't been announced at this point in time. Perhaps unsurprisingly, this resulted in a further wave of speculation about what those titles might be towards the end of 2018, which included guesses for a hypothetical Until Dawn 2.
There is no guarantee that Until Dawn 2 is actually being worked upon at this point in time. However, it isn't unbelievable that this might happen at some point in the future. Certainly, some of Supermassive Games's recent titles suggest that it is still interested in the Until Dawn setting, meaning that while a true successor to Until Dawn hasn't happened so far, it seems like an inevitability.