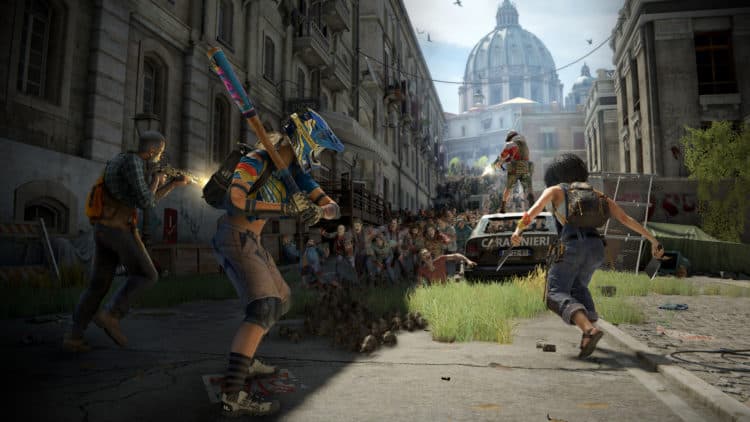 World War Z has had a few adaptations that go beyond its 2006 novel by Max Brooks. In 2013, a movie was released, that was directed by Marc Forster, which was loosely based on the book. Then, of course, a video game version of this property was brought to the public that was developed by Saber Interactive in 2019. Needless to say, World War Z is a hot property that is thick with content that could possibly go on forever. With the usage of the Swarm Engine, Saber Interactive managed to make a video game that captured the look and feel of the movie. Players' screens become flooded with zeke as they desperately fight them off with any tool that's available. The game has had a pretty good amount of praise and has garnered a following that still packs the servers to this day.
Suddenly, a trailer was recently dropped that showcased World War Z: Aftermath. This is a follow-up to the original that takes every facet that the original had and upgrades it. World War Z the game has sold up to 15 million copies and, as far as zombie genres go, this is an impressive number. It was only natural that Saber Interactive was working behind the scenes to find ways to up the ante with their already astounding tech. World War Z is mainly a co-op experience, but it also included a campaign to which players take control of different characters in various parts of the world. Players can play with their friends during these stories, or they could go solo and play with bots. Places like New York, Toyko, and Jereusleum were visited that all had varying difficulties and adventures. These were self-contained stories that were told in bite-sized chunks and it helped give this game a sense of mythos. With World War Z: Aftermath, this feature will be making a comeback. Players will be re-visiting some characters from the original while also being introduced to new slayers in other parts of the world, including Rome.
Video
Endless Slaughter
The undead chaos that was the staple of the original World War Z game makes a triumphant return. In some areas, the combat will be up close and intimate while others will be an all-out war in open areas. The melee in the first World War Z may have felt a bit clunky, but it's getting an overhaul in World War Z: Aftermath. There's going to be more fluidity to the combat and more animations to help cull the herd. Of course, there will be a more extensive arsenal of weapons to use such as the fire axe and sledgehammer. Plus, there will also be a dual-wielding system where players can arms each hand with sickles, cleavers, knives, and more. Customization is also getting upgraded to where players can further enhance their favorite class and mold them to suit their particular lifestyle.
All the classes from the previous game will be making a return including a new one called the Vanguard Class. This class comes with a portable electric shield that's can be used to plow through hordes of the infected and help carve a pathway. It appears that this class will be under the "heavy class" variety and it comes with an M500 shotgun along with the portable shield by default. Many of the unlockables will focus on enhancing the shield in various ways and perks that include gaining life with melee attacks. Players that enjoy playing tank-like characters might want to keep an eye on this class. To balance things out, since there's a new class being introduced, there is also a new threat. In World War Z: Aftermath, hordes of rats will be a new obstacle to overcome in the midst of all the zombie madness.
New Hordes
Yes, this new menace may seem a little out of place with a zombie-horde shooter, but it definitely spices things up nonetheless. They will scatter all over the ground in random patterns that will require surgical precision with firearms to hit. Luckily, there will be enhanced crowd-clearing weapons like the flamethrower and RPGs to overcome them. Speaking of weapons, players will be free to customize their weaponry to their choosing. With will be daily challenges and special modifiers for players to get their hands on special rewards. While there will be endless hordes coming in all directions, the performance of the player will depend on the type of enemies and items that will spawn. Therefore, it appears that the difficulty will organically adjust to the game mode strictly based on how well the player is doing.
World War Z: Aftermath will run on 4K|60 FPS on next-gen systems. Due to the beefy specs that come with next-gen hardware, the Swarm Engine can truly bring a next-level experience with the zombie hordes. With that said, this installment will have a "Horde Mode XL" which will bring hundreds upon hundreds of zeke on the screen in real-time. This mode will come shortly after launch in a post-launch update for the PS5 and Xbox Series X/S. Even with this new model is in the pipeline, players that are well-versed with the World War Z game know that it is played solely from a third-person perspective. However, with World War Z: Aftermath, players can now choose to play from either a third-person or first-person perspective. This option will certainly help with maps that are in confined places.
Zombie Killers Unite
For players that never played World War Z the game will be happy to know that this installment comes complete with all the content from War War Z: Game Of The Year Edition. On the same token, players who have already purchased World War Z will be treated with discounted purchase parts to help gain an edge for the zombie war that's ravaging the planet. The next installment is going to take this co-op undead mayhem experience and give a boost of steroids to help appease its established fanbase and real in a new generation of players. World War Z: Aftermath is expected to launch this coming all for the PlayStation, Xbox, and PC.
Tell us what's wrong with this post? How could we improve it? :)
Let us improve this post!