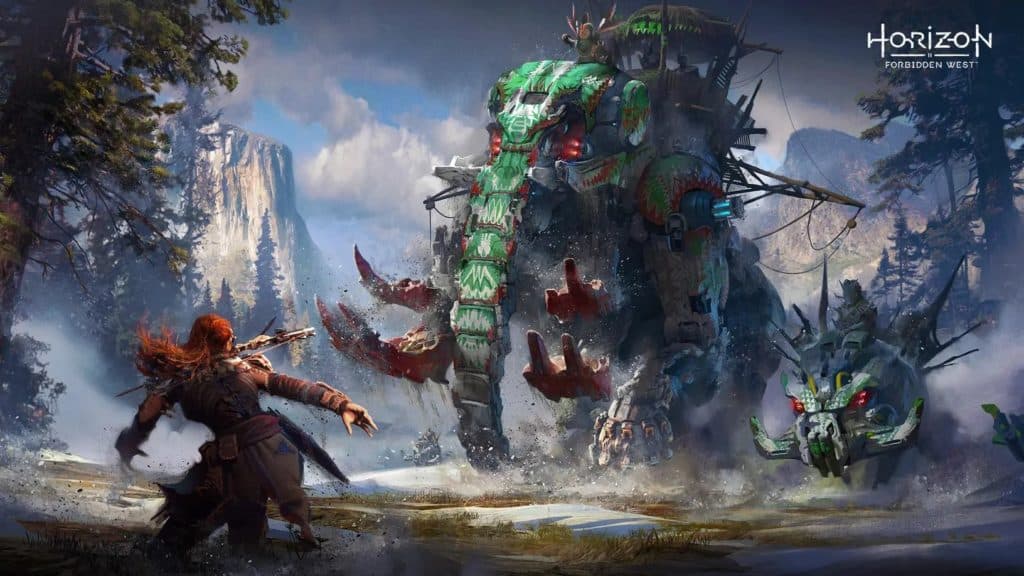 There's good news on the way since Horizon: Forbidden West, is looking even more intense in the trailer below, and even better, it will be coming out for PS4 and PS5. Given how tough it's been to find a PS5 for a halfway decent price since the consoles were first released, this should be a bit of good news for fans of the game that are still operating with the PS4 system. Added to that is the fact that there will be new creatures, new landscapes, and new devices that will be included in the game, giving Aloy yet another round of challenges and aid as the gamers will have to adapt their style of play to underwater environments as well as different terrain. Obviously, the game will take care of the easy stuff, while the gamers will need to focus on the new creatures and their various weaknesses and the dangers they'll pose. Aloy's quest will take her further west this time around it would appear, seeking out the source of a poison that's killing the landscape and its many creatures as she attempts to find out who sent the signal that brought the HADES program and several others back online.
Given how expansive the first game was, the second appears to be even more promising since the landscape is expanding in a big way, and as should probably be expected, the story is going to take even longer to complete. Anyone thinking that the first game was complicated is probably going to be in for a treat since the second game looks as though it's going to introduce new items that Aloy can use that will aid in even more treacherous adventures that will pit her against or ally her with various tribes that might not take too kindly to her presence, or could see her as a helpful force that knows how to deal with various beasts and is a proven warrior.
Some folks might find it kind of odd to wax on about a video game character, but over the years it's been fun to see how female characters have become every bit as tough and impressive as the males, and Aloy is no exception since her character starts out as a precocious young girl that doesn't always listen to her mentor and has to learn things the hard way now and then. But by the time the gamers are allowed to put Aloy through her paces, it's established that not only is she an outcast, but she's well aware of it and uses that to her advantage. In her quest to become a Nora Brave she's shown to be one of the toughest young people to take the tests, and while she has many skills to learn throughout the game, there's no doubt that she starts out exceptionally tough and if a person knows how to play the game, they can start taking down enemies left and right since not only is Aloy a great archer and fighter, but it's possible to craft arrows during a fight in order to gain an edge over her opponents. One has to wonder if that part is going to change or not.
The new equipment will no doubt be acquired throughout the game in various villages or perhaps even in secret stashes that are scattered around the various landscape in areas that are there to be discovered as part of the ancient civilization that was destroyed centuries before. It's kind of a hope that Forbidden West will follow a few of the same designs as Zero Dawn since the game has been highly enjoyable at this point and it would be great to see things expand and still use the same types of creatures along with the new ones, but it's fair to think that most of what the fans will see is bound to be brand new in order to keep with the idea that Aloy has gone far beyond her comfort zone and into lands that she has no knowledge of, as this is bound to make for better gameplay. Plus, there's no telling at this moment how tough some of the creatures are going to be since the first game rolled out a few very nasty beasts.
It's also important to remember Sylens, the character that not only helped Aloy in the first game but did so for his own reasons. It's not truly certain if she can trust this individual, but he hasn't given her any reason not to as of yet, so it's fair to think that we don't really know what Sylens is up to, other than the fact that it's bound to serve his own purpose. The release date for this game can't come quickly enough for some gamers, and it's going to be a lot of fun reporting on this experience when it finally happens.
Tell us what's wrong with this post? How could we improve it? :)
Let us improve this post!