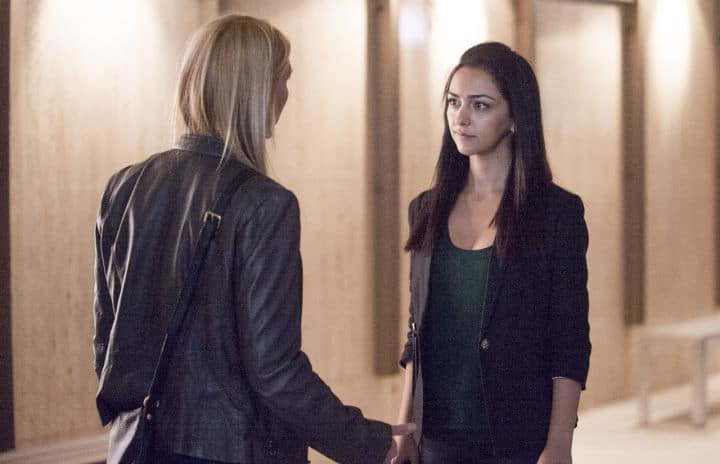 After the end of its second season, Homeland hasn't done too much to shock me, and tonight's episode, despite being hyped up as surprising and thrilling, didn't really change that fact. However, what "From A to B to Back Again" did do is propel Season 4 into much more interesting territory.
With tonight's episode, Homeland has reached the midpoint of its fourth season, and although I had been enjoying Season 4 so far, I mentioned in my review last week that the series really needed to provide some more interesting directions for its characters to truly keep me hooked. Thankfully, the conclusion of tonight's Homeland certainly did a good job of infusing this plot-heavy season with what should be more character-driven storylines moving forward, as it revealed that Saul had been captured to Carrie and company and had Haqqani shoot and kill Aayan.
These two developments excite me for multiple reasons. First, Saul being in danger provides us (and Homeland's characters) with a personal reason to hate Haqqani. He's no longer just this vaguely described, evil terrorist–he's a villain that has taken Saul captive, and we want to see him taken down. Additionally, now every decision that Carrie, Quinn, and everyone else makes will be directly influenced by their feelings for Saul, and we will also probably see Saul's guilt eat at him, as he knows that the CIA won't immediately take out Haqqani if he will be a casualty of their strike as well.
Furthermore, another reason "From A to B to Back Again" has me much more invested in Season 4 of Homeland now is the episode's ramifications and their effect on Carrie. Not only is Saul, her mentor and essentially father, in the hands of a terrorist, but she also, unintentionally, gets Aayan murdered–another life that she's responsible for losing, even more blood that's on her hands.
I'm hopeful that the impact of Aayan's death on Carrie will be crucial focus of the rest of Season 4. Will it cause her to question her own questionable methods, or will it force her to take even more drastic actions to not only protect Saul but also to ensure Aayan did not die in vain? Perhaps a combination of the two will somehow play out, but after dedicating so much time to Carrie and Aayan's relationship (not to mention shining the spotlight on their "I love you" phone call tonight), Homeland has to provide payoff for this storyline and in a big way.
Anyway, I'm spending so much time on the final sequence of "From A to B to Back Again" and how it will affect future episodes of Homeland, because up until the Saul reveal and Aayan's death, the episode was pretty formulaic and even a tad boring. Sure, we had the tension of what may happen to Aayan, but as soon as it be came clear that Quinn was going to be searching for Saul the whole episode, it was pretty much telegraphed that the two plots would collide and that Saul would be inside that car at the meeting place.
Additionally, everything involving Dennis (the ambassador's husband) continues to feel like a waste of time right now, mainly because he's such a boring character and also because we're still not certain just how involved the ISI is with everything else going on right now. Are they somehow aiding Haqqani, or will their digging into Carrie's life be an entirely different storyline that Homeland taps later in the season? We'll have to wait and see, but right now it feels like an awful lot of set-up with nothing to really show for it.
Ultimately, "From A to B to Back Again" was a pretty average episode of Homeland with a great, exciting ending. Six episodes into Season 4, I still like what I'm seeing (this season is much better plotted than Season 3 was), but I'm still waiting for things to truly kick into high gear. Hopefully, with Saul's life in jeopardy, the tension and action of tonight's final scene continues throughout the season's final six episodes.
Other thoughts:
– Really loved Carrie and Fara's conversation in tonight's episode. Neither of them were truly right (and didn't really come out of the interaction looking any better for it), but it was very interesting to see how their different approaches to Aayan clashed.
– Speaking of Aayan, Carrie rushing into her office after his death only to be met by all of his belongings, which had been collected in trash bags, was a nice touch–an extra kick to what was already a gut-punch of an ending.
– Well, it looks like Redman's role is being expanded, and I'm surprisingly happy about that. His and Carrie's exchange about Haqqani and how she used Aayan to get to him was some really good writing and so much better than the repeated arguments between Carrie and Quinn that have filled this season.
What did everyone think of tonight's episode of Homeland?
Photo via Showtime