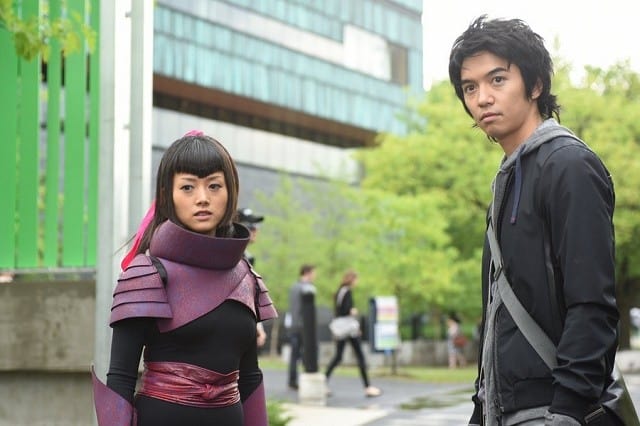 After a first couple of strong weeks, the fifh episode of Heroes Reborn was hard to follow as it got a little lost in its many storylines while also revealing big things that didn't make things easier to understand.
I think what this episode makes very clear on is that while many of the new characters are very likeable, it's hard to get emotional attachments to them. It's hard to put my finger on why that is, because usually five episodes is enough for me to know what characters I value and are attached to. So for example, the death of Malina's teacher was something that I just didn't have much of a reaction to. Not because I hate or love the character, but becasuse I for some reason have no investment in her because it still feels like we are early in the journey. I felt sorry for Malina though because it's clear that she doesn't have anyone else to turn to, but maybe finding our heroes, will help.
The whole Erica and Taylor plot is lackluster and at this point, Erica has sort of decreased in quality as a villain. I didn't really understand the ending as they reveal that solar radiation is coming towards Earth and Erica is all for it as she is willing to let 96% of all species die. But for what purpose? She wants to start over which is "never pretty" and she is busy keeping tracks at all Evos'. For a moment I thought that she wanted to get rid of all humans and just have the planet be consisted of Evos', but if 96% is in danger, I guess she isn't caring for them either.
Miko gets her sword back at last while also kicking some serious butt against the many Harris' and also gives HRG along with Quentin some help. As fun as her and Ren's dynamic is, as well as adorable to watch, it sort of reminds a bit of Hiro and Ando's arc in the original series. It's not 100% the same arc, but it has that vibe and I was sort of expecting something a completely different tone of their story after seeing their first few scenes in the pilot. I think because so many of the stories got mixed around so much this week, it sort of made it hard to follow.
Overall, there was just so many storylines going on this week with Tommy having his drama and not being up for embracing his destiny by Penny-man and Luke burning his house after his trip down memory, not to mention everything with Carlos and Dylan Bruce's character, that it became a little difficult to follow. We have to remember that this is only a 13-episode season, so there are only eight hours left. I get that Heroes Reborn had to pick up the pace a little bit this week, but it still was overwhelming to have so many stories presented without any of them being clearly and sufficiently told.
Heroes Reborn airs Thursday nights at 8/7c on NBC.
[Photo via NBC]
Tell us what's wrong with this post? How could we improve it? :)
Let us improve this post!