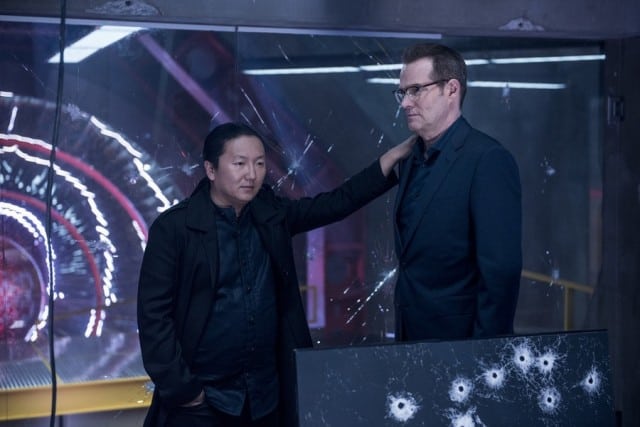 After a very weak hour last week, this week's episode of Heroes Reborn was a huge improvement as we are now finally getting further into the story. Also, a big favorite from the original Heroes series makes his triumphant return to this universe.
"Game Over" had a better flow and didn't give you a headache following the multiple stories like last week's Heroes did. This'll sound weird, but somehow Malina has become a favorite character to follow despite the fact that it's frustrating that we've still not learned what her powers are exactly other than that they're somewhat over-powered. It was great, though, to see her and Luke meet each other after she saves him as Luke tries to take his own life. Together, they are now going to find Tommy as the time to save the world approaches. Speaking of Tommy, how adorable
Miko's arc took an unexpected turn, but ened up being one of the highlights of "Game Over." We learn that Miko is actually the daughter of the designer for the Evernow video-game, but the bigger twist is that Miko isn't real. The actual, real-life Miko died in a car accident, and the Miko that we have been following is just a digital recreation (invented by her father) of her as Katana Girl. Leading up to this episode, HRG and Quentin had been on a quest to find Hiro Nakamura, who we learn is trapped in the video game by the Renautas people. The only way to release him out of the game is for Miko to sacrifice herself which is exactly what she does. While it was really sad to see Miko, who has been one of the stronger characters in the new series, die, we may see the actress again on the show in some form. The return of Hiro was a phenomenal scene, but more on that a bit later.
Unfortunately, Miko isn't the only character that we lose, as Quentin's sister Phoebe (who is basically Heroes Reborn's version of the X-Men character Leech) ends up killing her own brother. This was really a huge bummer because while we have been going through this pretty dark storyline, Quentin has provided some great humor and comedic moment that have helped lighten things up. But the good thing with his death (as sad as it was) was that Heroes Reborn reminded its audience that there are stakes and that no one is 100% safe. When there's a threat against the entire world that you are trying to stop, there are obviously going to be some deaths.
As Hiro is released and reunites with HRG, he takes him back to June 13 to start getting some answers to what really happened that day, the status of Claire, and more, which will be done as a two-parter, titled "June 13th — Part One" and ""June 13th — Part Two," beginning next week. Overall, "Game Over" was just a genuinely fun episode and felt a little bit like old school Heroes as we are now really piecing everything together.
Heroes Reborn airs Thursday nights at 8/7c on NBC.
[Photo credit: Christos Kalohoridis/NBC]
Tell us what's wrong with this post? How could we improve it? :)
Let us improve this post!