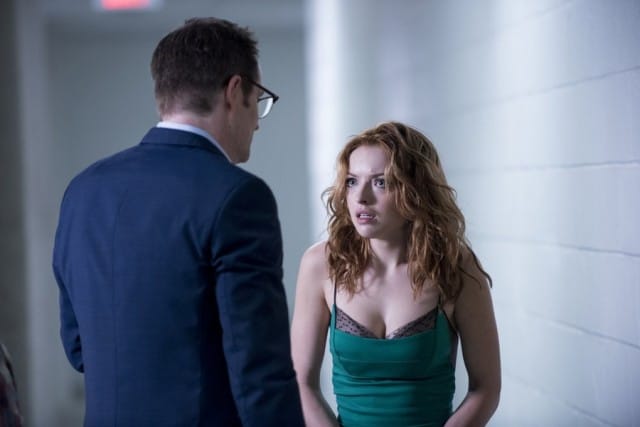 After a solid series premiere for NBC's Heroes Reborn, this week's episode continued to flesh out the 2.0 generation of the characters while HRG takes the next step in his own journey to discover where Claire is.
One of the issues that were clearer this week as opposed to last week was the villainous couple Luke and Joanne. Something that you would see a lot in the original Heroes series was that you would see multiple stories all at once that at first didn't seem to have any connecting red threads to what was the main plot. But towards the end of, example, season one you would see all of them come together organically and that was something that was impressive to see from Tim Kring and his writers. However, with Luke and Joanne, it just doesn't feel like they will have a natural way to blend in with the overall story, that I assume at this point is stopping the big-bad that is Erica Kravid (Rya Kihlstedt), the CEO of Renautas.
While I gave Joanne more credits last week, seeing her being so pushing on going out and killing Evos is where I started to detect some problematic aspects of these two characters. Losing a child is horrible and something that no one should ever have to go through. However, the way that his death changed these two so drastically from being two ordinary parents to now suddenly being brutal killers, is hard to wrap my head around. But Luke does display an intriguing aspect that may change my view on him down the line as it's revealed that he is an Evo with some form of fire-y abilities. Wonder how Joanne will feel about that when she finds out.
We get to meet Erica and learn more about Renautas and while both the character and the plot wasn't too bad, it does give me remind me heavily about Bolivar Trask (Peter Dinklage) from X-Men Days of Future Past. In that movie, he was essentially doing the same thing as Erica; he wanted to find ways to track and capture mutants so he created the Sentinels, mutant-hunting robots that later on became a threat to humanity itself. The capturing of Molly Walker, who has the ability to locate any Evo in the world, is similar to how Trask was able to use Mystique's (Jennifer Lawrence) powers where the Sentinels could adapt any mutant power. She pretty much functions as the Cerebro in the world of Heroes Reborn.
The only difference here is that Molly's power only locates and doesn't become a weapon, it's then up to whoever tries to capture an Evo. That's basically the only reason why I was still able to find myself a bit interested in Erica's role. Her daughter that captures Molly was however something very generic where you can tell that she is either a) an Evo too, but her mom doesn't know it or b) has mother issues and will at some point turn on Erica. I do however still hope that next week's episode or the following one actually specifies what they are doing with the Evos they get.
HRG's storyline only gets more intriguing as well as somewhat frustrating because the minute we see him, a year ago, in the security footage with a deceased blonde girl, you can't help shouting "But that is so not Claire's body!" As Quentin says what all Heroes fans have been saying a lot lately: Clarie's power makes it almost impossible to kill her and let's not forget: she is the one that outed all the Evo. I wouldn't enjoy it from a story standpoint if the person that helped people coming out, to then just get killed off, and in this case, off-screen because the actress is busy with another show. But it's fun to follow this memory seeking story because with the Haitian now dead, HRG only has a few ways to find out what happened and Molly may be one of them.
Overall, while there were a few more issues with this episode, Heroes Reborn is still keeping my interest, and hopefully, by the time we get to Episode 13, we will have all the answers we want that won't be followed by a bunch of new questions.
Heroes Reborn airs Thursdays at 8/7c on NBC.
[Photo credit: Christos Kalohoridis/NBC]