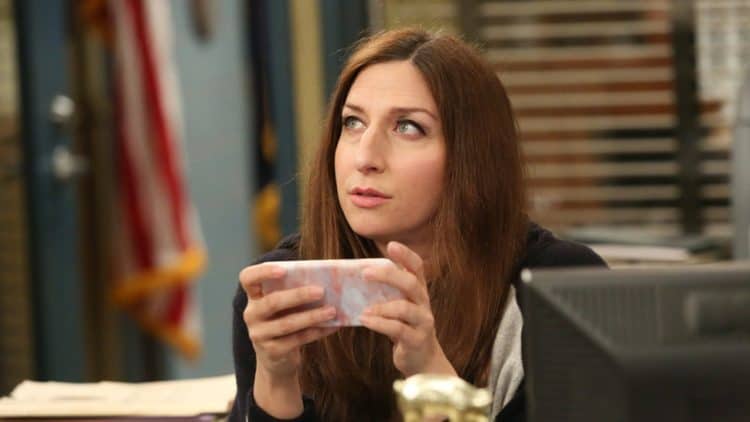 It seemed that when FOX canceled Brooklyn Nine-Nine that people were about to riot, figuratively-speaking, but NBC was quick to come along and snap it up, thereby affirming that it would go on and the fans would get to see one of their favorite shows stick around. The only thing about this however is that one of the favorites on the show made the decision to not follow along. Chelsea Peretti decided to drop the bomb that she would not be making the jump along with the show, at least not as a fully active character. She managed to tweet out a message that stated that she wouldn't be participating fully in season 6. She did indicate that she'd be coming back eventually and that Gina would be back in the office once again.
Peretti made this announcement back in 2018 and thanked the fans for supporting her role of Gina Linetti. The character is one that she's enjoyed playing since she's confident, pithy, a little less than intelligent but not stupid in any way, and definitely infused with her own sense of style that few can figure out. Her fellow cast members were definitely downcast to see her leave, as she's been an absolute joy to work with apparently.
The 'why' of her leaving however is something that is kind of hard to nail down since no real details have been forthcoming since she's kind of kept that on the down low. It's an amicable parting at the very least, since she's had a great run with the show to this point and has fully enjoyed herself in a way that indicates that there's no hard feelings between her and anyone on the set or behind the camera. A lot of times when you see a person leave a show it's assumed that there's an issue between that actor and someone. Either it's an issue that can't be figured out or resolved or a personal problem that they can't figure out. There are also instances in which family tragedy can occur, or something in the person's life happens that they just don't feel like baring to the world.
Nothing like this is forcing Chelsea's hand, but she has replied by stating that this just seems like a chance for her career to take her elsewhere at this point. In show business opportunities come and go, and an actor has to know when and where to go in order to find the best chance to increase their reputation while they still have the time and the pull to make it happen. Chelsea's reputation is sound and has been for some time. She's been one of the funniest comedians to come along in quite a while and despite the fact that it's hard to notice every last comedian as they deserve, she's still pushed forward as much as she could and has gained a great deal of notoriety throughout her career.
Her sarcastic manner and snappy witticisms are a big part of her charm since she's the type that comes off as kind of a smarmy individual that doesn't have time for fools and doesn't suffer them gladly. That's a big part of what has made her such a popular character in show business. If you remember she was a part of the cast on a show called America's Dumbest, a live show in which various clips were shown throughout the program and were given commentary by a slew of comedians, writers, and other various celebrities in a comical manner that was simply scathing and absolutely hilarious. That kind of act is what has been her calling card for a long time and apart from the fact that it might cause a person to be typecast, it's worked for her in a way that has not only defined her, but has kind of immortalized her in a way.
So when the news came that she wouldn't be on Brooklyn Nine-Nine for most of the season it was kind of a shock but at the same time it was kind of interesting to see just what she might do next or when we might get to see her again. Chelsea is no doubt looking towards other venues now and again to ply her craft, as any actor should from time to time, but the fact that she's said she will be back with the show eventually is heartening to many people since it indicates that she has no animosity towards the show or anyone in it. So at this point it seems that a lot of us that watch the show are going to be sitting back and waiting for the day when we see Gina back in the squad room with a ready witticism to snap out when the moment is right. You know you'll be waiting.