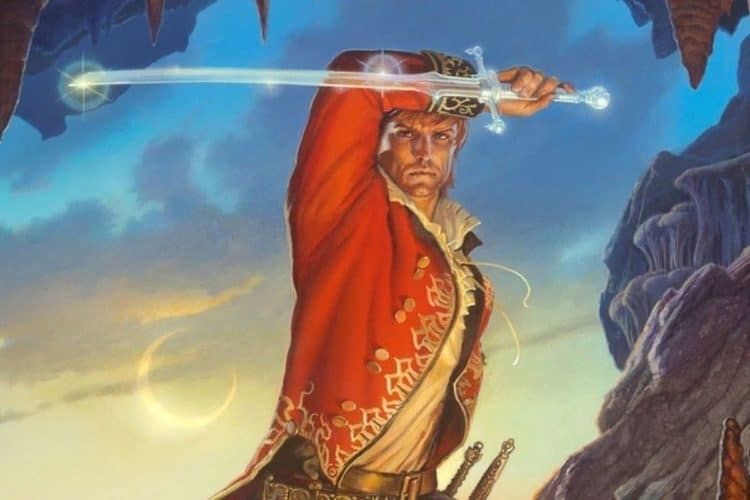 Bill Watters of ScreenRant is one of those that's currently up on the idea of the epic series The Wheel of Time finally making its way to the small screen as Amazon is adapting it for a series that should be coming eventually. The cast thus far is mostly a bunch of relative unknowns, though there are a few that will be recognizable to fans. Rosamund Pike is at this time the most well-known actress that's been added to the production, as she'll be playing the part of Moiraine Damodred. For those that have read the daunting 17-book series many names might stand out as being important but it's likely that much like The Shannara Chronicles we might have to make do with what we're given since, let's face it, that many novels will provide a wealth of information and character development that could take years to develop and might dry up eventually unless the director and writers can keep things moving in a fashion that might entice people to keep paying attention. As has been seen with The Shannara Chronicles, which also spans quite a few books, the attention of the viewers dried up pretty quickly in season 2, but it also had to do with the lack of attention paid to the content that really upset some people.
So far the names that have been announced, as per Chaim Gartenberg of The Verge, for the Wheel of Time include Joshua Stradowski as Rand al'Thor, Marcus Rutherford as Perrin Aybara, and Barney Harris as Mat Cauthon. Rounding out the female actors for now will be the aforementioned Rosamund Pike, Zoe Robins and as Nynaeve al'Meara, and Madeleine Madden as Egwene Al'Vere. The women that have been cast thus far have a few more credits than the men, and interestingly enough Robins and was in The Shannara Chronicles. So it can be said that the show will be bringing in new talent as well as those that have a good amount of experience, so it should be something that could prove to be rather interesting as the new and experienced actors combine to create a story that millions of people around the world have been enjoying for years.
The hope of course is that this will continue to help Amazon as the streaming wars are about to heat up in a big way now that Disney and others are starting to gather content and become true contenders where once they were contributors. How this pans out for the consumers however is going to be interesting since while we continue to get quality entertainment, the networks are going to be upping the ante with one show after another and one major production coming out every so often it would seem to keep balancing the scales. It's a big win for the audience since Amazon is also going to be coming out with a Lord of the Rings series as well so long as everything goes alright, and the Wheel of Time series should hopefully augment this in a big way as both stories have been widely followed by so many that it's hard to believe that nothing will come of this.
As far as the cast is concerned this should be a big push for some of them and an impressive outing for others that have already made their names. One thing you can probably count on though is that things are going to be changed around for the sake of running time and thanks to each director having their own vision. As happened with The Shannara Chronicles this was seen to have a huge effect on the story and the manner in which people received it. Even keeping to some of the source material didn't really help as people simply didn't understand the whole idea. Hopefully Wheel of Time will focus primarily on the main points that are presented and the characters that people have come to know and appreciate. That after all is what a lot of fans want to see, the stories they remember and the figures that they've been reading about for so long. There's no doubt that Amazon is going to play around with the plot and the main idea a bit, but hopefully they won't be sacrificing any heavier content that could alter the story in a big way.
All in all this should be an epic tale that people will be able to get into without any issue. As far as when it's coming out, 2021 seems to be the safest amount of information that can be given since otherwise there's no real way to tell if any production delays or anything else might occur to postpone the release. Hopefully if all goes well though in a couple of years we'll be able to sit down to one of the best stories ever told, and hopefully it will be nothing short of great.The Shannara Chronicles
Tell us what's wrong with this post? How could we improve it? :)
Let us improve this post!