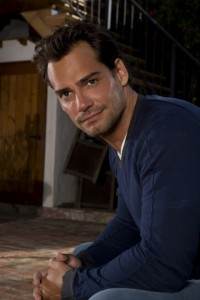 Chilean born actor Cristián de la Fuente was a firefighter in his native country, and remains an active member of the Chilean Air Force Reserves, as well as a member of the Air Force's High Aerobatics team. On the USA Network's hit original series, In Plain Sight, Cristián de la Fuente plays Cuban born baseball player, Raphael Rosales, long-suffering boyfriend of Mary McCormack's lead character, Mary Shannon. If you think de la Fuente's real life sounds more exciting than the role he positively owns on In Plain Sight, you don't watch the show.
This is a character who, in the first season of the hit series, romances Mary McCormack's character, Mary Shannon (a tough, no nonsense agent for the Federal Witness Protection Program, or "WITSEC"), proposes marriage twice, watches their relationship crumble as her highly dysfunctional sister, Brandi, played by Nichole Hiltz (not to mention equally dysfunctional mother, Jinx Shannon, played by the fabulous Lesley Ann Warren) noses her way in between the two, and ultimately saves the day in the finale of season one by…well, you need to watch this show to find out the answer to that question.
I recently had the chance to interview Cristián de la Fuente as a part of a panel before the second season of In Plain Sight kicks off this Sunday, April 19, at 10/9 Central. First on the agenda, what originally attracted de la Fuente to the role? His answer:
Raphael, I think goes against all the stereotypes. It's like he's not the typical Latin lover. He's not the typical Latino. As a joke always, I think, we've made history in television and film, because on the last episode of the first season, on the season finale, I think it's the first time that you see a Latino character with a lot of kilograms of drugs, and instead of starting dealing them, he threw them away. I think that's the first time that's happened in TV; that Latinos are not portrayed as drug dealers, but people that, you know, they have good hearts, and they want the best for their family and their loved ones. And I think that's the beauty about Raphael, he's really in love with Mary, and he's a nice guy, and I think he's going to do always the right thing and it's great to play those kinds of roles nowadays.
As for what lies ahead for his character in the second season of In Plain Sight, de la Fuente teased:
Yes, there are big surprises. Let me see, how can I say it without ruining it? There's going to be a change in my career. I can say that. I'm going to get closer to, however, changing my marital status.
So those are the two biggest surprises!
I asked him if he felt that Raph and Mary are well-suited to each other, considering Raph is a very traditional man, and Mary is a highly independent, career driven woman, from a very dysfunctional family background. His answer:
I think Raphael really wants to marry Mary, but in order for that to happen Mary would have to change, and I don't think she's really willing to do it. Because many times in relationships, and that has happened to me myself in personal life, we fall in love with somebody and there are things we don't like about that person and hope that they're going to change at some time and it never happens …
However, de la Fuente then follows with:
At this moment, the things that really bother Raphael about Mary are not that big, and at the end of the day, he knows that she's this beautiful, sensitive woman under that tough uniform, and the tough job, and the tough personality. So if she allows to be loved, then I think they can be really happy.
Huh. Does this mean that the change in marital status will be Raphael and Mary…or Raphael and someone else, maybe even…gasp…Brandi? We will all have to tune in to the new season of In Plain Sight to find out the answer to that question!