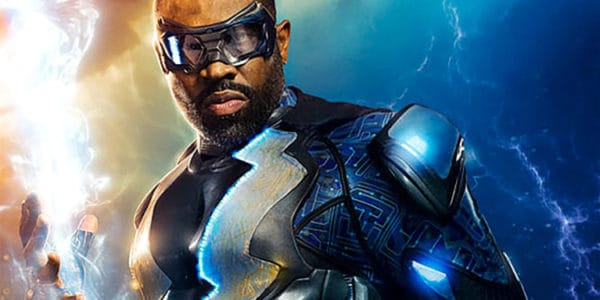 CW Network President Mark Pedowitz told reporters this morning, "Black Lightning, at this time, is not part of the Arrowverse. It is a separate situation." Separate situation indeed: Salim and Mara Akil will be producing Black Lightning in Atlanta, while Berlanti Productions makes the four Arrowverse shows in Vancouver. Any guest appearance involving more than just a few actors would be a significant logistical challenge, crossing four time-zones and over 2,500 miles. According to the network president, no plans are in the works for a five-way crossover this year.
Mr. Pedowitz continued, "Our belief is that we will never have more than four DC shows [on] at a time, as far as that goes, so we'll always have a rotation of some sort." Black Lightning will launch as a midseason show in the next TV season.
Not rushing Black Lightning into a fiveway cross over this fall should actually be encouraging news to the fans. The network and the studio are giving the creators time to continue development. "Quality matters," said Mr Pedowitz. We haven't seen production stills, or a backdoor pilot in an existing show, much less a complete pilot episode of this program.
But now the CW has posted a trailer [see below]. And it looks good. It's narrated by one of the Pierce daughters, a different choice than Mr. Berlanti's other shows, where intros are narrated by the hero. The effects look sharp and bright. The martial arts look good. It looks better in terms of presentation of themes and ideas than the trailer that Legends of Tomorrow a greenlight a few years back.
It's still good for the characters, good for the story and good for everyone involved in making the show to have more time to get it right.
The producers have at least a couple of ways they could still do a backdoor pilot. Jefferson Pierce could seek help or advice on the gang and corruption problem from Flash, Arrow, or Supergirl. Or the Legends of Tomorrow could easily have an espisode with Black Lightning back ten or twelve years in the past when he was first operating as a vigilante. Or the creators could simply let the show and its characters and situations grow separately for now. If the producers decide to bring Black Lightning into the Arrowverse later on, they have already established the multi-verse concept across their existing shows.
The CW network did release an extended logline for Black Lightning:
"Jefferson Pierce (Cress Williams) is a man wrestling with a secret. As the father of two daughters and principal of a charter high school that also serves as a safe haven for young people in a New Orleans neighborhood overrun by gang violence, he is a hero to his community. Nine years ago, Pierce was a hero of a different sort. Gifted with the superhuman power to harness and control electricity, he used those powers to keep his hometown streets safe as the masked vigilante Black Lightning. However, after too many nights with his life on the line, and seeing the effects of the damage and loss that his alter ego was inflicting on his family, he left his Super Hero days behind and settled into being a principal and a dad. Choosing to help his city without using his superpowers, he watched his daughters Anissa (Nafessa Williams) and Jennifer (China Anne McClain) grow into strong young women, even though his marriage to their mother, Lynn (Christine Adams), suffered. Almost a decade later, Pierce's crime-fighting days are long behind him…or so he thought. But with crime and corruption spreading like wildfire, and those he cares about in the crosshairs of the menacing local gang The One Hundred, Black Lightning returns – to save not only his family, but also the soul of his community."
https://www.youtube.com/watch?v=RZpJeuXo2CY