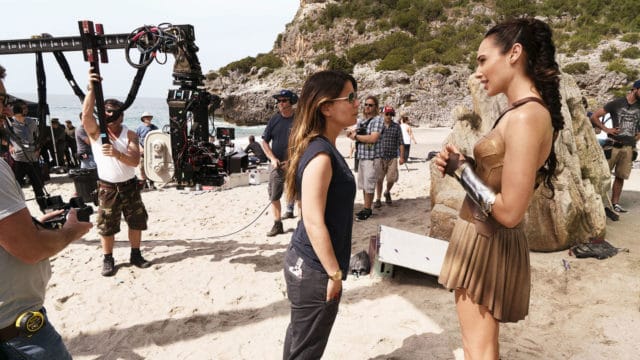 Honestly there's pretty much nothing to tell here other than the fact that it's a new set photo for Wonder Woman and that we've just been privy to some new concept art. The story of Wonder Woman is straightforward at this point. Diana Prince leaves Themyscira and comes to our world to become a superhero. Does that sound about accurate? While the concept is simple, everyone is eagerly anticipating the execution. We'll have a chance to find out in the summer when Wonder Woman is released. Now let's get to the concept art. According to Screenrant
The concept art has been posted to Twitter by Thomas Storai, a fan blogger. Four new images are included, all showing Wonder Woman in various scenes. The first features Wonder Woman walking through fire in a black cloak with her shield at her side, while the second shows her in the same outfit in period London, with Steve Trevor at her side and the streets filled with men in suits and hats. The third image features Wonder Woman gazing at a large gold spiral which houses the sword she uses, and the fourth shows her at the prow of a ship.
Concept arts of the upcoming #WonderWoman movie #DCEU pic.twitter.com/5ZYUh6ysmI

— Thomas Storaï (@ThomasStorai) March 31, 2017
There's no confirmation on where these images come from but speculation says they are currently on display at Art Ludique Le Musée in France.