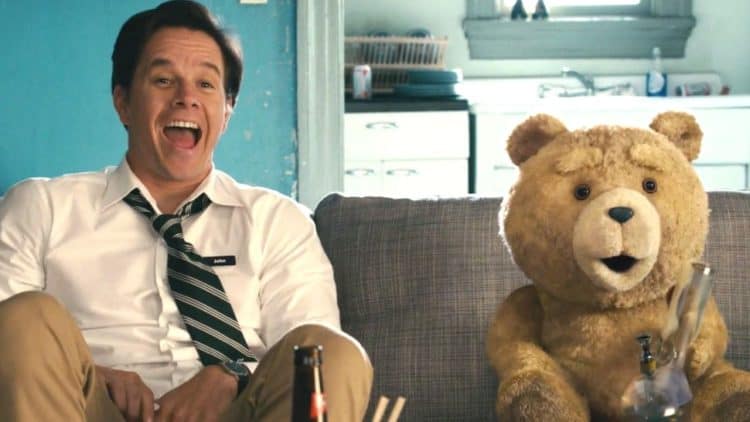 It has been four years since 'Ted 2′ was released, and fans of this film and its predecessor have had quite a wait to see if a third film is being added to the series. Recently, the debate over a possible third film has come back into the limelight thanks to comments by Mark Wahlberg that indicate a 'Ted 3′ is potentially in the pipeline. The original Ted movie was released back in 2012. This live-action/ adult animated comedy film was created by Seth McFarlane, who co-wrote the script, directed the film, acted as a co-producer, ad provided the voice for Ted, the main character in the film. It also starred Mark Wahlberg, Mila Kunis, Joel McHale, and Giovanni Ribisi. The film was a surprise hit, as from a budget of just $50 million, it grossed $549.4 million at the worldwide box office.
Following on from the success of this film, the sequel 'Ted 2′ was released in 2015. Again, McFarlane, co-wrote, produced, and directed the movie, while also providing the voice of Ted for the second time. Unfortunately, this sequel was not as successful as the original, both in terms of critical reviews and commercial success. The film received mixed reviews from critics, and it grossed just $216.7 million from a budget of $68 million.
For many films, box office figures of $216.7 million would be considered hugely successful. However, in comparison to the original, 'Ted 2′ did not do well. This raised the question of whether the producers would consider a third film and take the risk the figures dropping even further, or if they would simply call it a day and not bother with a third film. It is the comments made by the films creator Seth McFarlane that have raised the issue of a third film once again. Mcfarlane, who is known as the creator of 'Family guy' and for his appearances in 'The Orville' and 'A Million Ways to Die in the West', has said that he would consider making another 'Ted' movie.
Apparently, McFarlane has said that he had an absolute blast with Mark Wahlberg while filming the 'Ted' movies, says Movie Web. It could be fun for viewers, too, to see the team getting back together and back up to their old antics. McFarlane has said that it might be difficult to create another sequel as several years have gone by. However, there are plenty of arguments for a third 'Ted' film as well as against it. First, you can't necessarily judge the sequel from its box office figures. It is important to remember that the first film was such a huge and unexpected hit that the second film was unlikely to ever reach the same heights. Compared to many other films, 'Ted2′ actually did very well when you make the comparison with the first film out of the equation.
Another point is that it would be great to make a trilogy of the films before calling it a day. There is definitely the scope to create an interesting storyline as Ted has surely not finished having fun and adventures yet. Finally, the argument that it has been too long since 'Ted 2′ to seriously consider making a third installment in the series of films really doesn't wash. It has only been four years, and there are examples of film series that have had gaps of over a decade between one series and the next. In fact, the gap could work in the film's favor as it could attract a new generation of fans to the new film and its predecessors.
For now, the potential of a third 'Ted 2′ movie is nothing more than speculation. Therefore, there are no firm details to provide. Whether or not Seth McFarlane decides to go ahead with another 'Ted' movie or not could well depend on his busy schedule. He is already responsible for 'Family guy'. He is also the creator, writer, and director of 'The Orville', in addition to having the lead role. This is a science fiction series that is aired on Fox that premiered on September 2017. In May 2019, the series was renewed for a third series, so McFarlane is already busy with that project.
There is also took about a potential movie being developed that is based on Seth McFarlane's hit animation 'Family Guy', although nothing has been confirmed about this film. If McFarlane does go ahead with that project, then it is unlikely that he will have the time or creative energy to also create a 'Ted 3′ film. This is not the first time that McFarlane has had to choose between creating a Family Guy movie or to focus on the Ted films. It is now more than a decade since rumors of a Family Guy film first came to light. McFarlane said in a 2007 interview that he was unofficially working on a feature film based on the animated sitcom.
A year later, he confirmed these plans and said the film should be underway within a year. This didn't happen and the next thing anyone heard about the film was in 2011 when McFarlane confirmed that he had made a deal for the film, which he would co-write with Ricky Butt, a co-producer of the television series. In 2012, it was confirmed for a second time that the Family guy film would happen, but McFarlane then put his plans for the film on hold as he had to focus on 'Ted 2′. As this film was not released until 2015, it had taken up quite a bit of McFarlane's time. Fox announced that the Family Guy film was in development back in August 2018, but no further information has been revealed. Whether McFarlane decides to focus on the Family film or 'Ted 3′ is his decision, and he may ultimately decide to either work on both projects simultaneously or to put everything on hold while he concentrates on 'The Orville' and the 'Family Guy' television series.