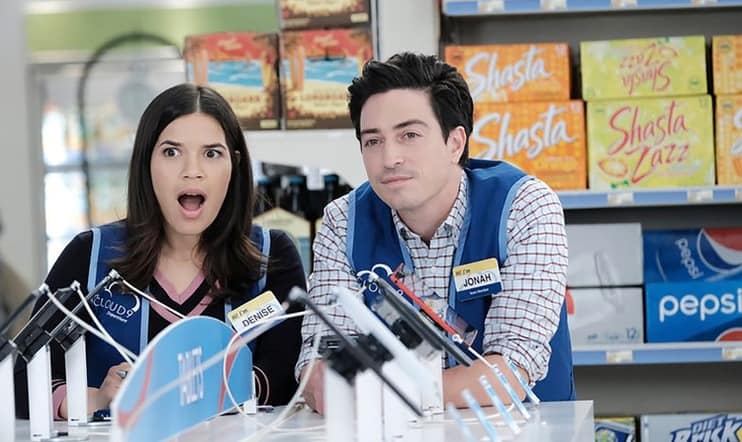 The American workplace sitcom Superstore follows the story of an eccentric group of employees at Cloud 9, a fictional big-box store in St Louis, Missouri, as they go through their day-to-day work lives, from dealing with different customers to capital issues to ever-present struggles with corporate. The show, which ran on NBC from November 2015 to March 2021, with a total of six seasons, was created by Justin Spitzer, who also served as writer-producer on NBC's The Office. Superstore features a largely diverse cast led by America Ferrera and Ben Feldman, who both served as producers for the show. The show also has a strong supporting cast that includes Lauren Ash, Colton Dunn, Nico Santos, Nichole Sakura, Mark McKinney, and Kaliko Kauahi. In an article published by The Guardian, they described Superstore as "TV's most subversive workplace comedy." They added, "The show's themes transcend borders and cultures to become increasingly pervasive and human." Vox wrote about the season finale and hailed Superstore as the "best sitcom of its era." They further commended the show, saying, "That balance between interpersonal affection and corporate indifference underscored Superstore's entire ethos and its best storylines."
The sitcom was also able to incorporate the pandemic in their final season, and according to Vulture, "Superstore was one of the first Universal shows back in production after the mass COVID hiatus, and there was a sense that the whole company was looking to Superstore to see how production would work." Variety praised the show's efforts of portraying retail employees during the pandemic, saying Superstore, "took pains to accurately reflect what the COVID-19 pandemic looked and felt like for the people in retail who were showing up to work every day." The cast members of Superstore definitely gave us some of the funniest and most lovable characters in the history of sitcoms. Given the success of the show, it also made a few entertainers very wealthy. Here are the three richest cast members of Superstore.
Ben Feldman ($1.5 million)
Ben Feldman played the role of highly principled, annoyingly optimistic, sometimes know-it-all Jonah Simms in Superstore. According to Celebrity Net Worth, Feldman has a net worth of $1.5 million with an estimated salary of $40,000 per episode. Before joining the cast of the American hit sitcom, Feldman has performed on Broadway and appeared in several TV shows. Feldman had roles on the Broadway shows The Graduate and The Perfect Man. On TV, he performed Fran Drescher's son on the series Living with Fran and was a recurring character on Drop Dead Diva. He even appeared on Mad Men as Michael Ginsberg and played the role of obnoxious attorney Ron LaFlamme in Silicon Valley. In 2016, Los Angeles Times reported that Ben Feldman bought the Los Feliz home of comedian Joel McHale for $2.55 million. "Inside, renovated interiors of nearly 3,500 square feet include family and dining rooms, an office, a den, four bedrooms, and four bathrooms. The living room windows take in canyon views," as described by the outlet. In an interview with Vanity Fair, Feldman shared his thoughts about Superstore coming to an end and how the show reflects real people. "I think one of the things we proved is that people do want to see themselves reflected on television. sometimes people want to see themselves on TV, and that, in a way, is an escape—because it's an escape from feeling lonely, and it's a reminder that you're seen and that you are represented," Feldman shared.
Mark McKinney ($5 million)
Mark McKinney played the role of oblivious, overly religious, but lovable Cloud 9 manager Glenn Sturgis in Superstore. The actor has an estimated net worth of $5 million according to Celebrity Net Worth. In an interview with Assignment X, McKinney shared his favorite type of scene to do on Superstore. "Our favorite thing to do as a cast is the break-room scenes. It's kind of the weekly reunion. It's when we get to check in with each other. One of the great strengths of this cast is, we really, genuinely like each other, find each other funny. So that is how we get the energy to get through all those scenes, which have to be covered from multiple angles. That's actually usually our favorite part of the week," the actor shared. McKinney first rose to fame as a member of the Canadian sketch comedy TV series The Kids in the Hall. After the show ended, he joined Saturday Night Live as a cast member from 1995 to 1997 and appeared in SNL movies Superstar and A Night at the Roxbury. McKinney co-created, wrote, and starred in the series Slings and Arrows, which became popular despite its short run from 2003 to 2006. With the series being available on the streaming service Acorn TV in 2019, Vulture described the premise of the series, saying, "it has one of the most goofy, highfalutin premises imaginable: It's about a Shakespeare theater in Canada (based on the real-life Canadian Stratford), and each season focuses on a production of a different major Shakespeare play. It's a show about putting on a show, in the vein 30 Rock or Murphy Brown or Sports Night, and like those shows, Slings and Arrows is a comedy."
America Ferrera ($16 million)
America Ferrera portrayed the feisty but caring Amy Sosa in Superstore. According to Celebrity Net Worth, Ferrera has a net worth of $16 million. One of Ferrera's known real estate properties is her 3,427 square foot Hollywood Hills house, which LA Times reported has been listed by the actress at $1,599,000. The actress bought the property in 2008 for $1,415,000. Ferrera first gained recognition for her lead role as Ana Garcia in the 2002 coming of age drama Real Women Have Curves. The film was widely acclaimed, winning several awards such as the Audience Award and Special Jury Prize for Acting at the Sundance Film Festival. In 2005, Ferrera played Carmen Lowell in the film The Sisterhood of the Traveling Pants, and in 2006, she landed her biggest role as Betty Suarez in the ABC series Ugly Betty. Ferrera received numerous accolades for her performance as Betty, including Best Actress awards from the Golden Globes, Emmys, and Screen Actors Guild. Ferrera also voiced the character Astrid Hofferson in the animated film How to Train Your Dragon and appeared as a host in the documentary Years of Living Dangerously and an episode of Inside Amy Schumer. Outside of acting, she works as a director and producer for projects like Netflix's Gentefied, the film The Dry Land, and some episodes of Curb Your Enthusiasm. Early this year, it was reported by Variety that Ferrera is making her feature film directorial debut with I Am Not Your Perfect Mexican Daughter, based on the young adult novel by Erika L. Sánchez. The film is said to premiere on Netflix.