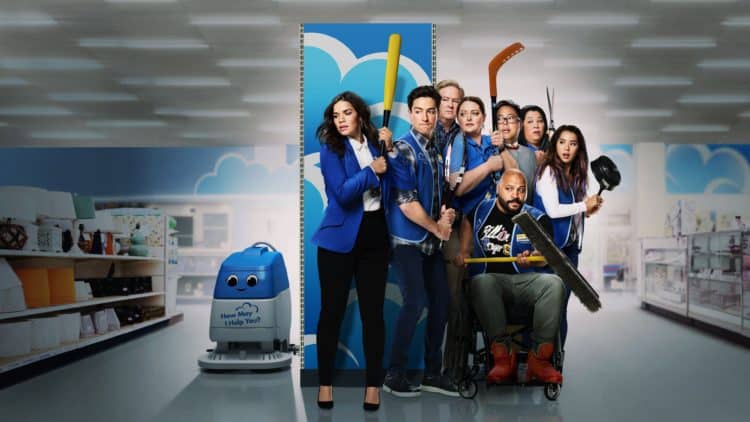 Created and written by Justin Spitzer, Superstore returns this fall for its fifth season. As fans know, the series revolves around a group of employees at the Cloud 9 big-box store in St Louis Missouri. Led by America Ferrera as Amelia "Amy" Sosa, the store's long-suffering store manager, Superstore's impressive line up includes veterans of Saturday Night Live, multi-award winners, and some of improv's biggest stars. To find out more, check out our who's who guide to the cast of Superstore Season 5.
America Ferrera as Amelia "Amy" Sosa
America Ferrera plays Amelia "Amy" Sosa, a Cloud 9 employee of 15 years who's worked through various positions but has now taken the helm as the store manager. Ferrera made her film debut in 2002 in the comedy-drama Real Women Have Curves, and has since gone on to star in such works as The Sisterhood of the Traveling Pants (2005), The Sisterhood of the Traveling Pants 2 (2008), Our Family Wedding (2010), and, perhaps most famously, Ugly Betty (2006-2010). Ferrara has won numerous accolades throughout her career, including an Emmy Award, a Golden Globe Award, an Imagen Award, a Gracie Award, and a Screen Actors Guild Award. Outside of acting, Ferrera is noted for her political activism, having participated in the #MeToo movement since 2017, and served as a founding member of the Time's Up Legal Defense Fund since 2018.
Ben Feldman as Jonah Simms
Tackling the role of Jonah Simms is Ben Feldman, an actor best known for his performances as Michael Ginsberg on Mad Men, Ron LaFlamme on Silicon Valley, and guardian Angel Fred on Drop Dead Diva. Away from the screen, Feldman (who, in recent years, has added some diversity to his resume with part ownership in the winery, Angelica Cellars) is married to Michelle Lulliz, with whom he shares two children.
Lauren Ash as Dina Fox
Canadian actress Lauren Ash takes on the part of Dina Fox. Ash began her career on Canadian TV in roles such as Almost Heroes, The Ron James Show, and Lost Girl. In addition to her TV and film credits (which also include Another Period, Lars and the Real Girl, and Call Me Fitz), she's one half of sketch comedy duo "Cory!", and the holder of two Canadian Comedy Awards for Best Female Improviser, one for Best Performance by a Female — Television, one for Best Female Performance in a Feature Film, one for Best Comedic Play, and one for Best Sketch Troupe.
Colton Dunn as Garrett McNeil
Prior to taking up the character of Garrett McNeil, Colton Dunn was best known as a writer, producer, and performer on the Comedy Central sketch comedy series Key & Peele (2013—2015). Prior to that, he'd worked as a writer and performer on MADtv from 2005-2009, and enjoyed occasional appearances on the likes of Parks and Recreation, Nick Swardson's Pretend Time, Game Shop, Burning Love, and If Google Was a Guy. As a member of the improvisational comedy group Boom Chicago, he's performed and taught at the Upright Citizens Brigade Theatre for 20 years and has received numerous accolades, including two Emmy Award nominations for Outstanding Writing for a Variety Series for his work on Key & Peele.
Nico Santos as Mateo Fernando Aquino Liwanag
Philipino born actor Nico Santos moved to the US with his family when he was sixteen, where he promptly fell in love with acting and enrolled in an acting course at Southern Oregon University. After graduating, he spent a few years working behind the scenes at Oregon Shakespeare Festival, before he relocated to California and began performing as a stand-up comedian. His first feature film came in 2015 with Paul Blart: Mall Cop 2, which he followed up with parts in Crazy Rich Asians, 2 Broke Girls, and Noches con Platanito. Since 2018, Santos has been in a relationship with Zeke Smith, a former reality TV star who appeared in both the 33rd – Millennials vs. Gen X and 34th – Game Changers editions of the reality game show Survivor. In June 2019, Santos' advocacy for the LGBTQ community led to Queerty naming him one of the Pride50 "trailblazing individuals who actively ensure society remains moving towards equality, acceptance, and dignity for all queer people."
Nicole Bloom as Cheyenne Thompson
29-year-old actress Nicole Bloom got her first acting job in 2010 as Nichole O'Connor in the short, Everyday. Since then, she's appeared on films such as Project X (2012) as JB's Girl, Model Minority (2012) as Kayla Tanaka, Man Up (2015) as Kayla, and Laser Team (2017) as Maggie Wittington. She's also made appearances in TV shows such as Teen Wolf (2014), Grey's Anatomy (2014), Shameless (2014-16), and OK K.O.! Let's Be Heroes (2017-2019).
Mark McKinney as Glenn Sturgis
Playing Glenn Sturgis is Mark McKinney, a 60-year-old Canadian actor, and comedian who came to prominence in the sketch comedy troupe The Kids in the Hall. From 1995 to 1997, he was a regular fixture on Saturday Night Live, playing 6 recurring characters and impersonating 27 celebrities (Mel Gibson, Barney Frank, Al Gore, Paul Shaffer, Mark Russell, Jim Carrey, Lance Ito, Tim Robbins, Steve Forbes, Wolf Blitzer, Bill Gates, and Ellen DeGeneres being the most notable). Between 2003 and 2006, he starred in the critically acclaimed Slings and Arrows, which he also co-created and wrote. Other credits include the SNL spinoffs Superstar, The Ladies Man and A Night at the Roxbury; The Saddest Music in the World; Brain Candy; Man Seeking Woman; Studio 60 on the Sunset Strip; and 3rd Rock from the Sun.
Kaliko Kauahi as Sandra Kaluiokalani
Season five marks the transition of Kaliko Kauahi's character of Sandra Kaluiokalani from recurring character to series regular. In addition to her duties on Superstore, Kauahi plays the recurring character of Principal Kwan on Disney Channel's Raven's Home. Of all her roles, Kauahi has described Sandra as her favorite, telling Geek Girl Authority "This is the first time I've been able to portray a character at any length of time. So she gets to grow and change and go through the gamut of emotions and it's been the most fun. As you watch her do things that are surprising to you just know that it was surprising to me, too."