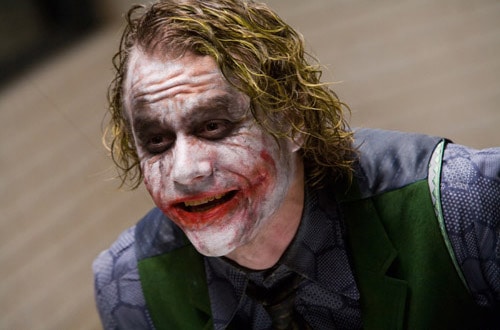 Even though an entire decade has passed, the tragedy of Heath Ledger's passing is still one that is felt. The actor, who was just 28 years old at the time of his passing, was at the beginning of his rise to stardom, having earned an Oscar nomination for his work in the movie "Brokeback Mountain." He was also gaining fame quickly due to the amazing performance he game as the Joker in "The Dark Knight," released in 2008. In this movie, he earned the Oscar for the Best Supporting Actor.
His Most Memorable Performance
For Ledger, there is no question that his most memorable role was the Joker, and this is what he is most remembered for. However, the fate of the character at the conclusion of "The Dark Knight" had many viewers wondering if there was an intention to bring him back (as the Joker) before his sudden and untimely death. Now, an entire 10 years after his death, Ledger's sister has revealed that he was planning to return as this character. After an interview in 2017 with a news outlet in Australia, Ledger's sister, Kate Ledger debunked the theories that popped up around the death of the actor that he was suffering from his art or from depression. She even stated that she talked with Ledger the night prior to his death and that they were joking and laughing.
The Reason for the Interview
The interview given by Kate Ledger came at a time when she was working to promote the Spike documentary, "I Am Heath Ledger," where Ledger's family and friends worked to recreate the legacy of the actor, along with footage that was hot by Ledger himself. In addition to the information mentioned above, during the interview given by Kate Ledger, she revealed that her brother enjoyed working with Gary Oldman, Christian Bale and Chris Nolan on the Batman film. She also stated that when he came home for Christmas with his family, he was excited to relate the experiences he had.
Ledger's Untimely Death
Ledger passed away directly before the premier of the film. While many fans have speculated if Ledger would have returned for an additional movie, and with Nolan and David Goyer hinting that he would return as the villain, this was never confirmed until the interview with his sister. Due to Ledger's death, the third installment in this Batman series wound up being given to Bane, played by Tom Hardy. While fan's appreciated this actor and what he brought to the screen, it wasn't the same as the performance given by Ledger.
While it is now confirmed that Ledger would have returned for another edition in the Batman series, this is something that fans will never get to see. During his short life, there is no question that he made quite an impact on Hollywood, and that his legacy will be remembered thanks to the role he played as the infamous Joker.