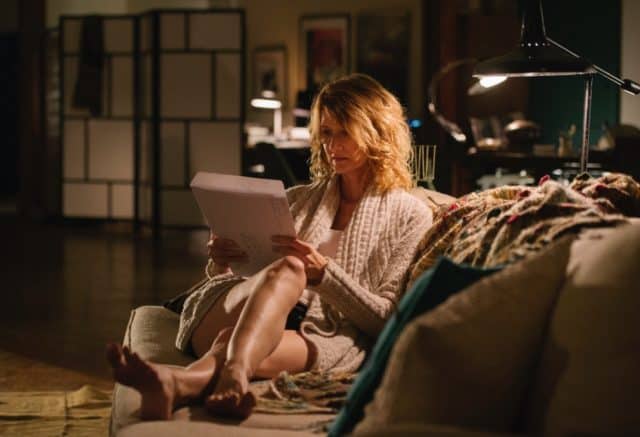 The Tale chronicles one woman's powerful investigation into her own childhood memories, as she is forced to re-examine her first sexual experience — and the stories we tell ourselves in order to survive. Premiering on HBO on Saturday, May 26, the HBO Films presentation is written and directed by Sundance Grand Prize winner and Emmy–nominee Jennifer Fox, who based it on her own true story. It stars Laura Dern (Big Little Lies), Isabelle Nélisse (Mama), Elizabeth Debicki (The Night Manager), Jason Ritter (Kevin (Probably) Saves the World), Frances Conroy (Six Feet Under), and John Heard (The Sopranos), with Common (Selma) and Ellen Burstyn (Academy Award winner for Alice Doesn't Live Here Anymore).

An accomplished documentarian working in New York, Jennifer (Dern) is completing her latest project about the lives of women around the world. She receives a series of phone calls from her mother, Nettie (Burstyn), who has found a short story Jennifer wrote at age 13, in which she describes various encounters with her riding instructor, Mrs. G (Debicki), and her running coach, Bill (Ritter), while at summer camp. Nettie is unnerved by the implications of her daughter's writing, but Jennifer is nonplussed. She has always looked back with fondness on the time she spent with these two charismatic adults.
Egged on by Nettie and encouraged by her supportive fiancé (Common), Jennifer yearns to know more and sets out on a journey, 30 years later, to find those people from her past — the children, now adults, who also attended the camp back then — and eventually the coaches themselves. But the more she learns, the more her memories shift and the more questions she unearths. As Jennifer's frustration mounts, she finds herself turning inward to get to the truth, imagining conversations with her 13-year-old self (Nélisse) and even Mrs. G and Bill in an effort to understand how and why events occurred so long ago.
An unforgettable meditation on the elusive nature of memory, The Tale is the first narrative feature from Jennifer Fox, whose documentary films have earned international acclaim for their groundbreaking artistry and unflinching honesty. Based on Fox's own life story, The Tale sees the filmmaker bravely pushing forward the boundaries of conventional storytelling, creating a dialogue between past and present to illustrate the interplay between memory and trauma.
"My goal was not to ask, 'Did this happen?' because I always remembered it," explains writer and director Fox. "It was, 'How and why did it happen, and how and why did I spin it as a positive story to myself?' There was a lightbulb moment when I was making another film about women all around the world, and it seemed that every other woman — regardless of class, culture or color — had an abuse story to tell. Their stories just floored me, because they had a system or a paradigm that looked like my story. Suddenly, I couldn't see it as my own private little narrative and knew that it was time to investigate what happened in the open space of a fictional film."
The Tale is produced by Fox, Oren Moverman, Laura Rister, Mynette Louie, Simone Pero, Lawrence Inglee, Sol Bondy, Regina K. Scully, Lynda Weinman, and Reka Posta. Julie Parker Benello, Dan Cogan, Geralyn Dreyfous, Wendy Ettinger, Abigail E. Disney, Robert & Penny Fox, Jayme Lemons, Amy Rodrigue, Ali Jazayeri, Jason Van Eman, David Van Eman, Ross Marroso and Ben McConley are the executive producers.
Tell us what's wrong with this post? How could we improve it? :)
Let us improve this post!