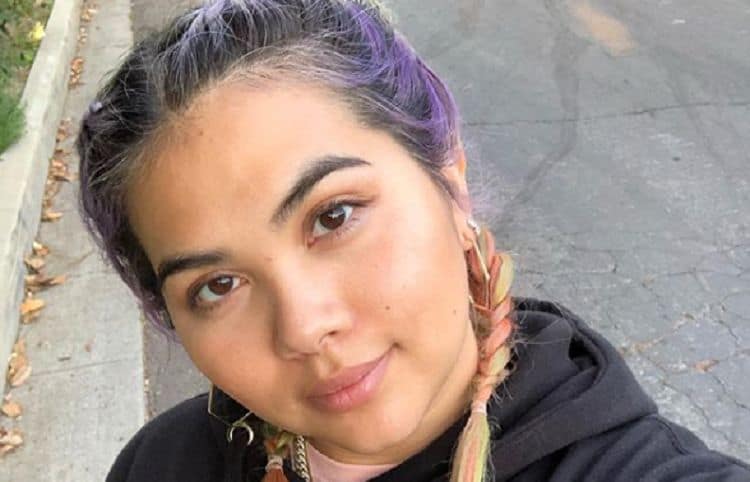 Known to millions as the lesbian singer-songwriter who produces some of the catchiest tracks on the radio, Hayley Kiyoko's career just seems to go from strength to strength. Since publicly coming out, she's been a staunch advocate for the LGBTQ community, working tirelessly to inspire confidence among youngsters struggling to come to terms with their own sexual identity. And it's clearly working… since her debut music single Girls Like Girls was released four years ago, it's had over 100 million YouTube views, giving Hayley the kind of audience other artists would kill for. Discover more with these 10 fast facts.
1. She started her career on commercials
Kiyoko was born in LA as one of three children to Sarah Kawahara, a choreographer, and Jamie Alcroft, an actor and comedian. Even at a young age, her work ethic was inspiring. At 6 years old, she began taking drumming lessons; by the time she was 11, she was hard at work writing drum charts and selling them through a local music store. Not content with restricting her talents to music, she persuaded her parents to let her audition for commercials, and soon started casting for the likes of Cinnamon Toast Crunch, GM Onstar, and Slim Jim.
2. She named her first band after her grandfather
While still a student at high school, Kiyoko got a gang of friends together to form the garage band, Hede, named after her grandfather. The band performed locally and released 5 tracks online before splitting after several of the band's members departed for college. Her grandfather, who died 4 years later, has been frequently remembered by Kiyoko as one of her biggest inspirations.
3. She was a member of The Stunners
Shortly after her first band, Hede, split, Kiyoko got her big break with the all-girl group, The Stunners. Within 6 months of forming, the group was signed by Columbia Records, releasing their first track "Bubblegum" to iTunes shortly after. 2010 saw The Stunners move to Universal Republic Records, where they released their debut single "Dancin' Around the Truth." After appearing as the opening act for Justin's Bieber My World Tour, the group eventually parted ways after Kiyoko decided she wanted to take full control of her musical output.
4. Her first solo EP was A Belle to Remember
Kiyoko's first release as a solo artist came with the crowdfunded EP, A Belle to Remember. Her 2nd EP, This Side of Paradise, was released on February 3, 2015. It's lead single, Girls Like Girls, was accompanied by a video co-directed by Kiyoko herself; having clearly got a taste for life behind the lens, the singer then went on to take full directorial control on its follow up, November 2015's Cliff's Edge.
5. She's known as Lesbian Jesus to her fans
Kiyoko's openness about her sexuality has earned her the nickname "Lesbian Jesus" among her fans. In interviews, she's said she knew she was a lesbian at just 6 years old, which led to her coming out to her family as a young teen. Despite the confidence she has these days, it took the singer some time to reach that point; after spending several years fearing rejecting and criticism if she was honest about her sexuality, she's now committed to helping young fans overcome the same issues.
6. She suffered post-concussion syndrome
After hitting her head at her birthday party, Kiyoko was diagnosed with post-concussion syndrome. "I could not think," she told Rolling Stone, explaining how she spent the four months between the injury and getting a diagnosis feeling like she was losing her mind. "If you told me to go to the grocery store, I would panic. I realized my main skill was thinking and creating, and that had been taken away from me." It took Hayley two further years after the diagnosis to fully recover.
7. Her top three passions are food, girls, and performing
In an interview with Paper, Kiyoko revealed her driving influences. "I would say my three passions are performing, food, and girls. Everything I did was because of girls." "I became a dancer not just because I loved dancing, but because the girls at the dance conventions were so hot," she went on to say. "I don't know what it was, I just loved being around beautiful strong women. It made me feel really comfortable."
8. Tegan and Sara are one of her biggest influences
During the early noughties, twin-sisters Tegan and Sara (two of the earliest purveyors of modern indie cool) were a major influence on Kiyoko. "I loved that they were cool and edgy but their melodies were so catchy," she recalled to Paper. "Only the cool people knew about them when I was growing up. I think that's how I ended up here: my strength is writing catchy melodies. I knew I wanted to end up on that lane, and still be fresh."
9. She's an advocate for LGBTQ rights
As something of a gay icon, Kiyoko has been fighting the good fight for LGBTQ rights ever since she came out to the public. As well as raising awareness for issues like violence against transgender women through her videos, the singer has been outspoken about anything she sees as harmful to the community (with one notable example being her criticism of Rita Ora's less than enlightened "Girls", whose depiction of same-sex attraction drew such wrath from Kiyoko that Ora was compelled to apologize).
10. She's no fan of Donald Trump
During the 2016 presidential campaign, Kiyoko publicly expressed her support for Democrat candidate Hilary Clinton. In the aftermath of Trump's win, she was vitriolic at the outcome of the election, taking to Twitter to vent her frustration. "I've never been so disappointed," she said. "This is appalling. I have nothing to say to the people who are about to take my rights away."