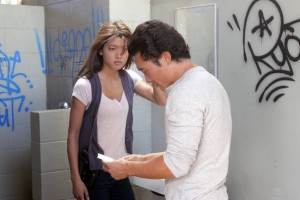 The big news in this episode of Hawaii Five-O is that we meet a new series regular: Taryn Manning (Sons of Anarchy, Drive), playing Steve's estranged sister Mary Ann McGarrett. Past that, it's all business as usual while the team tracks down a violent convict named Walton Dawkins (Brothers & Sisters' Balthazar Getty) who's escaped from prison by switching places with an unwilling prison guard.
Mary Ann doesn't make a great entrance, as she gets arrested for trying to smoke on her incoming flight and Steve points out that she missed their father's funeral. It's easy to see why they're estranged. Steve also gets a love interest in Michelle Borth (The Forgotten) that we learn he'll bed sooner rather than later; no protagonist on TV, it seems, is without a love interest for long. We'll have to see how that pans out.
Danny is visiting the doctor for a reaggravated knee problem, telling the good doc about Steve's greatest hits and describing him as "like a physical injury." He joins the Five-O team at the prison with a brand new cane. It's soon deduced that Dawkins is targeting a woman named Dana Thorpe. By the time they get to her hotel room, Dana's been shot and her fiance is gone, along with Dawkins. What gives? Dana's fiance is Dawkins' former partner in crime, and Dawkins wants his money. It's not a novel twist anymore, but it doesn't much matter. We're more interested in Dawkins hijacking a helicopter with hostages aboard. This is the second show in the 10 PM timeslot tonight to feature a helicopter (Chase also had one) but it's still fun to watch, especially with the Hawaiian scenery making a great backdrop for a subsequent foot pursuit that ends with the inevitable death.
What's most poignant is the end of the episode, when we learn Dana has survived being shot, and luckily so has her fiance. Of course, she now has to come to grips with who he used to be. This only reminds Steve that he needs to repair his relationship with Mary Ann, whom he finds at their father's gravesite. How their relationship develops should be interesting, since they've been out of each other's lives for awhile and a lot has changed. It will also depend on how the writers can work her in every week without it feeling forced.
"Lanakila" may not be the show's best episode, but all the same, Hawaii Five-O hasn't really had a clunker yet. I've not seen an episode and thought, "Wow, I wasted that hour of my life." Especially after seeing the preview this week, I'll admit that I rolled my eyes at Steve ending up in bed with someone already; I'd love to see the show with a lead that doesn't end up with someone in the first season. However, at least it looks like we're also going to finally meet Masi Oka as the coroner, which should be a great addition. We're seeing all these pieces on the table, and we just have to wait and see how they all fit together.