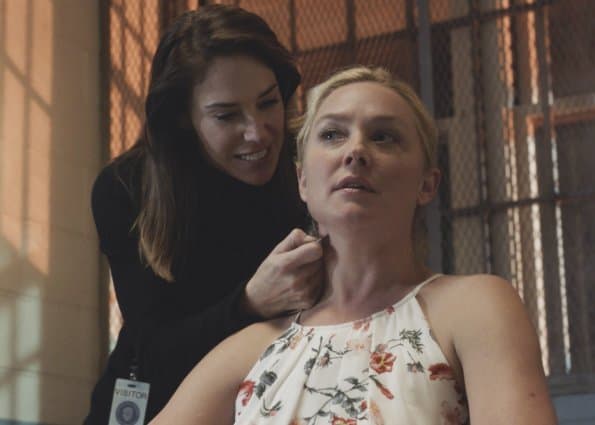 Hawaii Five-0 revisits the serial killer who went after Steve and former FBI profiler Alicia Brown, and it doesn't end pretty. The focus on this episode was a psychological game of cat-and-mouse where Five-0 was in the periphery. Dr. Meredith Gray returns, but not in the way you think. The team does their best to try to figure out what Gray's long-term agenda is, but ultimately this is between the sociopath and her living victim. A killer doesn't need to kill right away to accomplish their goals. Sometimes they need to twist the knife first.
The day started off well enough. Flippa opened up his own truck, with special guest Max Weinber of the East Street Band present. I do believe Danny is even a little starstruck! I'm sure Five-0 thought eventually they'd catch up to the psychopathic Dr. Meredith Gray, not the other way around. Gray just walks right into the police station with copious amounts of blood all over her hands! Conveniently she has no memory and claims she is a tourist named Lauren Parker. I'll give it to Elisabeth Röhm. The woman gives a phenomenal performance which deeply contrasts the psyche of the character she played the last time she was in Hawaii. The psychiatric consultant believes that Gray/Parker is suffering from Dissociative Identity Disorder, but we know better.
Steve has the unfortunate task of informing Alicia that Dr. Gray is back, and that the blood on Gray's hands was Alicia's. When the two finally come face to face, a split second shows just how depraved Gray is. She wanted to see Alicia because she wanted to get inside her head. Alicia doesn't take that too well. In fact it drives her to the edge. She runs out on Steve to kill Gray, but Gray is ready for her. "I've got a secret" Gray says, to entice Alicia into breaking her out. The two head to the mainland to confront the man who ordered the death of Alicia's daughter, Edward Sears. Gray's game isn't new at all. She manipulates people into killing for her, and that's exactly what she wants here. What better way to get back at the woman who uncovered her identity as a killer than to turn the tables and make her the killer? Her signature strategy certainly works on Sears, who kills himself to avoid giving the name of his accomplice to Five-0.
That seems like Gray's master plan, except it isn't. Her ultimate goal was to tell Alicia that her daughter is alive. That's right, after years of lost hope Alicia finds her daughter locked in a house as a prisoner. When they get back to Hawaii, Gray's plan comes full circle. It turns out that original plan was always in place, she just wanted to twist the knife by giving Alicia her greatest joy before her greatest regret. Alicia's been driven to the breaking point by now, the perfect mood for Gray to push just over it. Gray will never stop trying to hurt and manipulate people. The only way for her to be stopped is for Alicia to stop her, permanently.
We must give huge kudos to Elisabeth Röhm and Claire Forlani for their extraordinary work in this episode. The tangled web of emotions in their cat-and-mouse game was extraordinary.
Hawaii Five-0 Season 7 Episode 17 Review: "Hahai I Na Pilikua Nui (Hunting Monsters)"
Summary
Steve helps Alicia Brown face off against the psychopathic doctor who tried to kill them on this week's Hawaii Five-0.