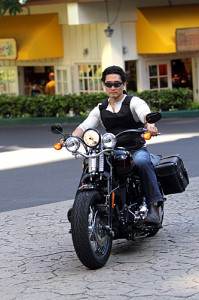 Written by: Wopsican
Aloha from Oahu. Let's recap Hawaii Five-O Episode 1×02 "Ohana"
One week after Hawaii Five-O's pilot aired, the second episode starts where the first left off; with a gunfight. Seriously, if this awesome action stuff keeps up I might never stop watching this show.
We open with Roland Lowry (Steve Cohen), an Ex-NSA specialist, with an unbreakable looking briefcase in the seat next to him, being escorted down Ala Moana Blvd to a top-secret meeting. Mid-way through a phone conversation with his son Evan (Colin Ford) his car is t-boned by a white van, flipping Roland's SUV upside down. Gunman from the van kill Roland's bodyguards (hired from Braddah's Private Security. Hilarious.) and kidnap him. We are left with Evan crying out to his father over the phone.
Cue iconic Hawaii Five-O theme song. I want to thank Jon Favreau for convincing the show runners to keep the original song.
Steve McGarrett (Alex O'Laughlin) listens to a tape recording left in his murdered father's red toolbox. We see a scene of McGarrett swimming in the ocean as his father's recording plays in background. He walks out of the water looking chiseled. The writers are certainly taking full advantage of hard bodies on this show, as well they should.
Danno (Scott Caan) walks into McGarrett's house unannounced. He offers McGarrett some malasadas. (Here's to this show talking about one local staple food per week, I loved the malasadas shout out. Anyone who has had Leonard's Bakery's famous malasadas knows what I mean). This banter was quickly followed by McGarrett telling Danno that the "pants and tie look" won't cut it in Hawaii (true, no one wears a tie out here). Danno goes on to tell McGarrett that this is the way every normal detective in America dresses, and it's his favorite tie given to him by his daughter, Grace. McGarrett then gets a call about the kidnapping.
At the crime scene, Chin Ho Kelly (Daniel Dae Kim) gets the cold shoulder from a cop he trained when he was on the force. We found out last week Kelly was kicked off the force on drug charges, which he claimed was a set-up. Kona (Grace Park) tries to get Kelly to go to her academy graduation party, but he refuses because he doesn't want stain her reputation. There are still people on the force who dislike him and think he's a dirty cop. Kelly notices a traffic camera and goes to pull footage. Meanwhile, McGarrett and Danno try and figure out why armor-piercing bullets and bulletproof windows are gracing their crime scene, and Kona finds Roland's cell phone.
Back at Headquarters, Danno and McGarrett interview Roland's son, Evan. Evan, clearly shaken, doesn't seem to know why his father was kidnapped, calling him the most boring person on the planet. Roland's girlfriend, Natalie Reed (Ivana Milicevic), shows up crying and comforts Evan. She is questioned but doesn't have any answers. McGarrett tells Kona to stay with Natalie in case it's a ransom case and she needs to trace the call. Danno tells Kona that they will relieve her in time to get to her graduation.
Danno clearly has a thing for Kona. I'm calling it right now, Kona and McGarrett hook up, putting a strain on Danno and McGarrett's relationship. We'll see.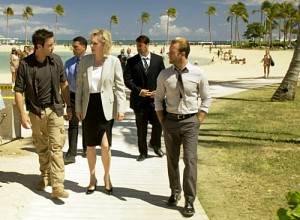 McGarrett and Danno head to Hickam Air Force Base to talk to the man Roland was supposed to meet, General Tom Nathanson (Ned Van Zandt). Nathanson tells them Roland was extremely paranoid about breaches to national security. He moved to Hawaii to continue his work, feeling that Hawaii was particularly vulnerable because of United States Pacific Command's responsibility of covering 150 million square miles. Nathanson said Roland had been working on something that could prove it and he was bringing it to the meeting. Back at Headquarters, Kelly watches surveillance video from the crime scene and sees a wounded gunman flee the scene, heading into the Hilton Hawaiian Village. He calls McGarrett and Danno to the scene.
McGarrett, Danno, and Kelly follow the blood trail and find the wounded man on the roof of the Hilton Hawaiian Hotel. A very funny scene occurred in the elevator ride on the way up to the roof. Five-O was loading their guns while tourists, a mother, father, and son, watch on nervously. When Danno tries to get information out of the unresponsive gunman, McGarrett impatiently steps in and puts the gunman's finger on his own gunshot wound and then presses it on paper for Kelly to run a print. Then he picks him up and hangs him off the roof. Danno flips out as McGarrett ignores him and presses the guy for answers. Kelly calls them off when he gets an ID on the suspect from his phone. Danno is livid, telling McGarrett they are going to have a "long talk" later.
McGarrett and Danno ride in car to Roland's house to look for clues. Let me say first, that if any car drove as fast as these guys in Hawaii, they would kill someone. We have the second slowest average speed limit in the country for a reason. But the car ride over is very amusing, Danno lectures McGarrett on proper police procedure, tells McGarrett that he was on the verge of breaking the suspect before he stepped in. The last two episodes have made it very clear that Danno is uncomfortable with McGarrett's vigilante behavior.
McGarrett proceeds to tell Danno that the only way to get answers was "fear of death". Danno says if McGarrett is gonna shoot first ask questions later that he should tell him now, so he knows when to "duck". McGarrett reassuringly says he wasn't going to kill him. The chemistry between these two characters is really good, and the writers clearly recognize this.
They get to the house and find that it is surveillanced with security cameras at every entrance. Danno finds secret room, they open it up and find a super "matrix computer" as Danno calls it. McGarrett says they need a hacker. Danno tells him he knows a guy. McGarrett is surprised and amused that "mainland" Danno, knows a local guy.
They go to the Danno's guy in the rainforest of Ka'a'awa valley. Chickens are present (if you've ever been to Hawaii, you know that there are chickens everywhere, mostly in the country areas, It's nice to see the writers are representing the chickens). They pay the hacker, Adam "toast" Charles (Martin Starr) with a big bag full of lollipops. Adam looks at Danno's tie and calls him "kama aina" (basically means local). They take him for a ride back to Roland's house.
Continued on next page…