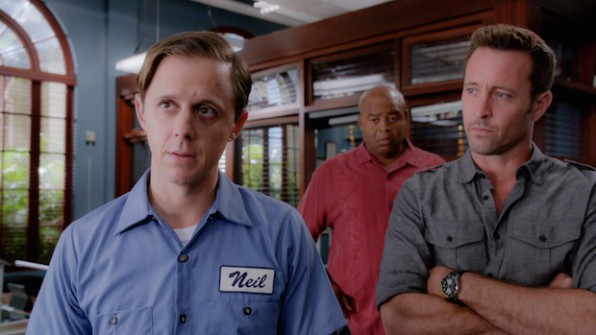 This week's Hawaii Five-0 started off as a nice lesson to viewers on the subject of autism before segwaying into more deadly subject matter. If the case wasn't enough to keep you glued, then the final minute reveal should have dropped your jaw to the floor.
This week's case is particularly important for the team to solve, they just don't realize the importance right away. An autistic man named Neil brings in a friend to the ER who has been shot. Unfortunately Neil's friend Mark doesn't make it, putting Five-0's only witness in a very vulnerable state. Knowing how important Neil's routine is, McGarrett and the team try to work within the confines of it to help them find out what happened to his friend Mark.
Unsure if Neil is still in danger or how much he still knows, McGarrett shadows him while he works. Neil begins to act very strangely when he blocks off the parking garage. McGarrett realizes that the parking garage shares a wall with a bank, and sure enough there is a tunnel leading from the garage to the vault.
Unbeknownst to Neil, Mark had purchased one-way plane tickets for them to Los Angeles. Then Grover finds out that Mark had a $100,000 trust set up for his daughter. That money came from giving thieves access to the vault. Neil helps lead the team to the thieves, who are all dead. One of the victims is the brother of one of the bank managers. She tells Five-0 that her boss was laundering $94M for someone, who turns out to be none other than Gabriel. Is there any criminal enterprise Gabriel doesn't have his hand in? Gabriel tries to ambush Five-0 which results in quite possibly one of the most brutal fight scenes I have ever seen on this show. This is not only because of the physical aspect of the scene, but because Daniel Dae Kim and Christopher Sean did a heck of a job portraying their characters' hatred for each other. Even though Chin threw Gabriel out a window and onto a car, you can't keep a villain down.
Elsewhere Danny's mom is back in town to get a cruise for her and her husband. They spend all day at a seminar for timeshares with Danny pretending to be his Dad, which fails miserably. This fun trip takes a serious detour when an FBI agent shows up on Danny's doorstep wanting to talk to Clara about Danny's brother Matt. It turns out Matt had an open account in Clara's name before he died, and Clara recently accessed it. Danny knows that this means Matt used their mother as his safe place, but this isn't really about Matt. Danny figures out that the FBI is actually after Five-0. And the investigator assigned to the case is none other than Abby.
I have so much respect for this episode. They started off with a nice angle on the story where they had to be respectful of an autistic man and his modifications. That alone sealed this episode for me. The tie-in to Gabriel and the reveal of Abby's true mission was the cherry on top of a fantastic episode.
Check out the final minutes of the episode and tune in next week to see what unfolds next.
https://www.youtube.com/watch?v=OPCsC6avLak
Best Hawaii Five-0 of the season? Yay or Nay?
Hawaii Five-0 Season 6 Episode 15 Review: "Ke Koa Lokomaika'I (The Good Soldier)"
Summary
This week on Hawaii Five-0 the team was closer than they've ever been to their enemy, though it's not the one they know of.