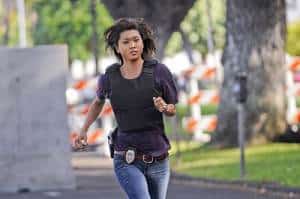 So, how well did Hawaii Five-0 tackle a Christmas episode? In my opinion – very successfully. Not only did the show give us the best gift that it possibly could with the return of James Marsters, '˜Hana '˜a'a Makehewa'was amongst the most exciting and tense installments of the series so far too.
The fact that Marsters would be reprising his role as Victor Hesse (the murderer of Steve's father) was something that was well-publicized and probably didn't come as a surprise to any fans of Hawaii Five-0. However, the return of this character still worked within the context of the show as Hesse provided a level of threat a notch higher than what we get in most regular episodes. (Especially as this one began by showing us Chin-Ho in some pretty serious danger with a bomb strapped to his neck.) Anybody who's questioning the realism of the situation regarding Hesse should remember that, as a general rule for a lot of television, if you don't actually SEE the lifeless corpse of a major character – there's room for them to return. This was certainly the case last night, as James Marsters' character had survived being shot twice in the chest.
Along with Hesse's return and Chin-Ho finding his life in danger, this episode also showed us how far the Five-0 team are prepared to go to protect one another. When Chin is in trouble, it's not just Steve who considers breaking the rules to save him. Kono is actually the one who suggests a more radical solution and instead of preventing the extreme measures that they go to, Danno serves as a calming presence for the team as they steal $10 million dollars from a secure HPD evidence locker. (I must say, the team did a great job at being criminals and really looked the part too … if they ever consider it, there are other career routes they could take!)
This episode is certainly one that pushes Hawaii Five-0 in the right direction, by introducing Wo Fat (a very important villain from the classic series) and uncovering a couple more details about the long-running story arc of the season. Truthfully, though, we can't yet tell how effective this episode is as a lot of its importance comes through the potential consequences for the characters. Of course, we all knew that Chin-Ho wasn't going to die, but if he isn't significantly traumatized by the events of this episode then Five-0 is missing out on a possible good story. In the same way, Steve and the others will need to, at some point, face real consequences for the decidedly criminal extent that they went to in order to save Chin's life.
Thankfully, Hawaii Five-0 is also slowly and steadily giving Grace Park and Daniel Dae-Kim better scenes together. Of course, I understand that they're supporting characters, but I personally would like to see more of Kono and Chin-Ho and have more of the focus on them. There were hints of that during this episode, with some good interactions between them whilst Chin-Ho had a bomb strapped to him. (Also, Kono wielding a sniper rifle was totally awesome.) Scott Caan's Danno remains the most enjoyable role on the show (congratulations on the Golden Globe nomination!), and he was still great in this episode but I'd really love to see the supporting players get more of a chance to shine.
I think my only real issue with '˜Hana '˜a'a Makehewa'is that I was expecting some a little more development for the overall story. What we got instead was effectively an episode-long manhunt, with some signs that the big developments that I want are coming. The way I see it, Hawaii Five-0 has done a decent job of pulling off a 'winter finale.'The tension was raised and the episode is one that keeps you on the edge of your seat. It cleverly ties in characters from previous episodes whilst bringing another layer to the story through the introduction of a key villain in Wo Fat. As I said earlier, the true significance of this episode will be much more clear when we see what repercussions come from the extreme actions of the Five-0 team and whether there is any lasting damage from Chin-Ho's near-death experience.
Hawaii Five-0 returns in 2011, on January 3rd.