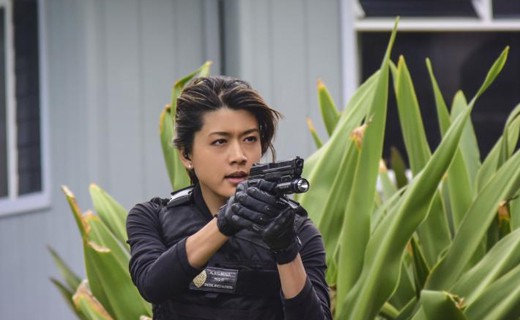 Hawaii Five-0 gets back to business as usual after their crossover with friends on MacGyver. We look forward to more interactions with the Phoenix foundation in the future. For now we'll refocus on our home favorites in the sandbox, this week following two separate cases. Grover and Chin work a drug-related homicide while Kono is very affected by a sex trafficking ring targeting young girls. Kono's emotions run high on this case, so high that not even Sarah's newly acquired entrepreneurial skills (thanks for that Kamekona) selling Aloha Girl cookies are comforting. The only thing that helps is making the difference.
Following Five-0's work with The Phoenix Foundation, Chin and Grover get back to business. They investigate a triple homicide at a sober living home which has actually been used as a stash house for drugs. It's a simple plan where rival gangs steal the shipment and ransom it back to the original suppliers for less than a quarter of what it was worth. It's always the meek-mannered girlfriend, so nothing new there.
Steve and Kono are called in to take over the disappearance of a missing teen girl. The key word here is missing, because when she is brought into the ER for bruises indicating abuse, we can consider her found. 16-year old Moani was lured in by a friend on social media. They end up finding another girl beaten and traumatized, who tells them she and three other girls including Moani, have been sex-trafficked on the island for months. This case comes to Kono at a time when she and Adam are going through a little bit of a slump. As a couple they are solid, but Adam has been trouble finding work. His record works against him, which doesn't give him much confidence that he could support a family at this time. Given how protective Adam and Kono are of those they love, it makes sense for them to be stable before they commit to children.
Kono's protective instinct goes into overdrive when she hears the details of what these girls are being made to do. Protective turns to anger the longer it takes to find the remaining enslaved girls. When she comes face to face with the ringleader, she purposely gets a few breaks and bruises in on her own to get even. Moani and the other girls are rescued, but a heavy emphasis is put on the fact that this is not where their story ends. The journey back from this abuse is long and difficult, and requires the right type of care.
For more information on this week's highlighted message, visit www.hoolanapua.org. Also support your local Girl Scout or Aloha Girl today.
Hawaii Five-0 Season 7 Episode 19 Review: "Puka 'ana (Exodus)"
Summary
Kono channels her fiery determination into rescuing teenagers from a sex trafficking ring on Hawaii Five-0.