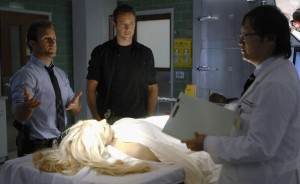 Holy guest stars, Danno. This episode of Hawaii Five-O is a winner in my book automatically, because it's chock full of people I've missed on TV. There's the long-awaited first appearance of Masi Oka as the medical examiner, Max Bergman – but there's also a short list of other familiar names: Kyle Secor (Homicide: Life on the Street), Jacqueline McKenzie (The 4400), and Wood Harris (The Wire). It's a TV nerd's delight.
Oka's Max is an entertaining character, reminding me of Chicago Hope's Dr. Jeffrey Geiger (and not just because they both play the piano and are socially awkward). I'm glad that he'll be a recurring presence. Secor and McKenzie play the victim's parents, and I'm likewise glad to see them both back on television. Harris is their security consultant, and he's perfectly poised to butt heads with everyone, without coming off as a complete jerk. The show makes good use of all their talents. Yet even with a great roster of guest stars, the show is still on the ball when it comes to where it left its main cast. Perhaps it's a minor detail, but I appreciate that Danny's still utilizing his cane and hasn't magically healed his knee; as much as I love Nikita, I had to shake my head at how Michael could be shot in the pilot and fine the next week.
The case isn't novel: the daughter of a VIP (this time, it's a U.S. Ambassador, who's a friend of Governor Jameson) turns up dead, and her sister is still missing. While Steve and Danny's trail starts with an unsavory guy that they met at a club, it is of course something deeper: forced prostitution. Predictably, the family has been negotiating with the kidnappers behind Five-O's back, which only makes the situation worse. As I've said time and again, however, I don't mind being able to connect the dots if I enjoy the process. Even though I knew where things were going, I still wanted to see them unfold, and when they did, I was satisfied.
If there's one thing I disliked, it's seeing Steve already in bed with Cat Rollins (Michelle Borth). As I said last week, it's not so much a criticism of this specific show as it is my general dislike of the practical requirement for a single, male protagonist to have a love interest. I'd at least have liked to see their relationship develop before they slept together. The only good element of this wrinkle is that Cat has to come face-to-face with Mary Ann, which is mildly funny.
Speaking of funny, as a longtime video game enthusiast, I couldn't help but laugh pretty hard at Steve and Danny's throwaway exchange regarding their shared interest in Ms. Pac-Man. Though I'm not going to quote it because of the expletive (since this is an all-ages site), I think that one's going to be stuck in my head for a few days. Likewise, I haven't seen a show employ an air horn so wonderfully since Sports Night did it with "Dear Louise" a decade ago. It's great to see a drama that can utilize humor that feels natural and doesn't detract from the narrative. I give a lot of credit to the writers, and the abilities of Alex O'Loughlin and Scott Caan, for being able to make me laugh at the same time that I'm still completely engaged in the plot. It's a tricky balancing act, and they succeed. (Did anyone else catch the mention of the Hawaii Chair, which was on TruTV's World's Dumbest?)
We also got a bit of scoop earlier today: courtesy of TV Guide, we now know that the interestingly named Claire Van Der Boom will be playing Danny's ex-wife, Rachel – also known as she whom he constantly bickers with. (And because this is TV, there's still sexual tension between them.) You'll see her in November, when the team "borrows" her house for a stakeout. Just the kind of fun I know this show will deliver on. Let's not overlook the importance of that consistency. In a fall season filled with mediocre series that have let me down, Hawaii Five-O has established itself as a reliable ride that's always worth taking. How it hasn't been picked up for more already, I don't know, because this one is a keeper.