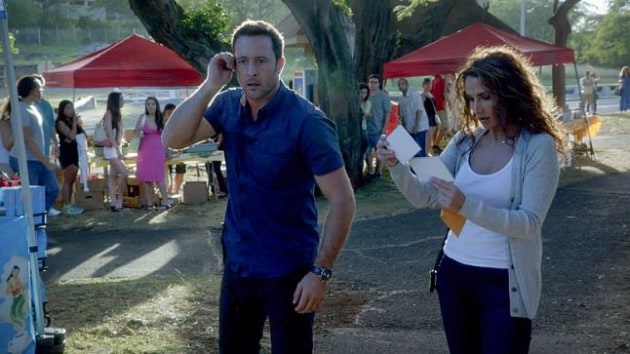 In one of the most gripping episodes of Hawaii Five-0 thus far, the team works to bring down a blood-thirsty arsonist, but the case distracts from an imminent threat to one of their own.
This week finds CSI:NY's Melina Kanakaredes guest-starring as ATF agent Kathy Millwood, who is tracking a serial arsonist who has made his way to Oahu. She's a no nonsense kind of person, who even tells off Steve before she's faced him. The team is nevertheless impressed with her assessment and progress in the hunt for this arsonist who has stepped up to killing. When the team gets too close to the arsonist, he leaves a calling card for Millwood, who is now forced to admit to the Five-0 that she has a personal stake in the case.
The arsonist they are tracking down is responsible for the death of Millwood's husband, and she has been continuing to work the investigation against orders. Steve being Steve, and understanding personal investments in cases, allows Millwood to stay on the case with them. After identifying the arsonist, the team eventually tracks him down to a hotel where they assume he is going for a bigger fire this time around. They realize too late that they were led into a trap so that the arsonist could grab Millwood and kill them both in an accelerated fire. Kanakaredes gives a stellar performance, teetering between threatening and fearful, before giving into complete terror as she's being doused with accelerant. Five-0 manages to save her in time, and she gets the last word against her husband's killer. Or does she? Not long after he is imprisoned, the arsonist is seen with a full pack of matches he swiped from a guard.
Meanwhile, after a tumultuous last few months, Danny whisks Amber away for some rest, relaxation, and reconnecting. Unfortunately, distance doesn't keep the nightmares away, as Danny's subconscious can't get away from his brother's murder. When Amber asks why Danny was saying the name Reyes in his sleep and what happened to him, Danny clams up, refusing to discuss how he killed his brother's murderer. Little do they know, they've got bigger problems to worry about besides nightmares.
When Kamekona gets a visit at work from a mysterious stranger looking for Amber, he tips off Steve and Chin. After a little digging, it turns out that Amber has been hiding a huge secret. Her real name is Melissa Armstrong, and the man looking for her is her abusive ex-husband. Now her ex has tracked her down in Hawaii and is intent on coming after her and Danny. When he finally does track them down, he knocks Danny out before holding Amber at knifepoint. When Amber refuses to say she still loves her ex-husband, he becomes even more unstable. Danny wakes up and manages to get the upper hand, but not before being stabbed in the gut. In her determination to get Danny to the hospital, Amber unknowingly follows in Danny's footsteps from a few months prior. When her ex again tries to come after her, Amber intentionally runs him over with the car twice, effectively killing him. Once Danny is out of surgery, he and Amber do not speak of her actions, only of the clean slate they will have from this point forward.
After the case is wrapped and Danny and Amber are safe, Steve and Grover participate in a golf charity event for the HPD. With some coaching from 2014 US Open Champion Michelle Wie, Steve puts Grover and his big talk in line. Grover should've known; Danny always roots against Steve, and then Steve always ends up winning.
How stellar were guest stars Melina Kanakaredes and Lili Simmons as Millwood and Amber tonight? Do you think Amber's actions will be discussed as a parallel to Danny's?
[Photo via CBS]