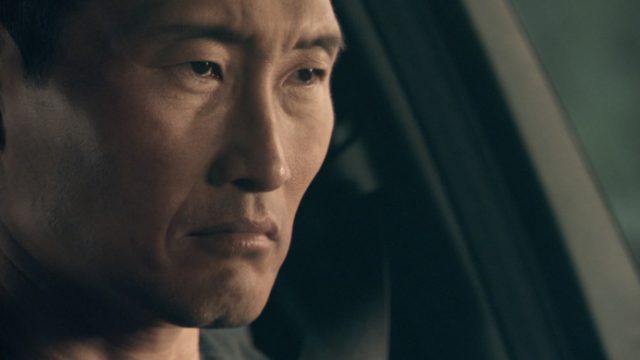 It's a new year for Hawaii Five-0, and everyone better hold on because the action-packed adventure is going to see some major changes in early 2017. Before the winter break, we watched with broken hearts as Chin Ho Kelly sacrificed himself to save his niece's life. It was brutal to watch as Chin promised his niece they would see each other again; a promise he wasn't sure he would be able to keep. Sadly, by the end of the episode Five-0 did lose a member of the team. It just didn't happen the way we anticipated.
Since they have no idea how to locate Chin, Steve tortures one of Diego's men until he gives up the location of a camp where Chin will be dumped. Not one to sit idly by at home, Adam violates his parole to come to Mexico to help. The team barely gets to Chin in time before he is literally fed to the dogs. Chin keeps his promise to be there for Sara, and in a bigger way than he imagined. Though it was Chin's past which got Sara kidnapped, Sara's aunt and uncle no longer think that she is safe in Juarez. They relinquish custody of Sara to Chin. Chin wondered if he was ready to be a Dad, and now he'll have the chance to prove it.
Once back home, the team investigates the death of car salesman Mitch Lawson found in his own trunk. With Grover's vast knowledge of car salesman from years of detailing at his uncle's dealership, he convinces Steve to let him go undercover at the victim's place of business. Their first suspect is Mitch's rival salesman. The guy is a sneaky snake, but he's not the killer. That honor goes to another rival salesman who is literally dumb enough not to clean up the blood stains in his office. Thus finding the killer is easy, but the fact that Mitch was so paranoid about one particular car right before he died is just too strange to ignore.
The team figures out that Mitch Lawson was smuggling heroin in the cars then delivering them to a Korean street gang. The problem is that according to the head of the gang, his crew was not suicidal enough to commit murder for it, especially not a cop who tries to help the rescue the man who bought Mitch's last missing car. When the team finds the killer, he turns out to be an international terrorist linked to several smuggling operations of his own-of uranium. By the time Five-0 gets to his apartment the terrorist commits suicide and the bomb is already gone. Which means somewhere there is a dirty bomb hidden somewhere on the island.
In light of the recent emotional upheaval, several members of the team are in need of a life change. Chin is already an insta-father, and you'd think that would be the biggest life change of all. After he thanks Adam for risking his own freedom to come to his rescue, it seems that Adam should consider what his next move will be now that he is finally free. Jerry has been homeless for the past few months, which has resulted in him couch-surfing and sleeping in McGarrett's office. Steve is happy to lend a hand once he finds out about the situation, but Jerry beats him to it and manages to find a great apartment which doesn't need an extensive credit check. The problem is that its current occupant is someone they know. Thus, we learn we are going to be saying goodbye to our beloved medical examiner Max. His experience volunteering in Africa changed him, and so he and his new wife Sabrina will be making the move permanent.
Get your tissues out people. If the thought of a dirty bomb doesn't make you cry next week, saying goodbye to Max will.