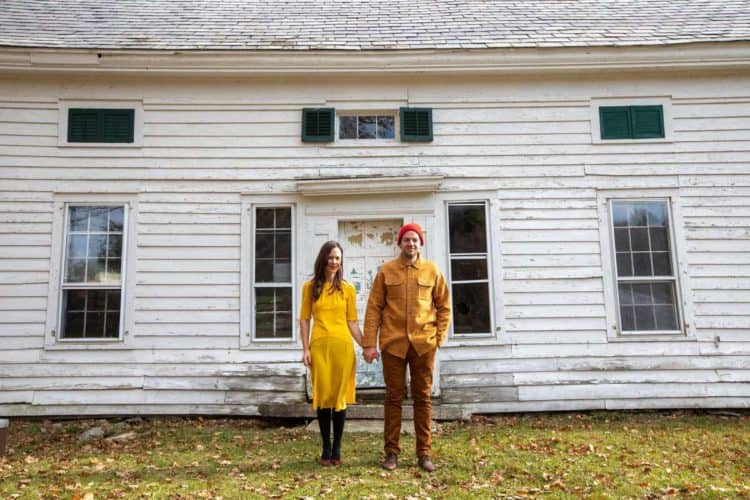 2020 was a difficult year for everyone, and the entertainment industry was no exception. However, HGTV came back with a bang for 2021 and the network introduced several new shows. Among them is a series called Cheap Old Houses. Hosted by Ethan and Elizabeth Finkelstein the show follows the pair as they discover very inexpensive old houses in different parts of the country. Of course, all of the properties will need some serious TLC, but you won't be able to beat the price. Ethan and Elizabeth are hoping that their work will help connect people with the homes of their dreams. Keep reading to learn 10 things you didn't know about Cheap Old Houses.
1. The Show Started As An Instagram Profile
Cheap Old Houses is new to HGTV, but it's not exactly new. Ethan and Elizabeth began their journey about five years ago on Instagram where they began sharing photos and information on old houses they found on sale for low prices. Little did they know, they would eventually become social media influencers and now reality TV stars. The profile currently has more than 1 million followers.
2. Most Of The Homes Are Under $100,000
Let's be real, the word 'cheap' has different meanings to different people. However, when it comes to Cheap Old Houses, most people will probably agree that the houses featured on the show are pretty cheap. Most of the properties you'll see will be less than $100,000 which is very affordable as far as houses are concerned.
3. Ethan And Elizabeth Don't Have A Background In Real Estate
Ethan and Elizabeth have become fixtures in the real estate world, but that wasn't what they always planned on doing. Neither one of them has a background in real estate. Ethan previously worked in digital marketing and Elizabeth studied historical preservation.
4. This Isn't A Show About Flipping Houses
Lots of the shows on HGTV are about flipping houses and/or renovating properties, but that's not the angle with Cheap Old Houses. Instead, Ethan and Elizabeth will look at two cheap old houses during each episode and decide which one they will feature on their Instagram account.
5. Season One Will Have 10 Episodes
If you're like most people these days, you like to know how many episodes a show has before you start watching. For those who were wondering, Cheap Old Houses will have 10, 30 minute episodes in its first season. This means you can easily binge watch the entire season in one weekend.
6. Ethan And Elizabeth Will Discover Some Cool Antiques
When you're dealing with really old properties, old items come with the territory. Ethan and Elizabeth will take the time to explore each of the homes they visit and they'll uncover some pretty cool old items. If you're a history buff, you'll definitely enjoy some of the things they find.
7. Elizabeth And Ethan Are Based In New York
Ethan and Elizabeth are based in Nyack, New York which is located about 40 minutes outside of New York City. The couple doesn't just talk about buying cheap properties, it's something they actually live. The couple currently lives in a farmhouse they purchased for less than $100,000.
8. The Show Is Filmed In Multiple States
Even though Ethan and Elizabeth are based in New York, that isn't the only place where Cheap Old Houses was filmed. In addition to New York, filming also took place in Illinois and North Carolina. If the show gets renewed for a second season, it'll be interesting to se if they decide to add any new filming locations. After all, there are probably some great cheap old houses all over the country.
9. Viewers Can Actually Buy The Homes Featured On The Show
One of the coolest things about Cheap Old Houses is that it's not about houses that are already sold. The series features homes that are currently on the market. If you're thinking of buying a new home, and you aren't opposed to an older property, this show could be a great way to see what's out there. That being said, actually buying one of these properties will probably be pretty difficult since so many people are going to know about them.
10. Ethan And Elizabeth Do Giveaways
Ethan and Elizabeth do giveaways through their website. Unfortunately, their current giveaway is nearing its end so by the time you read this article, you may not have time to enter. We aren't sure how often they do their giveaways, but keeping an eye on their website is the best way to stay in the loop with what they have going on.
Tell us what's wrong with this post? How could we improve it? :)
Let us improve this post!