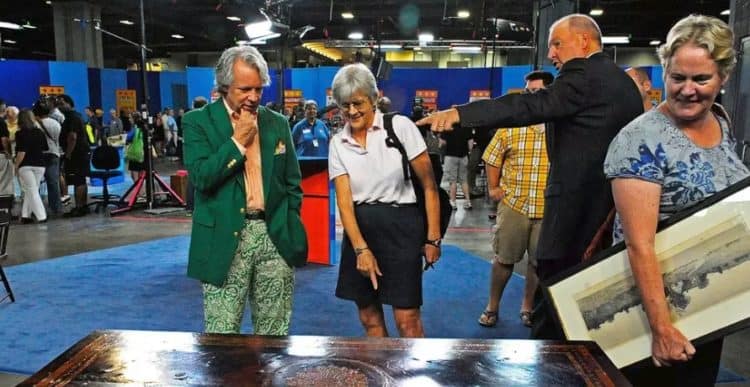 At least, that's what I find myself saying every time I channel surf and come across an airing of 'Antiques Roadshow'. And I've been in the company of friends while doing the same, only to have them stop me while surfing, commenting, 'I love 'Roadshow'! Let's watch it!' Because of this common occurrence, I'm convinced that most of us out there possessing any love for vintage items, antiques, or the things you've dug up at grandma's feels the same way.
Then there are the times, when digging around in grandma's basement or attic, that you've come across something that just gave you that…feeling. The feeling that granny had a bit of hoarder in her, because you're willing to bet your pants you just found Babe Ruth's personal scrapbook, or some old photos of the grandparents partying with some of the Kennedy's, and there are letters with the photos, to boot. Man, wouldn't it be great if you could just get your find onto 'Antiques Roadshow' and find out if it's worth anything? That would be incredible, even if the Kennedy's in the photos ended up being some old golfing pals from Fort Worth bearing uncanny resemblances to the former President and his family.
So, how would you go about getting on 'Antiques Roadshow' for an appraisal? There has to be a way; after all, look at all the common folk, just like you and me, that stand in endless lines for eternal hours just to get a value on a cracked crock vintage diamond (rhinestone?) necklace. How do you personally go about getting the privilege of standing for hours in one of those lines? Well, you needn't search any farther for the information you seek. We have put it together for you, giving you a guide on how to get yourself on that much-loved appraisal show that you have been gazing at for so long. Hopefully, the following will find you exactly where you want to be.
There Has To Be A Way
There is, but let's just say it's really not as complicated as you may think. Just because it's a televised program doesn't make it an audition-type event. As a matter of fact, think back to your younger years, and you will discover it is much like getting to go to one of your favorite pastimes. Concerts and/or movies. Okay, most of us loved going to rock concerts as teens, and many of us still enjoy it today. Movies are something that seem to always be, from here on out, and short of COVID-19 making the whole theater experience obsolete, should be around for years to come. So, you gain access to either one of these event types in one way only: You buy a ticket. Yes, you read that right; you buy a ticket. The ticket gets you in the concert or movie, and from there on out you are permitted to enjoy the event you purchased the ticket to attend. Simple, right?
Well, yes and no. You may have noticed that there isn't a lot of focus during 'Antiques Roadshow' episodes regarding how to get on the program. The thing is that they travel from city to city, so you have to be sure you catch them when they are in a location nearest to where you are, or where you are going to be. If they over-request they could get bombarded, so keeping tabs on your own is essential. So, how do you find out where they are going to be? Well, as I'm sure you know, we live in a cyber world, and we can get information on anything. So, after a bit (and I do mean a 'bit') of research, we are able to bring you the solid answers, from start to finish, regarding 'Antiques Roadshow' tickets. As for finding out when they'll be near you? That part is in your hands.
The Answer: In A Nutshell. Or in a single article, at least.
In answer to your prayers, we are going to assume you have the tour information for the 'Roadshow' and are planning to be in attendance. From start to finish, here is what you should do As we mentioned, get upcoming tour information first. This is easily done. You are actually able to contact 'Antiques Roadshow' directly by simply giving them a call. The number, 1-888-762-3749, is a toll-free number, so you will not be charged for the call. You also have the option of emailing them; just search for 'Antiques Roadshow Contact Form'. Both of these options will enable you to get information on when the Roadshow will be in a city near you.
You Can Buy Tickets For An Event
So, you have discovered that you will be near one of the locations on the Roadshow's tour. After a few seconds of mental debate you decide you want to go, so you call (or go online) to find out how. The good news is that you discover you can buy tickets just by calling or going online. You have virtually won half the battle. It should also be noted that the information on each 'Antiques Roadshow' appraiser is listed on the Appraisers' page of the site, so you can find their contact information, in case going on television really isn't your bag.
The Other Half of the Battle
Yes, there is another half to the battle, and it's a half that only you can do: Take your tickets and attend the event. Yes, it's as simple as all that. Oh, and don't forget to take your treasures with you when you go; it simply wouldn't due to go through all you've gone through and not even cover the very reason you went through it. So, carefully wrap, box, or otherwise prepare your goodies from grandma's to the appraisers at your 'Antiques Roadshow' event and stand in the right line. Soon you'll know if the tapestry with dogs playing poker is really worth a kings ransom or just a sentimental tear. Either way, have fun, and remember how to get on that show!
Tell us what's wrong with this post? How could we improve it? :)
Let us improve this post!