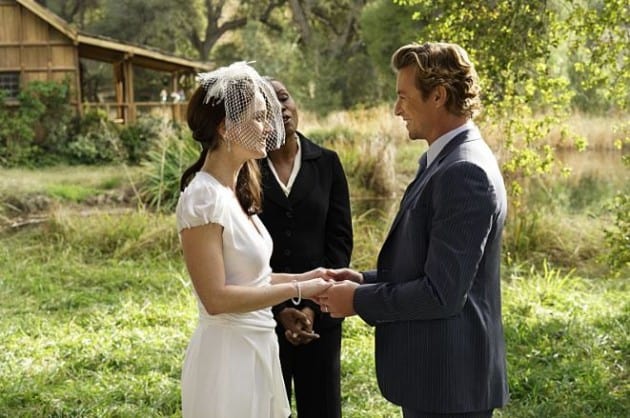 The time has finally arrived. The two-hour series finale of The Mentalist. I've watched this fantastic series from the very beginning and was immediately hooked after the pilot episode. It had an intriguing storyline and engaging characters right from the get-go. It holds a very special place in my heart. I am always sad when one of my favorite shows ends, but I will try to, as Jane said to Lisbon at the end of the final episode, look on the bright side. CBS gave us this seventh and final season to wrap the show up properly with "Brown Shag Carpet" and "White Orchids," and they did not disappoint.
Before we reach the proverbial finish line, the team still has to deal with one last serial killer. "Brown Shag Carpet" begins with the team still looking for the killer after Gabriel's unfortunate murder. Cho brought in a familiar face, Agent Rick Tork, to help with the case since they were shorthanded. Agent Tork suggested that they should do a media tour to draw out the killer, and it hit a nerve with Patrick Jane since the last time that he went on a media tour pretending to be a psychic, it ended in tragedy. However, he later agreed to do it for the sake of solving the case and catching the killer.
Lazarus, aka Joseph Keller Jr., was beyond creepy. He called in to the radio show where Jane was being interviewed and asked a bunch of questions about being able to contact the spirits of the dead and then kidnapped Jane after ramming his truck into Agent Tork's car. He even kept his father's mummified corpse in the basement and wanted Jane to help him connect with Dad in the Great Beyond. He also stole quite a lot of blood from the people he killed in order to perform some kind of soul bonding ritual with dear old dad. Oh, and his dad was most likely also a serial killer. Like father like son, yes?
Watching the team try and figure out exactly what the stolen blood was for was interesting; everything from Satanic rituals to vampires was mentioned. That goes to show that the Internet can be a very scary place. I was very proud when Wiley stepped up as he stood his ground when he pointed out to Abbott and Cho that checking out the occult bookstore was something that Jane would do. If you were to do things by the book, you would get the same results, and sometimes it could very well end in tragedy. Wiley definitely came into his own, and it was great when Cho smacked him upside the head, aka the infamous Gibbs Slap, and asked him to stay on the team. The two even shared a nice fist bump, and I was like #Bromance!
I was extremely happy that I got to see Jane in his "psychic" mode one last time on The Mentalist, because it's always entertaining watching Patrick Jane read people so well. It's like he's another version of Sherlock Holmes in a sense with his in-depth observation skills. I also enjoyed the scene where Patrick outed the jeweler when he went to buy Lisbon a decent engagement/wedding ring by saying that the man pulled the old switcheroo on the ring that an engaged couple wanted him to modify, and I laughed out loud when Jane threatened him that if he saw any glass then the cuffs would come out.
When Keller Jr.'s house blew up from Jane's makeshift bomb in the utility room, I had a gut feeling that Lazarus/Keller Jr. was still alive. I wouldn't have minded if he were blown to pieces, but I knew that it was far too easy for Keller Jr. to die from the explosion. Teresa was beyond terrified as she ran up to the burning house. She truly feared that Patrick was dead so, in a way, she got a taste of the fear that Jane's been carrying around with him of her dying in the line of duty. She even told him as she carried him out of the house to never ever do that to her again.
There were several great moments between Patrick and Teresa in these action-packed two hours. She asked Patrick straight out about taking off his old wedding ring, and I applauded her for doing so. They have been together for a while now, so she has every right to ask such a question. Her question seemed to push Jane to take a closer look at why he continued to wear the ring and what it meant to him symbolically. It served as a connection to his past, and without it, he wouldn't have met Lisbon and the rest of the team at the CBI and the FBI. But now he wanted to look towards the future.
That was the moment when, as he and his Teresa sat near his beautiful, little lakeside cabin in the woods, he asked Teresa Lisbon to marry him. It was a light, tender, and romantic moment. Lisbon first noticed that Patrick wasn't wearing his wedding ring. Jane replied that he was not married, and when he said, "I want you to be my wife. Will you marry me?" Teresa was completely awe struck as she told him yes as she cried tears of absolute happiness. It was equally sweet when Patrick admitted to being nervous about her answer.
The fun began as Lisbon went from deciding on a simple wedding with just her, Patrick, and the judge, to her brothers coming, to a few friends including Wayne Rigsby and Grace Van Pelt, and then before she knew it, Abbott had hired a caterer, and she was completely overwhelmed by all the wedding preparations. It was also nice of Abbott to offer his backyard as the location for the wedding ceremony. He truly is the greatest boss ever.
One of the most wonderfully unexpected scenes was Lisbon asking Cho to come along to help her pick out her wedding dress. Of course, Cho was brutally honest, and his commentary was both hilarious and priceless as he described each individual dress: the first dress "makes you look short; second dress–"snow cone"; and the third dress was the "slutty elf" look. Never thought that I would hear the words "slutty elf" coming out of Cho's mouth. Thank you, Mentalist writers! I was also glad to see Lisbon wear Jane's old wedding ring on her neck beside her cross. I was afraid that Jane might toss it into the lake when he was about to propose to Lisbon.
Back at the FBI, Abbott talked to Jane about his future. If Jane planned to leave the team, then they had some legal matters to take care of, and I was smiling along with Patrick as he brought up that fateful napkin contract that they'd written out so long ago when Abbott was trying to arrest Jane for the murder of Red John. Jane wasn't sure what he wanted because it would be hard to give up the thrill of the chase. He then played Abbott like a puppet and got him to admit that Lazarus was still alive. Nothing escapes Patrick Jane, nothing!
The saddest moment in this final episode was when news anchor Dan Glover was killed. In his interview with Jane, he admitted to recently having a baby girl. All I could think as he was being stabbed to death was how he'll never get to watch her grow up and that I knew in the back of my mind that Lazarus was going to kill Glover anyway despite saying that he would not hurt him.
Lazarus being alive and out to get revenge on Jane in "White Orchids" was the perfect reason to change the wedding location from Abbott's house to Jane's lakeside cabin. I was both confused and freaked out when I saw Lazarus hiding in the trunk of the judge's car because I don't know how he managed to sneak himself in there without being seen. Teresa was pushing towards eloping as she cried from the pressure of planning a big wedding at Abbott's house because it wasn't what she wanted in the first place. In the end, the wedding was picture perfect. The bride wore off-white and carried a gun in order to take down Lazarus. Then she exchanged the gun for a nice bouquet of flowers, and it was time to tie the knot. Yay, happy ending!
Teresa looked absolutely beautiful in her simple, elegant dress, and of course, Patrick was extremely handsome, but what stood out was that the two couldn't stop smiling. I don't think they've ever looked that happy in all seven seasons. The final moment in "White Orchids" was very emotional when Teresa revealed to Patrick that she was pregnant. It was a sweet surprise and one I didn't see coming, and neither did Patrick apparently, because he thought that she was kidding at first when he saw her hand on her belly.
After all of the horror and tragedy that had been through, Patrick Jane finally got his chance at a fresh start and true happiness with the woman that he came to love with all his heart and soul. He had even begun remodeling the cabin into a nice home for his new wife and unborn child. It was the perfect ending to a perfect show. I wonder what Patrick and Teresa will name their child when it comes into the world? Will it be a girl or a boy? Though I don't really think that matters as long as it's healthy.
I will certainly miss watching The Mentalist every week and writing reviews for each and every episode, as well as all of the wonderful characters and the actors who have brought their respective characters to life. Perhaps someday I will see them in other shows, but for now, it's time to say farewell. For those of you who are as sad as I am that The Mentalist has completed its run, I will paraphrase Jane's words to Lisbon as they walked down the aisle: No matter what happens, from this point on, we will always look on the bright side. That is a promise.
[Photo via CBS]