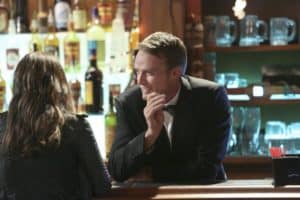 Much of the second season of Hart of Dixie has focused on the various relationship permutations on the show. There have been enough new friends, new frenemies, and new situations to go around, so it's only fitting that the Halloween episode finds everything going a little topsy-turvy. It may just be something in the air during this time of year, but what you thought you knew about the couplings on Hart of Dixie is tested during "Walkin' After Midnight". Did everybody make it out okay or do we have any new combinations of BlueBell folks joining forces?
Playing with Your Mind
Zoe has been noticing a series of strange happenings around her home. On nights that she's spent with Wade, she's come home to find her previously made bed a mess, a sock in the underwear drawer, and a toothbrush in her bathroom; she thinks that it's just Wade trying to play a prank on her, but he doesn't know a thing about it. Later that day, she invites him over to install a security camera so she can catch whoever's been in her place, which turns out to be George Tucker sleepwalking. He thought that he got rid of the disorder when he was 9, although recently ending up at the gas station in his underwear might have been a sign that it had returned. Zoe decides to come over to the houseboat that evening to run an EEG on him and watch him sleep in order to determine the cause of the sleepwalking and where exactly he goes while he does it. If George doesn't get help for the disorder, particularly while living near the water, it could have dangerous consequences, so he agrees to the test.
Brushing off Wade's jealousy (and James Bond costume), Dr. Hart arrives at the boat and gets George to follow his pre-bed routine. Fortunately, she came at the time that he changes clothes, but he goes in another room to reveal boxers and a wife-beater underneath. After placing the nodes on his head (and finding out that he was going to be a firefighter, which is what she wanted Wade to go as), Dr. Hart goes to sit, watch, and wait for anything major to happen. It happens – when she's asleep. Due to Wade tiring her out recently (ahem), Zoe can't keep her eyes open and by falling asleep in her chair, she allows George to get out of the boat. Once at the Rammer Jammer to get Wade, she has to deal with his issues with the night's happenings before they find George at the party, who proclaims to Daisy that Zoe's his girlfriend. Despite overhearing that and getting more upset, Wade helps Zoe move George outside onto a hay bale before she goes to take the lawyer home to put him to bed so he doesn't hurt himself.
On the boat, Zoe can't help but ask about the relationship she and George share in his subconscious, which is apparently a happy union. Wade, having gotten riled up while at the bar talking to a former flame, comes rushing onto the boat and pushes George overboard in a fit of jealousy, waking him up but putting him in danger in the process. Once out of the water, George talks to Dr. Hart about what happened that night and she offers her speculation as to why he's been sleepwalking around her home; George isn't over her, not by a long shot, and things like the toothbrush and the sock are him subconsciously trying to be "domesticated". He admits to not being over her at all and presses her about why they're not together, her rationale being that she can't be his rebound and he has to find someone who he actually cares about rather than biding time dating girls that he doesn't see a future with.
Additionally, Zoe confirms that she has someone in her life that she cares for, a fact that she recounts to Wade later and that helps him to forgive her for their not-so-great Halloween.
Playing the Field
George has been out and about in the dating world following the break-up with Shelby, juggling both a Daisy and a Savannah while finding his tax lectures filled with single women. After 15 years with the same partner, he wouldn't be in the wrong for indulging in his newfound status a bit, but due to being hung up on Dr. Hart, he can't quite let go and enjoy himself. After letting Daisy down gently following the talk with Zoe, he heads after the one that he really wants: Presley, the local beer distributor that he met at the Rammer Jammer the day before the Halloween party. She may not be the delicate southern flower that he has had the opportunity to pick recently, but she challenges him and doesn't let him get away with anything, which he thinks he needs at this point in his life. George asks her out at the end of the episode and, though she makes him promise no flowers or tie, she ultimately accepts.
Playing Dress-Up
Lavon's campaign is in catch-up mode following the shoplifting scandal from last week's episode and Lemon is trying to motivate the Belles to get into gear and canvass BlueBell. Initially, they're fairly reluctant, due in part to Lavon's (once) superlative reputation, but they have to do something once Tom Long convinces the Beaudry clan to finally register to vote. The 22-person family are Auburn Tigers through and through, which makes Lemon's choice to use Lavon's old 'Bama football photos in a campaign poster a worst case scenario. Normally, you wouldn't have to worry about an additionally 22 votes, but considering how close the race became, the cliché proves to be true: every vote counts. With the Beaurady's throwing their support behind Ruby, Lavon is down by 19 votes and needs a way to win their allegiance, which won't be easy in a college football haven like Alabama.
AnnaBeth comes up with the idea that Lavon should "date" an Auburn girl in order to procure their support – specifically, her, as her grandfather was the quarterback of the 1957 National Championship team and she went to Auburn herself. Lavon, desperate to hang on to his role as Mayor and finally fired up to campaign, is very much into the idea of being seen around town (particularly the upcoming Halloween party) with an Auburn alum, but Lemon isn't a fan of it at all. No matter, as AnnaBeth has picked out their costumes (Rome and Juliet, playing up the "star-crossed lovers" angle) and written out flash cards for the important events in their "relationship" to cover their tracks. Although AnnaBeth is doing this to help Lavon win the race, she has an ulterior motive: she has a crush on Lavon and thinks that them pretending to be in a relationship could lead to the real thing.
The night of the Halloween party, Lavon and AnnaBeth make a grand entrance in their fairly elaborate costumes, immediately garnering potential couple names from Dash (LavonnaBeth vs. Annavon) and drawing attention to themselves from the BlueBell-ians in attendance. Once they find Mrs. Beaurady, AnnaBeth turns on the charm, complete with pet names and a recount of several of Lavon's big accomplishments as Mayor, including work improving the library, the implementation of electric grid, and raising the local business revenue by 16%. It's a pretty impressive sight, AnnaBeth getting in touch with her inner Good Wife, and Mrs. Beaurady is won over by her (seemingly) sincere stumping and her Auburn roots.
Lavon may have the vote from the Beaurady family and (unofficially) pulled ahead in the polls, but Lemon isn't in the mood to celebrate, laying into her candidate about the lie he was living in at the party and how that made him no better than Ruby. Her intense reaction, spurned on by jealousy and competitiveness, guilts Lavon into come clean to Mrs. Beaurady about the fact that he's not in a relationship with AnnaBeth; as expected, the Beaurady matriarch is upset and pledges her family's support to Ruby. Lavon, though, is at ease with telling the truth and thanks Lemon for trying to talk him out of it, giving her a hug and sharing a moment with her in the process.
Ruby overheard Lavon telling the truth and that actually makes her repent for her actions with the Owls. The two may have gotten a little heated recently in their campaigning, but with Ruby promising to grow up after seeing Lavon with the Beauradys, it might become a civil election season after all.
Imagine the thought.
Additional thoughts and observations:
-"Have you ever considered the possibility of demons?"
-"I'm sorry, but I'm not killing the Beaudrys." Bless you, Tom Long.
-"You know, you are pretty sexy when you're in misguided vigilante mode."
-The Wade-and-Zoe-fool-around-in-front-of-a-camera thing went a little differently than I expected. I figured that it would accidentally tape and the tape would get out somehow, but maybe later this season?
-I loved that nobody knew what Wade was supposed to be and that Zoe watched Magic Mike this summer.
-I'll hit this point pretty much every recap, but it has to be said: Scott Porter is a dreamboat.
-I hope that we get to see Dash's one man production of Macbeth in the future.
-How long before Lavon and Lemon hook up? We're at episode five right now – I'll be conservative and say they'll hook up sometime in January/February.
–Hart of Dixie will be preempted next week for election coverage, but when it returns on November 13th, Lemon finds a creative method to help Lavon pull ahead of Ruby, George and Wade try to garner last-minute votes (including a reluctant Tansy), and Zoe tries to give Magnolia driving lessons to lessen the load on Brick.