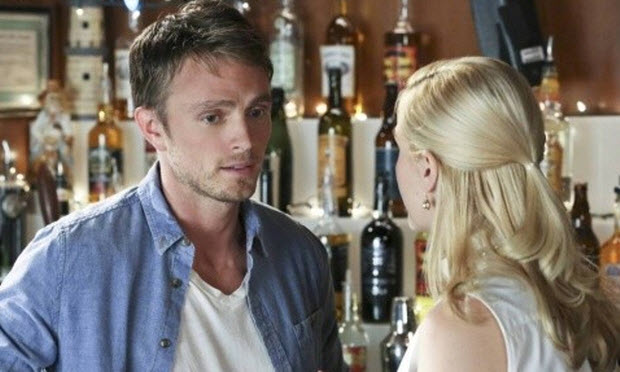 by Jen Winkler
Zoe's New York boyfriend Joel is still acclimating to Bluebell. It seems like he is almost regretting his decision when he can't find any Wi-Fi in the town, but unfortunately not enough to leave just yet. He's a nice guy, but he's clearly not quite fitting in with all the residents. Zoe convinces Lavon to host a dinner party at his house to help Joel fall in love with Bluebell.
Lavon's cousin Linley and George have the most predictable (read: boring) storyline. They fell into bed with each other last week, not even knowing each other's name. Now Linley is upset that this guy whose name she didn't even get just blew her off, and goes crying to her cousin Lavon, who happens to be one of George's good friends. George instantly puts the puzzle pieces together when Lavon goes on a rampage through town trying to find the guy who would treat his cousin like this.
Last week, Lemon was desperately trying to hide the fact that she has been sleeping with Meatball, the town's belching, Metallica t-shirt wearing slob. She had gotten herself into more hot water when she fabricated the lie that she and Wade are dating. Initially she was doing that to help Wade since Zoe had come back to town with her new boyfriend. Lemon's plan backfired this week when she met an attractive bachelor passing through town, Carter Covington (guest star Ryan McPartlin).
Quirky antics occur and all of these characters find themselves invited to the dinner party. Lemon was starting the rumors that she and Wade are having relationship problems since she was interested in Carter. Their lie almost comes to a head, but Wade convinces Lemon to keep it going for his sake. It's obvious that he's still in love with Zoe, but it will be interesting to see if all this pretending with Lemon results in real feelings between them.
Maybe we don't know enough about Linley at this point to care about her as a character, but I really wish she would just leave already. She comes off as a spoiled brat, and so far it seems her only point is to annoy Annabeth and now torture George. Annabeth deserves a much better storyline, rather than just acting as Lavon's housewife. Hopefully Lavon and Annabeth get engaged this season, since they are the show's most stable couple.
What did you think of this episode? Are you Team Joel or Team Wade?