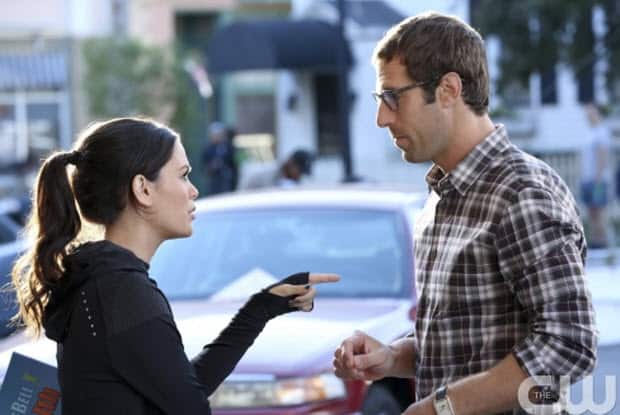 Last night's Hart of Dixie surprised viewers with a crushing breakup, but probably not between the couple you were hoping it would be!
Buying a house dubbed "termite house" probably wasn't the best decision Joel and Zoe could have made. It turns out their inspector was a crook, and the estimate they received on how much the intensive repairs would cost is a lot more than they were expecting. Joel wants to renovate the house himself, but Zoe knows he's not handy so she fights to hire the contractor who gave them the expensive quote. She even makes a bet with Brick that if the town ends up losing their collective 500 pounds at the final weigh-in of the Health and Wellness Challenge, he would give her half-ownership of the medical practice back. With the extra money she could make just by being part owner, she could easily afford the renovations.
Of course, it wouldn't be Bluebell if things always worked out according to plan. As leader of the Belles, Crickett has almost led them into bankruptcy, and her only saving hope is to throw a Cake Fest to raise the much-needed funds for the group. Zoe willingly helps the Cake Fest for the sake of the Belles and the town in general. This means she won't get the raise at the medical practice, so she and Joel will need to live somewhere to live for 2 months other than the bed and breakfast they grew so tired of. Their options are pretty limited in Bluebell, so what do you think the chances are that they'll end up back in her old quarters at Lavon's house? That could definitely complicate things with Zoe living next door to Wade again.
Speaking of Wade, Joel started shadowing Wade in order to gain insight into the kind of man his protagonist in his new novel should be. Honestly I think Joel already subconsciously named the character Wylie Kinkade after Wade Kinsella. Now he just needs to study Wade's mannerisms and actions to make his character more of a true Southern cowboy. It was pretty funny to see Joel even step in behind the bar for Wade.
Annabeth was roped into throwing a bachelorette party for Elodie, a newly engaged Belle who's already planning her Mardi Gras themed wedding for next month. Meatball and Tom are the only strippers she could get in time, but oddly enough they were a hit with the ladies. Annabeth drank her sorrows away all night, as Zoe consoled her that it's not a competition between people to see which couples get engaged first. We all remember what happened the last time Annabeth was honest about wanting marriage in her future with Lavon: he kind of freaked out. She accepted that answer then, but it's been a while since then and she really can't go on knowing that Lavon doesn't see a commitment in their future.
My heart broke right along with AB's when she realized it was over between her and Lavon. She told him she knew within 3 months that he was her soul mate, but he couldn't answer when she posed that question to him. I really thought they'd be getting engaged by the end of this season, so this was a huge disappointment. There's always a chance that Lavon has a change of heart as he's dealing with the breakup, but I don't know if Annabeth would believe him if he just now came around to realizing that she is indeed the love of his life.
In happier relationship news, George and Tansy are ready to give their relationship another chance! If it weren't for Wade's comment that a month has passed since Lynly left (just 1 week in viewers' time), Lavon could complain that George moved on way too quickly. That being said, George finally resolved the awkwardness between him and Lavon by apologizing for how things ended with Lynly.
It seems like their friendship is finally back to normal, especially after they were working together to resolve the alpaca farm issue between Tom and Wanda. I like to think of Tom and Wanda as the equivalent of Gilmore Girls' Kirk and Lulu, the eccentric young married couple in the small town. They haven't been in the spotlight much since their wedding last season, which was very cute. Tom thought Wanda wanted an alpaca farm, so he enlisted George's help to get the approval from Lavon. Wanda had asked Lavon to do her a favor and shoot down the proposal, citing ridiculous reasons like they're dangerous even though they don't have teeth. It probably would have been really cute if they did start an alpaca farm, because this show could never have enough cute animals. Oh well, at least with Tansy back for now, hopefully we see more of her pooch Dolly Parton!
What did you think of the episode? Are you upset about the breakup? Do you think this is really it for Lavon and Annabeth?
[Photo via Mike Yarish/The CW — © 2013 The CW Network, LLC. All rights reserved]