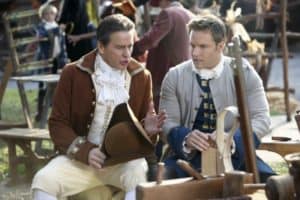 After getting together the previous month on Hart of Dixie, Zoe and Wade are still very much in the honeymoon phase of their relationship. The two have been the topic of conversation around town and when Lavon mentions that he doesn't have anyone to play the first couple of BlueBell, Zoe volunteers and Wade reluctantly agrees. As he's still heartbroken from what happened with Ruby, Lavon has been very distracted from his mayoral duties, including the impending arrival of a reporter from Southern Living, and hasn't been the most supportive of Zoe and Wade.
Zoe gets the journal of the wife in the first couple of BlueBell from Crickett, who has read it and implemented the lessons in her own relationship. In short, the diary says to never argue and to remain positive about every bad thing that happens; Zoe has been worried about how much she and Wade fight and doesn't want to end up like her parents, who were constantly at each other's throats. She lets several incidents slide, including her car being reported missing (Wade had taken a fishing trip, gotten drunk, and walked home), her expensive shampoo being used up, and Wade blowing off a planned orange picking trip to hang out with his friend Meatball. After biting her tongue for that long, Zoe needed a way to channel her energy, which Crickett suggests doing "projects" to keep her mind off of her feelings. She takes up quilting and once the Pioneer Days kick off, she morphs into Lemon Breeland, going from candle making to bossing around the other women in town and becoming the new Queen B.
Wade doesn't like Zoe's change in personality and goes to talk to George about her new approach to their relationship. He tells Wade that Lemon did it, too, and that women are like volcanoes – they have to have constant mini-eruptions to avoid exploding into something huge and destructive. Wade then decides to test how dedicated she is to her philosophy, showing up to the Rammer Jammer smelling of manure, loudly talking about her prowess in the bedroom, and letting a raccoon into her bedroom and destroy a pair of Louboutins. He tells her that she needs to get mad now and then to avoid exploding, but their tension spills into the Feast, particularly once Zoe finds out that Wade and Meatball went to the Foxx Trapp, a local strip club. They have an argument in front of the entire town when they're supposed to be playing the first couple and she storms out.
The two make up later when Wade promises that they're not like her parents and that their crazy brought them together. Zoe then reads the final page of the journal, which says that the wife couldn't handle living her entire life like that and when she did explode, they found BlueBell. Crickett rips that page out.
Pioneer Days with Lavon Hayes
Delma typically caters Pioneer Days, but since this year will get serious publicity, she'll be getting replaced. But who will be the one to fill in for her and (hopefully) get BlueBell positive marks? Lemon wants to cater the First Feast with AnnaBeth, who is excited at the possibility – only, it'll take a lot to get Lavon to agree to it, since he blames Lemon for the break-up with Ruby. Lemon takes baked goods to his home as a peace-offering, which Lavon immediately rejects, and comes up with a plan. She decides to have a fake fight/break-up with AnnaBeth, which will make the latter more sympathetic to Lavon and allow her to get hired; Lemon will then send her recipes along and it'll be like the two are working together.
It works and AnnaBeth gets the job – however, the night of the First Feast, Lemon gets caught lingering around the food and talking to AnnaBeth. Instead of being angry, Lavon makes her the "grog wench", responsible for keeping everyone's glasses filled all night. It's a way to keep her busy/away from AnnaBeth, as well as punish her for her perceived role in what happened with Ruby. The reporter ends up loving the food from the Feast and goes to talk to AnnaBeth about how she made it work, but Lemon oversteps and tries to own up to what happened, to no avail.
After Lemon storms out from embarrassment, Lavon goes to talk to her and deduces why Lemon told Ruby about them; she wanted to punish her for how she's been treated since high school. Lavon then tells Lemon to stay out of his way for now.
Advice from George
Brick can't seem to get George to talk to him about what happened in the winter finale. He does manage to run into him at the Rammer Jammer and tells him about Shelby. He only meant it to be a one-time thing and it gradually morphed into an everyday thing – considering that she's Lemon's age and he's a respected town doctor, Brick talks himself out of being with her. However, once Shelby mentions buying new lingerie to surprise him with, he backs out of ending the relationship.
Later, Brick tells George what happened when he tried to end things and George suggests employing the compliment sandwich, i.e. lead with something positive before dropping the hammer and ending with "you deserve better than me." However, when he tries to do it, she remembers George doing it to her – when he pops out from a hiding place, where he was making sure Brick got it done, she slaps him.
George tells Brick that you can't worry about living life by the book and that people in BlueBell who do try to live their lives a certain way aren't happy. Brick decides to stay with Shelby and invites George to play a round of golf for old time's sake.
Additional thoughts and observations:
-I don't think that Lavon's right in blaming Lemon for the break-up. Her telling Ruby did lead to things ending, but their relationship was hanging by a thread anyway. There was no way he'd leave BlueBell and there was no way she'd choose to stay in BlueBell.
-I'm glad they've toned Brick down a little from his season one demeanor. The relationship makes him more vulnerable and mending things with George shows that he might have found a little maturity along the way.
-Interesting how both Lemon and George were doing their best Cyrano de Bergerac impressions.
-WWLLJJD.
-Next week on Hart of Dixie: George's parents visit and devise a plan to get him and Zoe together, while Lemon discovers Brick's secret relationship and AnnaBeth is smitten with a visitor to the town.