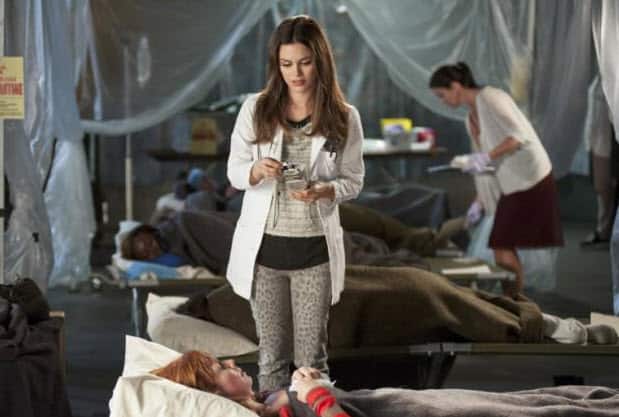 by Jen Winkler
The third season kicked off with Zoe Hart back in New York City, similar to how the series started but she has clearly been changed by the small town of Bluebell these last two years. Zoe is awoken from a dream of the Bluebell Founder's Day parade, only to be called back to work in the busy emergency room. Five months have passed, and it seems that Zoe is planning on staying in the Big Apple. Her new boyfriend, Joel, visits her and we learn that the only obstacle standing in their way of getting a fancy new apartment is a reference letter from Brick, Zoe's partner at the medical practice in Bluebell.
Of course Zoe goes back to Bluebell with the intention of just getting her letter signed and heading back just as soon as Founder's Day is over. Of course she ends up staying there by the end of the episode, because this show as we know it wouldn't exist if the main character stayed in a big city. The best part of the episode was seeing the Southern charm of the wonderfully quirky town of Bluebell back in action. I love this town, almost as much as Stars Hollow from Gilmore Girls. Fun fact: they even film on the same WB studio lot as Gilmore Girls!
It turns out Zoe had informed everyone, including her best friends Lavon and Rose, that she was staying in New York for good via e-mail. Well, with such a close-knit community in this town, almost everyone held a grudge against her for leaving. Zoe makes it up to everyone when she finds George Tucker holed up in a motel room, where he's been since his breakup with his girlfriend Tansy. Ironically, Zoe caused that breakup when she confessed her feelings to George, so Zoe isn't the one who straightens George up. Lemon, with the help of a hilarious training montage, cleans George up and gets him back to his normal life as the town's lawyer.
A major part of the first season of the show was the love triangle between Zoe and her two potential love interests of George and Wade. Unfortunately, it seems a love triangle is inevitable again this season. By the end of the episode, Zoe is happy to announce to the town that she will be moving back, only this time her boyfriend Joel is moving too. To complicate matters even more, Lemon had told Zoe that she has been dating Wade, when in actuality they are nothing more than business partners and good friends. Wade wasn't on board with this little lie at first, but once he hears that Zoe is moving back to Bluebell, he goes along with it.
I can't wait to see what this season has in store for us, especially with Zoe and Wade! I don't see Joel staying around for too long, once he picks up on the fact that Wade is much more than just Zoe's neighbor.
Overall, the episode had the charm and humor that we've grown to love so I would give it an A. What did you think of the premiere?