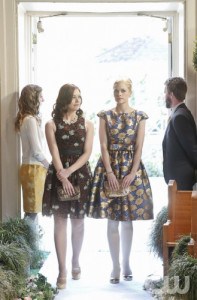 It's the morning after the Battle of the Bands and Zoe can't find Wade. He's not at home or at the Rammer Jammer and George and Tansy claim to not have seen him, though George does allow Dr. Hart to stress eat the rest of his breakfast. She'll need the extra energy because Tom and Wanda have decided to get married two days from now rather than wait…even though Wanda has a bad case of the hives. Zoe brings up the fact that they're stress-related, leading Wanda to postpone the wedding, only to find out that the wedding doesn't have anything to do with it. Wanda's hives come from having to deal with her mother Betsy, a recently divorced aspiring Bravo-lebrity with a wild wardrobe and a wilder attitude to match. Wanda then names Zoe her maid of honor and tasks her with taking care of Betsy to alleviate the stress that she's under from the wedding.
Zoe is dealing with quite a bit of stress herself, as she overhears women in town gossiping about Wade taking a girl home from the bar. When she confronts him about it, he explains that he only gave her car a jump start and spent the rest of the night drunk before sleeping it off in the back of his car. The two make good and George later compliments Wade on how much he's changed; at the Rammer Jammer, Tom asks Wade to be his best man due to Dr. Hart being the maid of honor…and due to his need for advice in all things carnal, which Wade reluctantly accepts.
Meanwhile, Wanda gives Zoe the guidelines for taking care of her mother before sending them off into town. Once out and about, Betsy trash talks Wanda's stepmother and tries to get Zoe to go out for a drink with her, to no avail. Zoe does, however, take her to the Rammer Jammer…before promptly losing her, the one thing that Wanda told her not to do. Betsy had climbed into the truck of a strange man and left Dr. Hart without any notice of where she was going or who she'd be with. It turned out that her fling was with shrimp boat captain Sal, but rather than flee the morning after, she wanted to stay. Betsy's heart was still broken from the divorce with Baxley and she couldn't bring herself to watch her daughter open herself to the kind of hurt that she had experienced. That feeling of the world completely stopping, of your heart knowing something's over and telling that to your head – it's not a good thing to go through, but Zoe convinces her to come to the ceremony for Wanda.
The Lord of the Rings/Star Wars mash-up wedding goes off fairly well, despite Tom feeling inadequate about his appearance/ability to please Wanda. After the ceremony, though, Zoe and Wanda find a little time alone for him to confess to cheating on her with Claudette. Betsy's words about the end of her marriage, of trying to act like nothing was wrong when she knew there was, combined with the flimsy "dead car battery" excuse that Wade had used on Tansy before and caused Zoe to quit being in denial. Although Wade offers to do anything to make it up to her, she tells him that maybe they really are too different to be together and leaves him on the park bench they were sitting on.
At the wedding reception, Lavon offers to dance with his friend, who he could see was down after the break-up.
Looking Back and Looking Forward
The wedding of Tom and Wanda will be the first since George and Lemon's abandoned ceremony this time last year, meaning that Lemon will have lost a boyfriend, a best friend, and a business right before having to face the memory of her worst day ever. Crickett offers to take her to see psychic Madam Van Horn over in Daphne to give her someone to talk to; Lemon's quite the skeptic, but she ultimately agrees to go to the reading.
Once there, Madam Van Horn tells her that she fears an upcoming event, though she shouldn't worry, as she'll be going through with her true companion, a person she's already met. While out in town, Lemon runs into Dale King, a handsome man she used to go to elementary school with, and asks him out to dinner. However, he's not the true companion Madam Van Horn mentioned – he makes his own orange soda and seems proud of having eaten paste frequently back then. AnnaBeth bails her out of the jam, fortunately, and the following day, the two go get their hair done. Lemon informs her hairdresser that she might not go to the wedding, seeing as how she doesn't have a date, but AnnaBeth offers to go with her. After the ceremony, the two officially make up, with Lemon calling AnnaBeth her true companion.
The Monster Mash
Mayor Todd Gainey, Sr. of Fillmore has proposed the building of a shopping mall…next to BlueBell's public beach. This doesn't sit well with Lavon due to the pollution, noise, and traffic problems that would come from it, so he hires George to help him take Gainey down and halt the construction of the mall. Opposing counsel turns out to be Scooter McGreevy, an old nemesis of George's who gets Tucker more invested in the case than ever. There will be no settlement or profit sharing here; Lavon and George are going for the jugular, both to help the town and to stick it to Gainey and McGreevy.
George, especially, gets into the idea. He's not been able to flex his lawyer muscles since his time in New York and doing so now has given him an incredible jolt of adrenaline. That energy proves to be enough and he wins the injunction to halt construction, impressing Lavon and coming alive in the process.
Additional thoughts and observations:
-"We haven't had a wedding since…oops."
-"Uh…be my sex Yoda?"
-"I needed to get my engine revved."
-"There's a difference between being independent and unspeakably sad."
-"One day, you'll find your weirdo, too, Zoe Hart."
-Burt Reynolds!
-Kitty Foreman!
-Tom Long being called "Tom Law" was cute, as was the hamster flower girl.
-I may write a thing about my thoughts on the break-up and shipping in general. I will say that I thought that it was executed quite well, particularly their first words after the ceremony.
-No Jonah, Brick, Magnolia, or Shelby.
-I liked seeing George in his element and hope they'll expand away from how romance-centric the season has been. I don't mind it, but it's nice to see different aspects of the characters other than who they are in a romantic relationship.
-Tansy punching Wade in the stomach at the reception – kind of great and it made her jealousy over not being maid of honor (+ gradual acceptance of Dr. Hart) all the more fulfilling.
-The conversation between Wade and Tom about Ryan Gosling encapsulates everything I love about this show.
-Next week on Hart of Dixie: Zoe becomes overprotective of Rose around Rose's new boyfriend, Wade gets accused of stealing money, and George and Lemon try to sabotage Brick's relationship.