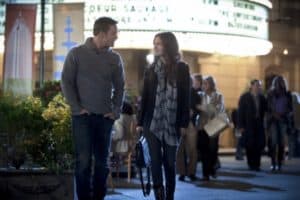 Wade and Zoe are planning on going to see Coeur Sauvage, a hit foreign film that won an Oscar. This being Hart of Dixie, Wade, of course, is reluctant, but he goes anyway and the two run into George, Tansy, and George's parents outside the theater. George's parents had business in Mobile and popped in for the day, only to critique his relationship with Tansy at every turn, and his mother decides to take matters into her own hands. After the movie, Wade and Tansy laugh about how they fell asleep and George and Zoe recount their reactions, leading George's mother to plot to get him back together with Dr. Hart. In her mind, Dr. Hart is the only person who could get him out of BlueBell and into the idea of fulfilling his potential in a larger city, which Lemon and Tansy won't be able to do.
Later, the four meet up for dinner (after trying to get out of it and ending up at the same place anyway) and George's mother sends him an urgent text claiming that his father had mild chest pains on the boat. When George and Zoe get to the boat to treat George's father, his mother distracts them long enough to start the boat and trap them aboard. Granted, she floods the engine and they don't move all that much, but for the time being, the three of them are stuck with one another. George's mother then launches into her line of questioning, demanding to know why her son isn't with Dr. Hart and passing judgment on their current relationships. All she wants is for them to admit to having feelings for one another and in a fit of frustration, George admits to it, thinking that she'll back off. However, Tansy and Wade had gotten tired of being at the restaurant alone and borrowed LeRoy's canoe to take them to the boat; they heard everything and both are upset.
Tansy wants to break-up with George, as she believes all the bad things that his mother said about her, including questioning her capacity to be a good mother to their hypothetical children. He tells Tansy that while there might always be a connection between him and Dr. Hart, he doesn't want to be with Dr. Hart; he could be with Dr. Hart, but he's not, because he wants to be with her. He always thought that he'd be with Zoe eventually and now that he sees that that might not happen, he's fine. More than fine, really. As is Dr. Hart, who is happy with Wade and not necessarily looking to be back in George's orbit again.
On the Hunt for a Trollop
Brick has been increasingly evasive to Lemon lately, standing her up twice in a week, and she begins to think that something's up. Once Magnolia shows her a bra that she had found in the couch, Lemon hunts for the woman her father has been secretly seeing. Brick had been wanting to tell the girls about Shelby, but by the time he got around to doing it, Lemon had gotten herself too worked up about the evidence she had found and wouldn't have taken a reveal that well anyway. She does, however, invite Shelby out to dinner to talk about how they're going to sniff out the "bimbo" that Brick had been seeing.
Brick advises Shelby to avoid Lemon as much as possible until he can tell her about their relationship, so she takes refuge in the doctor's office and attends to her duties as the new receptionist. Lemon brings dinner to her and vows to stay as long as needed until the identity of the mystery woman can be found out. While Shelby tries to sell herself to Lemon, Brick confesses to Lemon once she begins to think that AnnaBeth is his lover. Things seem to go much better than expected, the three of them agreeing to go to a lunch date, but Lemon pulls Shelby aside before they go and tells her not to get too comfortable and that she'll be gone within a week.
Pip, Pip
While outside the Butter Stick Bakery, AnnaBeth runs into a handsome British stranger named Oliver Kent, who is said to be working with an oil company clean-up crew in the area. However, Lavon has a feeling that he's not who he claims to be and that he's encountered Oliver in the past, but he can't quite place it. In the meantime, with Lavon digging around in his memory (and in the old boxes at home), Oliver and AnnaBeth get to know one another, leaving the latter especially smitten. However, it turns out that Lavon was right; Oliver Kent isn't a sophisticated gentleman with a high-paying, socially responsible job; he's Oliver Kent, a good ol' boy from Birmingham, Alabama who he met on a bachelor weekend.
Oliver had hit his head on his boat and suffered migraines that led to Foreign Accent Syndrome, a rare medical condition brought on by brain damage that alters one's voice. Rather than taking the medication from the doctor, helping his headache and returning his voice to normal, Oliver has refused treatment on account of receiving positive attention once he lived life as a Brit. Lavon manages to convince him to tell AnnaBeth the truth, lest she get hurt, and she gets Brick to come down to the doctor's office one evening to administer a dosage of medicine. Olivier's voice returns to its normal state, a thick southern accent, and AnnaBeth loses interest in him immediately.
She gets a voicemail from him telling her that he left town and wanted to go somewhere far away to be British Oliver Kent. He had seen the look of disappointment in AnnaBeth's eyes upon hearing his accent and didn't want to go through that again.
Additional thoughts and observations:
-For those curious, Coeur Sauvage means "wild heart" in French.
-I loved Zoe recounting everything that had happened between her and George following the wedding.
-The "A lover." "No, O-li-ver." thing between Lemon and AnnaBeth was also delightful.
-I'm not feeling Lavon much these days. It was a very underhanded (and kind of mean) thing he did to Oliver, all to clear the path to AnnaBeth.
-Also, I really miss the Lemon of the beginning of the season.
-Shelby's bra wasn't terribly hooker-y, no?
-I don't see why George and Zoe can't hang out on their own. They've made it clear that they're committed to their partners and it's a little sad that two people with common interests have to be held back from doing things they like out of jealousy.
-Next week on Hart of Dixie: Zoe puts BlueBell on lockdown as a flu epidemic heads their way, while Lemon's planned night out with Walt goes awry and George directs a tourism commercial.