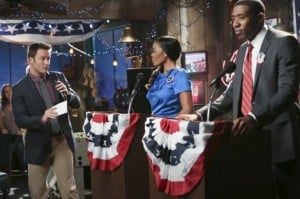 The night before the election on Hart of Dixie, there's a mayoral debate at the Rammer Jammer, moderated by George Tucker. Lavon, already slammed by the accurate-for-200-years Pickin' Chicken, gets a pep talk from Lemon and AnnaBeth meant to get him fired up to give Ruby one last hit before the polls open tomorrow. He's told to stress that BlueBell is his home and that his opponent can't walk into town after 16 years of being away and lead them into the future, but once the debate begins, we see where Lavon's head is really at. Rather than attack Ruby for her negative campaign or listen to the advice that Lemon gave him, Lavon decides to flirt with his opponent during the debate and potentially undo what progress he has recently made. She does flirt back, though, which gets under Lemon's skin and causes her to warn Lavon to stay away from Ruby, as well as begin canvassing the town looking for undecided/potential voters.
Later, though, she and Lavon have an argument about her promising that he'd mow lawns and paint a fence without telling him; she feels like he doesn't even want to win the race and that he hasn't campaigned nearly hard enough to defeat Ruby (and that tiny margin between them), ultimately quitting the campaign due to that perceived apathy.
The election results initially show a tie, which has three possible remedies. There can be a recount (which already happened), there can be an athletic skills competition with clubs and sticks, or there can be a decision made by the Pickin' Chicken, who has yet to pick Lavon in any of the simulated picks. While the chicken is in the cage, Dr. Hart brings in the deciding vote; Brick had filled out a proxy ballot earlier in the day and as it was completed by the time the polls had closed (5:00), it would count and break the tie. Brick voted for Lavon and Mayor Hayes retained his position, only he might have gotten something more important out of the night, as Ruby admitted that she was flirting with him during the debate and that she's just scared of being hurt again by him. They make up, Ruby decides to stay in town for him, and the two are spotted behind Tansy's trailer kissing when the final vote is tallied.
County Lines and Hair Cuts
Lemon sends Wade to check out the new trailer at the edge of town, which turns out to belong to his ex-wife Tansy; she did manage to work her way through beauty school, but without any clients to speak of, she got a trailer and parked it in the middle of nowhere. While Lavon's team initially thought that the trailer was within BlueBell limits, it was actually six feet away from being a part of the town, thereby making Tansy ineligible to vote. But she doesn't even want to return to BlueBell, due to how many bad memories she has of the place, and won't let Wade hook her trailer up to George's truck and pull it into town so she could legally vote. George tries to talk sensibly to her and she reveals that part of the reason that she doesn't want to do it is that Wade had come there purely to get her vote and didn't care about what she had been doing or how she had been. He also didn't volunteer to let her cut his hair, which George agrees to in order to get her to vote for Lavon.
Before the cut or the conversation between the two can be completed, Wade hooks the trailer to the truck and speeds away, Tansy slipping and cutting a large gap in George's hair as a result. The three are too late to the polls and Tansy doesn't get a chance to cast her ballot, but later that night, he brings her trailer back, thanks her for the relationship advice (she had mentioned seeing signs from the beginning that she and Wade weren't right for one another), and asks her to fix his haircut. She agrees and they head inside.
Liquor is Quicker…to Lose Her
Before the debate, George and Presley are talking and she reveals that she doesn't vote, due to the fact that, in her opinion, corporations and big money carry more weight than the average voter. He tries to convince her that she needs to vote in the mayoral race that day and that she needs to vote for Lavon, who wants to preserve BlueBell's values, over Ruby, who wants to bring in chain stores and make the area much more commercial. However, while the town was waiting for the Pickin' Chicken to pick the mayor, he runs into her and finds out that she did vote – for Ruby. He gets upset because her vote nearly cost Lavon the election, she gets upset that he only wanted her to vote for who he wanted, and they part ways for good.
Not before a haircut insult, though.
Driving Me Outta My Mind
Brick might be a tightly wound individual, particularly in all matters Dr. Hart, but lately, he's been even more uptight, to the point that Magnolia comes to Zoe to complain. Apparently, Brick's not been eating and not been sleeping lately, so his daughter begs Dr. Hart to help her figure out what's wrong and to fix it before she admits him to a mental facility. He can't quit talking about the dwindling number of medical supplies around the practice and that attitude made Magnolia's first driving lesson since getting her learner's permit veer off the road (figuratively, of course) fairly quickly; however, Zoe offers him a deal. If he'll let her run an exam on him to figure out if there's anything medical wrong with him, she'll teach Magnolia how to drive, which he reluctantly agrees to.
During one of the driving lessons, Zoe asks Magnolia about Brick's long distance relationship with Emily, something that she ends up not knowing anything about. At the exam that was run on him, Brick had a noticeable physical reaction upon being asked about her, which leads Zoe to believe that the relationship could be playing a role in his demeanor. It turns out that Emily hasn't returned any of his phone calls in the past three days and outside of a cursory "talk to you soon" message, there has been no contact to speak of. Brick thinks that she's seeing someone else, but Zoe encourages him to tackle the problem head on and confront her about what's been going on; if he knows the truth, he won't be driving himself insane with the possibilities of what could be happening with the two of them.
He decides to hop a flight to Charlotte, almost a two-hour trip, and catches up with Dr. Hart later that night on Skype. Emily wasn't cheating on him; she had been working double-time in order to save up enough money to pay him a surprise visit. Had he waited any longer to leave BlueBell, they would have missed each other, but for now, all is good with Brick.
Except he needs Dr. Hart to order some medical supplies. Pronto.
Additional thoughts and observations:
-Major flirty vibes from George and Tansy, particularly their final scene at the trailer. Would you be into the idea of them dating?
-I love AnnaBeth's newfound love for mixed martial arts. Her (absurd) suggestion that Lavon punch Ruby in the neck was one of my favorite line readings of the episode.
-Lemon's offhand "is she old enough to vote?" re: George's new girlfriend was pretty cute, too.
-Life advice from Hart of Dixie: "Don't put your heart in the hands of a chicken."
-On the opposite end of the spectrum, Lavon and Lemon making up and him giving her a candle, only to tell her that "I never know what you want" was pretty devastating.
-I wonder what self-empowerment DVDs Tansy gets from the library.
-Next week on Hart of Dixie: Rose's new crush gets fixated on Zoe, Lemon starts a catering business, and Lavon tries to win over Ruby's grandfather.