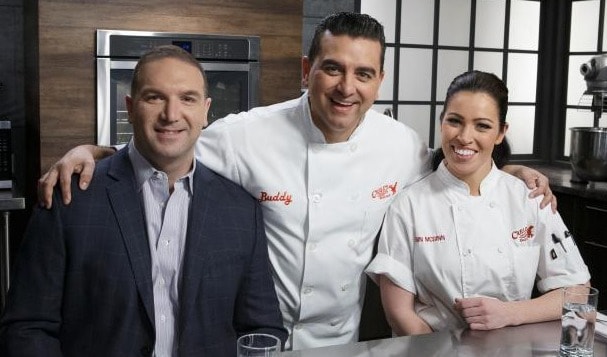 Bake You Rich is a new show on the Food Network featuring the American baker Buddy Valastro. There is a chance that people with a strong interest in baking-themed shows will be familiar with his name to some extent, seeing as how this is far from being his first time on the TV screen. After all, Valastro has been involved with more than ten baking and non-baking-themed shows over the course of his career, meaning that it is no exaggeration to say that he is a TV personality on top of being a baker. Here are 10 things that you may or may not have known about Bake You Rich:
1. Hosted By Buddy Valastro
Valastro has the single most important role on Bake You Rich. This is because he isn't just the host for the show but also one of the judges for the show as well, which is a combination of roles that he has taken up on multiple occasions in the past. On the whole, this makes sense because Valastro's brand is what provides the show with a fair amount of its appeal for interested individuals.
2. Valastro Might Be Better-Known Because of TLC
Bake You Rich is a Food Network show. However, some people might be more familiar with Valastro because of his involvement with TLC rather than the Food Network. This is because most of Valastro's best-known shows were broadcast on TLC rather than the Food Network, with examples including both Cake Boss and Next Great Baker.
3. Competes for the Right to Sell a Product
The competitors on Bake You Rich are competing for the right to sell a product. To be exact, said individuals are competing for the right to sell a product of their own creation through Valastro's business, thus enabling them to reach more interested individuals than otherwise possible. Something that is particularly true because they can expect a considerable marketing boost from the fans of the show as well.
4. Viewers Can Taste Creations
This is interesting because it enables Bake You Rich to stand out from not just other baking shows but also other food shows in that the viewers have the chance to taste the food that is made on them. In short, one of the biggest problems with food shows is that while interested individuals can see what is made by the chefs, they can't taste it, meaning that there is a serious limit to how much they can appreciate it. Bake You Rich is set up so that interested individuals will get the chance to buy the winning treats following each episode, thus enabling it to stand out from most of its competition.
5. Test of Both Baking and Business Skills
Speaking of which, it is interesting to note that the competition on Bake You Rich will be focused on two kinds of skills. Of course, one would be the competitors' baking skills since the whole point is to come up with something that is capable of selling well. However, the other would be the competitors' business skills because those are critical for bringing a product to market. Due to this, Bake You Rich stands out even more from most of its competition.
6. The Competitors Have Their Own Bake Shops
None of the competitors on Bake You Rich can be considered amateurs when it comes to either their baking skills or their business skills. This is because each one of them is the owner and operator of their own bake shops, meaning that they possess plenty of expertise and experience with their chosen career. Due to this, interested individuals should expect nothing less than a clash of professionals on the show.
7. Rotating Panel of Judges
Valastro is a constant judge for each round of the competition featured on Bake You Rich. However, he isn't the sole judge because he will be joined by a rotating panel of other judges who are connected to him and his business in some manner. One example of those rotating judges would be his wife Lisa, while another example would be his business's CFO Vincent Tubito.
8. Valastro Possesses Extensive Experience of His Own
Naturally, Valastro possesses extensive experience of his own when it comes to both baking skills and business skills. In part, this is because he is a fourth-generation baker who started working at his father's bakery when he was still a child. However, it should also be noted that he has also been running said bakery since he was 17, which was when his father died from lung cancer. Something that prompted Valastro to drop out of school so that he could go run the bakery that he inherited.
9. Valastro Has Had His Struggles When It Comes to Baking
With that said, it seems safe to say that Valastro can sympathize with the struggles of the competitors on his show, seeing as how he has had to overcome some baking challenges of his own. For instance, he has stated that he found it very difficult to master the making of the lobster tail pastries that were his father's specialty, so much so that his efforts resulted in nothing but a successful of failures. According to Valastro, it wasn't until he prayed for help after another wasted night that his father came to him in a dream, which provided him with the final push that he needed to master the creation of said pastries.
10. Valastro Has Had Some Spectacular Failures As Well
For that matter, Valastro is a big believer in experience, not least because he has managed to learn some pretty useful lessons from his own spectacular failures. On one occasion, he was asked to make a carousel cake, which proved to be a complete and utter failure when it collapsed on itself, thus ruining hours of hard effort.