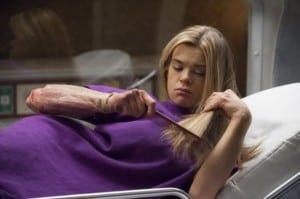 Another extraordinary episode of Hannibal this week. Things are percolating; the pressure keeps rising as we watch Will, Jack, and even Dr. Lector try to pick their way through the threads of ambiguity. I found myself at certain moments, asking: Is Will indeed the copycat killer?
Hannibal opens with Georgia in an oxygen chamber. She is slightly reminiscent of Sleeping Beauty in her glass coffin, which is perhaps some rather macabre foreshadowing of what is to happen to her. The scene once again reminds the viewers how the show plays with reality and memory. "You know what you did," Will says. "But I don't want to remember," Georgia replies. Is there a difference really, between knowing and remembering?
Later, something startles her awake and she rolls over to find a plastic comb, which she uses to comb her lovely blonde hair. A spark, and then the funeral pyre. Of course, the camera stays unflinchingly on the cremation of Georgia. To my eyes, it looked like she was in an oven; nevertheless, another victim of the cannibal, Dr. Lector, to be sure.
He may be a bringer of death, but he is also a bringer of healing, as we see in an interesting juxtaposition. Being the gourmand he is, Dr. Lector brings Will an exotic concoction. "You made me chicken soup," Will says reductively. A chuckle in an otherwise very dark episode.
Perhaps the most pivotal scene this week, however, was with Will and Abigail in the Minnesota hunting cabin. He has taken her from the hospital, sneaking her out, to paraphrase the always-helpful Freddie Lounds. In the cabin, Abigail asks Will if he was a hunter. He fished, he answered. Same thing, she countered: "Stalking…luring." Will then realized Abigail was the bait, the lure used by her father, so to speak. They start exchanging blame and finger pointing. Each thinks the other is the copycat. It then appears as if Will impales her on the antlers (nice touch) only to turn around and see her behind him. I love the ambiguity, the trance-like feeling of their conversation. Very reminiscent of Twin Peaks and designed to keep us unsteady, unsure ourselves as to what is the truth. Was he dreaming in this scene? Did any of it happen?
He wakes up on a plane in Virginia. Alone.
The episode ends with Abigail and Dr. Lector. She flees from one father figure into the arms of another. Which one can she trust? She leaves Will at the cabin, telling Dr. Lector she was afraid of him. She returned to her home where he awaits. She runs to him and they hug. This is a touching moment in a very ghastly way. She is happy to see him, but we know he is not there to protect her. He has gone there because Will has begun to get healthy and is putting some pieces together. He told Hannibal his plan to take Abigail home to recreate some of the crimes, for the investigation.
Abigail realizes Dr. Lector has come to kill her. He caresses her cheek with his thumb, tenderly, as a father would, as he says: "I'm so sorry Abigail. I'm sorry I couldn't protect you in this life." Cut to black.
We don't know, but we know. Schrödinger's cat stays with us until next week.