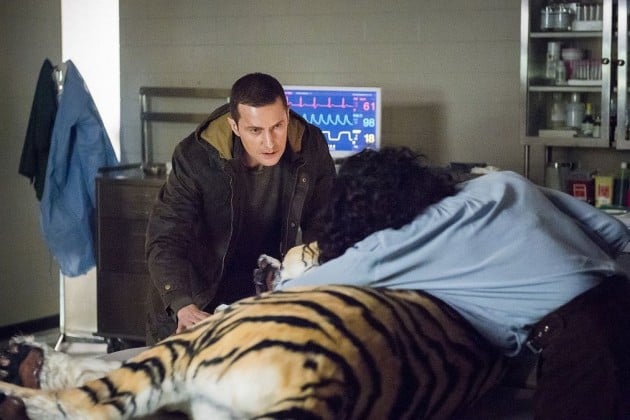 While I maintain my position of seeing no legitimate value in comparing Red Dragon and its film adaptations to Bryan Fuller's Hannibal as a way of finding value (or lack of value) in the series, I will admit to being incredibly excited to see two specific scenes from the source material. The first of which we get in "And the Woman Clothed in Sun": Francis taking Reba to see a tiger. The version that appears in this episode is, on its own, a strikingly beautiful and moving piece of work. The simple core of its power is as severe as it is obvious; Reba–a blind woman–gets to "see" something that most people don't even get to literally see in person, thanks to her new friend and lover, Francis. The shooting of the sequence and the performance from both characters are immediately remarkable. As Francis describes the glow of the tiger's fur, William Blake's words are brought to life: "Tyger Tyger, burning bright / In the forests of the night." The creative team goes so far as to have the glow reflect off Reba's dress, making a dazzling effect that legitimizes Francis' awe in the presence of greatness. That awe and how it is expressed give the scene an even greater depth of thought, though.
There are two moments in "And the Woman Clothed in Sun" that feature Dolarhyde clutch at his face, covering up the scar that he is so self-conscious of. The first is when he hears Hannibal's voice over the telephone. Both moments spark the involuntary movement in him, merging many feelings all at once: fear, elation, surprise and wonder. The Hannibal moment is easier to dissect. Here is a man who has captivated and nurtured, to some extent, Dolarhyde from afar. Hannibal is the object of Dolarhyde's attention in a similar way to how so many other characters have been entranced by Lecter. Dolarhyde trims his motivations to their most essential: "I want to be recognized by you." So, when Hannibal's voice finally reaches Dolarhyde's ear for the first time, Dolarhyde's moment of ecstasy is clear. The source of his ecstasy during the tiger scene is, I think, much less clear, and I'm more interested in hearing other people's opinions about it than spouting my own. But when I view Dolarhyde in that moment, I am seeing someone so terrified of what he is becoming. This may be trite, considering his becoming has been integral in every iteration of this story, but the becoming I see here is different than the becoming of the Red Dragon. As he watches Reba's hand glide along the tiger's face and across its mouth, there may also be a fear of becoming human and vulnerable. This is possibly more terrifying to the character than his destined becoming, because it casts doubt on how he has lived and understood his own being. Reba sees a version of him that he may have thought to be dead and who has brought it out so fully that he feels comfortable enough around her to allow himself to become vulnerable. It is not the Red Dragon haunting him during their love scene, but the Woman clothed with the sun that he sees in front of him (Reba's physical stance during that scene is not, in fact, the one depicted in the painting of this episode's title). That connection that Dolarhyde feels is, so simply and yet surprisingly, the thing that also fits the pair so neatly into the Hannibal mythos.
It's the same connection that defines the relationship between this Will Graham and this Hannibal Lecter. All four characters are people who are social outcasts, for varying reasons, and who have experienced an intense loneliness in their lives. Reba and Francis come together to alleviate that isolation just as Will and Hannibal did before them. It's an impressive bit of re-contextualizing if just because of how cleanly it makes the Red Dragon story of Thomas Harris work naturally into Fuller's vision as a storyteller. We've seen constant parallels to Will and Hannibal in the past, but Francis and Reba appear to be the true heirs to the thrones. Interestingly enough, the counterparts are actually Will and Francis, rather than Hannibal and Francis, and Hannibal and Reba. Will and Dolarhyde have been compared to one another in these three episodes in several ways already (I remarked upon how their patterns of dialog show similarities last week). "And the Woman Clothed in Sun" puts Dolarhyde into Will's seat in Hannibal's office during a mind palace therapy session in a context that is usually only reserved for Graham. The two, of course, also meet each other by the end of the episode, Dolarhyde being physically closer to Will than he has ever been to Hannibal. And the similarities between Hannibal and Reba are drawn in this episode, but are not made as explicit. The closest the visualization comes to projecting the parallel is in the direction and design of Reba making martinis. Receiving the same close-up attention and stylization of Hannibal's preparation, but without the doctor's precision, those cues don't go by unnoticed. On a more analytical level, Reba also plays the role of Hannibal in her strength of will, keen observation, blunt honesty and psychoanalysis. In their scenes together, Francis is the more hesitant of the two, always walking on eggshells that Reba doesn't seem to care about. She doesn't mince words and, although she does care about Francis, she won't play to his insecurities by being dishonest. She explains this to him in ways that remind me of how Hannibal used to analyze Will during their sessions, especially when she's seemingly able to read Francis' mind. This is not to say that we ought to view Reba as a mirror of Hannibal, but she is being presented in such a way to allow for that line of thought.
Her shared connection with Francis is so powerful that it moves both characters to tears, Reba while hovering over the tiger and Francis while in bed. What I find most affecting about those tears is that they are brought on not just by the events transpiring, but because the other character is responsible for those events. There's something absolutely stunning and awe-inspiring about seeing a blind woman pet a tiger in this way, but Reba's tears are in her sharing of the moment with Francis, who also bends down to mimic her posture. Similarly, it takes Reba for Francis to be able to see anything other than the image of the Red Dragon in the darkness of his home. She has brought the light of the sun into his life, and his weeping is a result of that epiphany. Though "And the Woman Clothed in Sun" is an absolutely fine episode on its own, it pivots around the sweeping emotion of the tiger scene, which–at least in my case–has the capacity to move its audience to tears as well.
Bite-Sized Thoughts: Buon appetito!
– The way the opening sequence is scored and shot with Francis doing some hacking reminded me a lot of seeing Philip and Elizabeth Jennings from The Americans doing one of their many operations.
– There's a rather ominous-looking tree on Dolarhyde's desktop background. Kinda creepy, kinda fitting.
– "What particular body you currently occupy is trivial." Great observation that brings that Catholic under- and overtones of the series into place, Dolarhyde embodying an immortal evil (or, rather, vice versa).
– Hey, Bedelia is also in this episode. As great as Anderson is and as great as Zachary Quinto is during his guest turn as Neal, I didn't get a whole lot out of these scenes. The most interesting thing about them was Bedelia's dialog with Will that illuminated the distinctions between their natural impulses (namely, Will would want to help something wounded, while Bedelia would want to crush it). I really like the idea of the whole thing, since we haven't seen Will do the necessary coping post-Hannibal. Plus, it simply makes sense that Will would need to seek out another survivor of Lecter to get a better understanding of his situation. But the present of this episode is so much more engaging the past of it.
– More parallels: shattering of the martini glass mirroring the shattering of the teacup.
– Denise's line about macing Hannibal in the face almost makes up for the fact that Frankie Faison is not in this season as Barney.
– Weird emphasis: "Why do you do that a lot?" when Will is asking Bedelia about lying.
– Bedelia has several different outfits during that therapy montage to denote different times, but the one she's wearing with Will is one of my favorite outfits of any character in the series thus far.
– As someone whose own decision to write was inspired heavily by British Romanticism, there's a part of me that cringes into itself seeing Dolarhyde destroy a Blake original.
"Hannibal by the Numbers"
Speaking Roles in "And the Woman Clothed in Sun":
Bedelia, 75 lines
Hannibal, 42 lines
Will, 40 lines
Dolarhyde, 38 lines
Reba, 31 lines
Neal, 30 lines
Miss Harper, 18 lines
Chilton's receptionist, 5 lines
Dentist, 5 lines
Senior curator, 5 lines
Denise, 3 lines
Operator, 3 lines
Hospital receptionist, 3 lines
Museum receptionist, 1 line
Total: 299 lines
Total: 16 scenes
Shortest scene by line count: 5-way tie, 0 lines
Shortest scene by running time: Dolarhyde driving to Hannibal's house, 0 min. 11 sec.
Longest scene by line count: therapy montage with Will, Neal and Bedelia, 99 lines
Longest scene by running time: therapy montage with Will, Neal and Bedelia, 9 min. 48 sec.
Extraneous observation: fewest scenes in an episode this season thus far
[Photo via NBC]
Tell us what's wrong with this post? How could we improve it? :)
Let us improve this post!