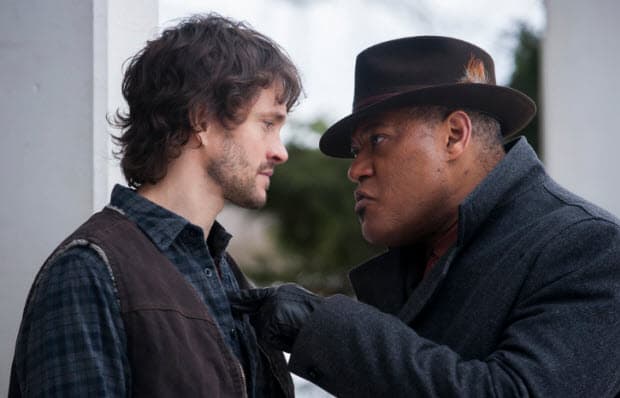 The first season finale of Hannibal finished on the images of Will Graham and Hannibal Lecter looking at each other, physically separated with Will locked up in the hospital for the criminally insane. Several times during the first half of this season, we've seen Hannibal sitting in his study where he usually conducts his therapy sessions and the chair across from him is empty. He has been "missing" his "friend" in a way that absolutely requires loose definitions of those words. "Yakimono" finally reunites the two central characters in that study, concluding as the camera pulls back on both chairs that are now occupied. Before sitting down, Hannibal asks Will a question: "How will you take your life back?" "I'd like to resume my therapy," Will responds. Now that Will is out and has passed on the chance to just kill Hannibal by shooting him in his own kitchen, he wants to take down Hannibal at his own game of manipulation. Death is too easy a release, perhaps. Hannibal deserves to lose by being outsmarted and outplayed. "Where shall we begin?"
Miriam Lass is probably the best place to begin. Anna Chlumsky's proper return to Hannibal gives "Yakimono" a lot of its weight, but it also asks some really interesting questions about several things in the series. Will makes a point to remind everyone not to trust what it is they see, so even though Chlumsky totally sells her scenes of memory lapse and the connection of Chilton to the Ripper figure from her visions, we can't take her completely seriously. She, just like so many people in Hannibal, may be lying. Jack, for one, doesn't buy into how she definitively states that Hannibal isn't the Ripper. If she is lying, though, we have to wonder why. As a former FBI trainee, she hardly seems like someone who would join Team Hannibal, as it were–becoming some kind of protege and willingly taking part in murder (as Abigail did by luring victims for her father to kill). So, could it simply be that Hannibal has his hooks in her so deep that she's unwilling to give him up for fear of what he's capable of? Or are we really meant to believe in Hannibal's ability to change a person so much? And which of these options is more troubling to think about? Even just Miriam's presence has to bring Abigail back into our minds as the only other person whose corpse we haven't seen (more on the rules of television regarding that below). And, unrelated to her story, Miriam also adds to the few female characters in the series who can fill some of the material around Will, Hannibal and Jack. We don't know if she gets hauled off for having shot Chilton, but if she become a recurring character for the rest of the season, she joins the likes of Alana, Bella and Freddie as characters who can occasionally be used to wonderful effect.
I'm more worried about Chilton, though, who has been such an essential part of this season to this point. To me, the rule is that a character isn't dead unless the writer or director explicitly shows us that. And as somewhat of a semi-spoiler on that subject, Bryan Fuller's response to what happens to Chilton is that "Serpico survived a bullet to the face," meaning we shouldn't expect this to be a huge deviation from the source material, in which Chilton is certainly a part after the events of what's happening in Hannibal right now (end semi-spoiler). But if Chilton is even just out of commission for a while, that takes an incredibly interesting piece off the table, since Chilton–unlike Miriam, maybe–definitively knows who the Ripper is. The sequence that takes place at Chilton's home is among the most beautifully directed and arranged in any episode of Hannibal. The set designers on this show are easily some of the best working in television, but these scenes in particular are striking. Chilton's house, first of all, is perfect. Contrasting with some of the darker tones we've seen in Hannibal's abode, Chilton's place is almost pure white (stocked, of course, with a ludicrous amount of bottles of wine in case he didn't fit Hannibal's profile enough). And when Chilton wakes up and takes a walk through his kitchen, the blood spatter of the FBI agents is not unlike a Pollack painting on the wall. The Wound Man isn't as physically remarkable as something like Tree Man or the body totem from the first season, but that all of this is there to greet Chilton is sublimely twisted.
It's curious that Chilton thinks he can trust Will enough to not rat on him, since that's exactly what Will does by calling Jack. But it provides for some of the best pure entertainment we've seen this season. Chilton, of course, is full of one-liners like "I would like to remain not dead for the foreseeable future" and "May I use your shower, please?" And his chase scene with Jack is devoid of tension since we know Jack is going to get him, making it absolutely hilarious. It is played like an action scene in the way its shot and scored, but there is a very obvious ridiculousness to it, culminating in Chilton's face as he turns around covered in snow and sweat. Again, Raul Esparza shines in his limited role, and now that Gideon is officially dead, removing Eddie Izzard from the show, it makes it all the more important to keep characters like Chilton around in a recurring capacity.
"Yakimono" is also full of instances in which characters are confronting other characters honestly. Even though Jack can't admit to Miriam that he never gave up looking for her when she says as much, he tells her directly that he used her. Later, he admits to Will that he gave up on both him and Miriam, thinking one was insane and the other dead. "You didn't have to find me, Jack. You just had to listen to me" is what Will tells him, still upset at not being trusted. Yet, this isn't the strongest sense of betrayal that underpins "Yakimono." Alana tells Will by not telling him that she's involved with Hannibal now. It makes their brief reunion even more biting. Alana says "I was worried about you." And Hugh Dancy has to force himself to make eye contact with his acting partner, communicating exactly what Will's feeling when he responds: "Because you didn't believe me? Or in me? Because you let me question my sanity? My sense of reality?" It's easy to praise the Hannibal crew for the amazing job they do with the visual and aural aesthetics, but Steve Lightfoot and Bryan Fuller's script deserves tons of credit in this conversation. The specificity of using names in an exchange like "You're wrong about him, Will" and "No, you're wrong about him, Alana" is the kind of syntax children would use when bickering with each other or how a parent might scold a child, and it gives the scene added poignancy.
But the most important declaration of honest opinions comes in that final sequence with Will and Hannibal, together again (friends forever!). At the risk of lifting too much of the dialog, it's important to what the episode is doing to pay closer attention. Will: "I have to deal with you and my feelings about you. I think it's best if I do that directly." Hannibal: "First, you have to grieve for what is lost and what is changed." Will: "I've changed. You changed me." Hannibal: "The friendship that we had is over." And so begins a new page for these two characters. Even though Will is going to be scheming behind Hannibal's back, he hasn't at all been shy about saying what's on his mind, which should make their future therapy sessions extra charged. Hannibal has so much experience talking like a therapist–putting himself into the "what if what you are saying is actually true and I am this person" role–that the two should get on famously. I wonder, though, how Hannibal's feelings for Will will be portrayed as having been changed, since he is the one who specifically states the friendship is over. He's been wanting to have that "friend" back in his life, and it's also what Will tells Chilton before leaving his care when Chilton asks why Hannibal just didn't kill him: "Because he wants to be my friend." If that's still true, I can't imagine the two playing nice for quite some time–as in, until Hannibal is caught and is put into Will's former cell. I also wonder what all this means, Miriam included, as we near the end of the season and that scene that opened the premiere, in which Jack and Hannibal are fighting to the death. It might be that Jack becomes so convinced of Hannibal's guilt but has no hard evidence that he just goes for him without regard for the law, allowing Hannibal to act in self-defense. Considering Fuller has stated that the Red Dragon part of the story probably won't take place until season four, that might be the clearest answer as to how season three could function with Hannibal still having not been caught. It's almost weird to think about these kinds of things, since Hannibal almost always favors in-the-now storytelling over cliffhangers and conjecture. However, the fact that we do think about these things now means that the series has found a way to be genuinely exciting on top of just being of an extremely high quality.
[Photo via Brooke Palmer/NBC]