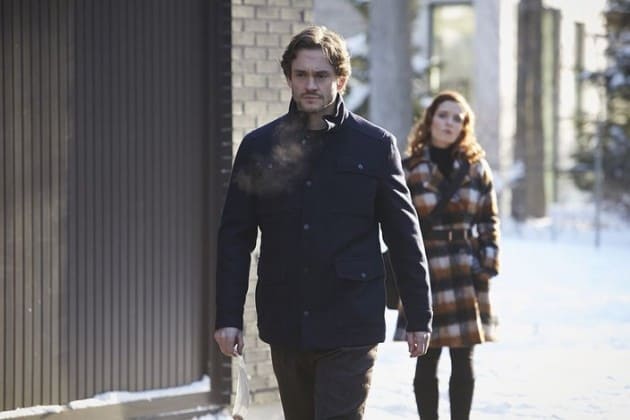 As this season of Hannibal has gone along, I've begun to notice more nuance to its scripting by doing "Hannibal by the Numbers" (which is included at the ends of these reviews). The differences between lines of dialogue in episodes seems to follow Fuller's pattern of alternating between episodes of observation and episodes of participation, to use the metaphor introduced at the beginning of the season. For instance, it's quite striking and telling that last week's episode featured the fewest lines of dialogue this season (221, with the leading speaker, Will, having only 46 lines) during its careful introduction of the Red Dragon story, opting to show rather than tell, to use yet another cliché. This week's episode, "And the Woman Clothed with the Sun…" (subtitle of one of Blake's Red Dragon paintings), features the most lines of dialogue from an episode this season, notching 387, with leader Hannibal holding a whopping 131 lines. And this fits with the next step of the narrative, which is designed to flesh out Dolarhyde and re-create the therapy-like scenes of the first season (more on that later). But aside from line numbers also mimicking content, something else stuck out this week when looking at Will and Dolarhyde in how little they speak. Part of this, of course, has to do with Dolarhyde's speech impediment, but in every scene that features Will or Francis, they are the characters with the fewest lines of dialogue (with the exception of Dolarhyde's phone call with Hannibal). We've been asked to look at Will Graham alongside one of the killers he's tracking, but the triangular relationship of Will, Hannibal and Dolarhyde–with Hannibal being the link between them by the end of the episode–is more elaborate than with any other would-be usurper of Hannibal's throne. Will and Dolarhyde are comparable to one another in how guarded they are with the characters who surround them in the episode, and though their inner voices are likely screaming at the top of their lungs constantly, their inability to match their partners in conversation may speak to being in roles of submission, which isn't all that apparent on first viewing.
Being a powerful or submissive character in Hannibal doesn't necessarily mean being stronger or weaker than anyone else. In the case of power, characters will lead other characters. In the case of submission, characters will defer in the moment of action. The therapist-patient relationship Hannibal and Will have shared in the past was one of power and submissiveness, Hannibal leading Will down a path designed for him and Will handing over the keys of his mind for Hannibal to do that. The interaction between Francis and Reba here shows similar patterns. Again, being submissive does mean being helpless or weak, because we certainly doesn't associate those qualities with Dolarhyde. But in the same way that Will would defer to Hannibal, Francis defers to Reba, allowing her to lead him as far as he is willing. If she gets too close, he can step in and maintain that zone of comfort, but she dominates their discussion and does the psychoanalyzing of him–pointing out why she likes that he is unsympathetic to her blindness and getting his speech problem out in the air–while he allows her to that opportunity. Will and Francis are both characters who want to be understood (and, really, Hannibal and Reba are as well), so that reluctance and hesitation that they both show throughout the episode, such as Will's hesitation to engage Hannibal's mentioning of Abigail and Francis' hesitation to ask for a plum, match their patterns of speech even at the times they are most comfortable (Molly has more lines of dialogue than Will in their conversation).
The other pattern of dialogue that "And the Woman Clothed with the Sun…" illuminates is that most of this episode consists of two characters speaking with one another. Out of 20 total scenes, 14 feature dialogue. Of those 14, 11 feature dialogue by only two characters (the exceptions are: the orderly in the final scene who tells Hannibal that his attorney is calling, Will saying "They know" in the flashback to "Mizumono" and the scene featuring Brian and Jimmy). While Hannibal isn't a stranger to two people talking, it's important to note that structure at this point in the Red Dragon story, since the style reminds us so much about the first season of the series, in which Hannibal and Will would have therapy sessions together. Dolarhyde can't attend therapy in the same way, but his scenes with Reba function in a similar way of characters ignoring the noise of the outside world, shedding self-consciousness and getting to know one another. With Will and Hannibal in this episode, it's a return to what their relationship used to be, and it is a mirror of that with Francis and Reba (more numbers: the three longest scenes in the episode are the two conversations between Hannibal and Will and the second conversation between Francis and Reba). The one point of conflict regarding the parallel here is that we've spent comparatively no time with Dolarhyde, so his character doesn't generate the same level of sympathy and attention that we've leant to Will and Hannibal. But after only two episodes, Dolarhyde is already becoming clearer as a person and as a concept, and he may end up being the Will that Hannibal wanted but could never get, depending on how he develops. In any case, the pairing of characters in the episode allows for much more introspection than a larger on-screen cast would. Some interactions are less insightful than others, but all of them (including the differences between Alana's concerns in her conversation with Will and her concerns in her conversation with Hannibal) help characterize in the same ways that characterization worked earlier in the series, back when the building blocks of the story were being set down. If Hannibal doesn't continue beyond this season, it's a fascinating full circle of narrative style to come back to such a simple method of storytelling, but it's one that clearly suits this part of that story very well.
Bite-Sized Thoughts: Buon appetito!
– Excellent visual touches from director John Dahl throughout the episode. During the first scene, Will and Hannibal are constantly next to each other via the reflection in the glass. It's one thing to do that, but it's another to make sure the framing of it has it so that the two are level.
– "I gave you a child, if you recall." Will pauses. "I came about Chicago and Buffalo." This is possibly my favorite part of the Will-Hannibal interaction in the episode, because it really highlights how carefully Will is trying to step around Hannibal without falling too far back into old routines. He lets Hannibal inside insofar as they go over the case notes together while transposed to different locations, but Will prevents Hannibal from getting to that part of his emotional core that belonged to the family that never was.
– Speaking of that, one of the more interesting lines to chew on is Hannibal's "Like you, Will, he needs a family to escape what's inside him." I honestly believe the better part of this, not just because I also defer to Hannibal when it comes to being able to analyze Will, but because Will's need for that family unit is somewhat desperate. I don't think it de-values anything he has with Molly. That relationship is genuine and loving and wonderful, but I think it was dumb luck that he was able to find that while also seeking out a family to distract him from the things he needed to be distracted from.
– I enjoy the Abigail flashbacks here. Admittedly, I love the Abigail storyline, so I'm a bit biased. But the times when the episode decides to cut to them make thematic sense, and there are certainly parallels to be drawn between the way that Hannibal tried and failed to craft Abigail into what he wanted and the ways he might try to do the same with Dolarhyde.
– Perhaps Alana has transitioned from being a beer woman to being a whiskey woman now that life has become much more grim. Notice the decanters in her office.
– Also notice her costuming and hair styling, which is absolutely A+ this week. I still think she's not long for this world, and I get the feeling she recognizes that as well, which would explain why she's getting her punches in when she can. But she looks darn good during her descent.
– Easily the most beautiful aspect of the episode is its re-contextualizing, mentioned earlier. The ways we move from location to location during Will and Hannibal's analysis of Dolarhyde and then again how Will and Molly sit next to each other on-screen while they're apart are simple but superb touches of cinematography and direction.
– Garrett Jacob Hobbs returns in one of the most disgusting scenes the series has done thus far. Ugh.
– "I'm particularly fond of cats. I'm not particularly fond of children."
– Freddie makes a return appearance complete with her theme music. Apparently, she called Will and Hannibal "murder husbands." More A+ material right there.
– There's a rather obvious advertisement for dental care at Reba's bus stop. That's probably the most on-the-nose point made in any "Bite-Sized Thoughts" this season.
"Hannibal by the Numbers"
Speaking roles in "And the Woman Clothed with the Sun…":
1. Hannibal, 131 lines
2. Will, 57 lines
3. Reba, 47 lines
4. Alana, 39 lines
5. Dolarhyde, 28 lines
6. Freddie, 22 lines
7. Abigail, 19 lines
8. Molly, 18 lines
9. Jack, 14 lines
10. Brian, 7 lines
11. Jimmy, 4 lines
12. Orderly, 1 line
Total: 387 lines
Total: 20 scenes
Shortest scene by line count: 6-way tie, 0 lines
Longest scene by line count: Dolarhyde and Reba going back to Reba's place, 39 lines
Shortest scene by running time: Freddie taking pictures of Will, 0 min. 11 sec.
Longest scene by running time: Dolarhyde and Reba going back to Reba's place, 5 min. 08 sec.
[Photo via NBC]