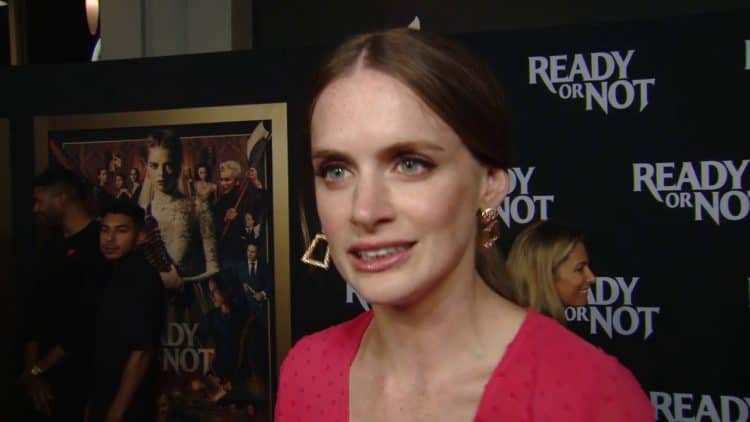 Hanneke Talbot hasn't even been acting professionally for a decade, and she's already managed to make a huge impact. Now known to people all over the world, Hanneke's resume is full of great roles in TV and movies. Some people will recognize her most from her work in the Hallmark series When Hope Calls. Others, however, will remember her from movies such as Slaxx. Regardless of what you've seen her in, Hanneke is the type of actress that is nearly impossible to forget. Her talent and versatility are out of this world, and her growing fan base is looking forward to seeing what else she has to offer. Continue reading for 10 things you didn't know about Hanneke Talbot.
1. She Was Born In Holland
Hanneke had quite an adventurous upbringing. She was born in Holland, but moved around several times. According to her bio on the Hallmark website, she "spent most of her childhood in Kuala Lumpur, Malaysia, having also lived in the Netherlands, Australia and the UK." The UK is the place she considered home.
2. She's Always Wanted To Act
For many people, figuring out what they want to do in life is a difficult journey. Hanneke, however, has known that she wanted to act for almost as long as she can remember. She's always loved storytelling and by the time she was in high school, she had gotten involved in plays at her school.
3. She Loves Fashion
Fashion and entertainment have had a longstanding relationship so it's no surprise that Hanneke enjoys them both. Hanneke has a great sense of style and she loves being able to share her personality through her clothing. No matter what the occasion is, Hanneke has a knack for putting great outfits together.
4. She Likes Spending Time Outdoors
When Hanneke isn't busy with work, you can often find her outdoors enjoying all of the beauty that nature has to offer. Whether she's going for a hike or hanging out near the water, outside is one of her favorite places to be. Not only does she enjoy the scenery, but it's the perfect place for her to clear her head.
5. She's A Pet Parent
From what we know, Hanneke doesn't have any children, but if you thought that was going to stop her from being a mother you might want to think again. She is a very proud dog mom although it's a little unclear how many dogs she has since she has posted several cute fur babies on her Instagram profile.
6. She Likes Taking Pictures
Hanneke likely doesn't think of herself as a photographer, but her Instagram profile makes it clear that she has a good eye for stepping behind the camera as well. She enjoys taking pictures while she's out on her adventures and she's managed to capture some pretty impressive shots.
7. She Studied At LAMDA
Becoming an actress wasn't just something Hanneke dreamed about, it was also something she dedicated a lot of time to. Hanneke studied acting at the London Academy of Music and Dramatic Art. The school has a very long list of notable alumni including Kim Cattrall, Donald Sutherland, and John Lithgow.
8. She Enjoys Watching YouTube Videos
While it's clear that Hanneke is a dog person, she also has some room in her heart for cats. Her bio on the Hallmark website reveals that she love watching cat videos on YouTube in her free time. Even if you're not a cat person you have to admit that lots of those cute cat videos can be pretty addicting.
9. She's A Part Of The Star Trek Family
Hanneke has gotten some cool opportunities during her career. One of those opportunities was the chance to join the Star Trek franchise as a cast member in Star Trek: Discovery. When talking about her experience on the show, Hanneke told My Devotional Thoughts, "The great thing about working on shows like that is getting to jump into the incredibly rich world that has already been created; it's an acting dream! It was such an honor to be able to join the legacy of Star Trek and to be on the Starship Enterprise and wear the infamous uniform."
10. She's Done Voice Work
Having the ability to do more than one thing is one of the ultimate keys to having a successful career in the entertainment industry. Hanneke has shown that she can do that. In 2021, Hanneke got her first voice acting credit with her role in the animated series Charlotte. Hopefully, we'll see her take on more voice roles.Slaxx