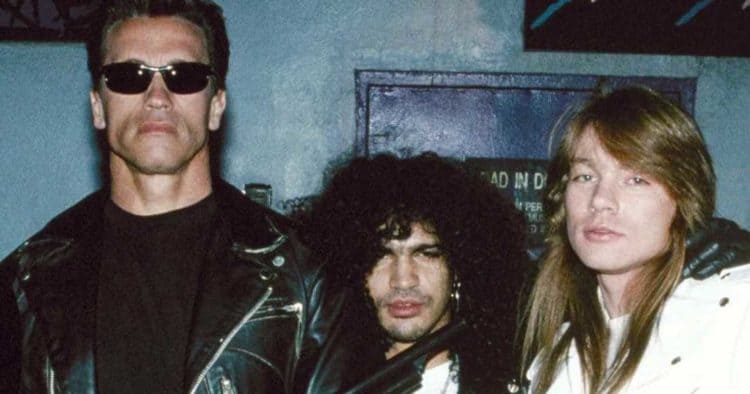 Guns N' Roses has been a part of the Terminator franchise since the 90s when they allowed Arnold Schwarzenegger to pick out their song You Could Be Mine for T2: Judgment Day, and it would appear that, according to Kevin Burwick from MovieWeb, they're about to become part of the movie again. This time around they'll be releasing new material for Dark Fate, but it's easy to think that their initial song might be included in there somewhere as well. It'd be a nice throwback to the 90s since it was such an iconic song that few people really took the time to notice when it played for the first time. During the release of the movie too many folks were so intently focused on getting to see John Connor and Sarah that the song kind of got lost in the mix, but it would come back eventually in Terminator: Salvation as a nice nod to the kind of music that John had listened to as a boy.
The song was, in that ill-fated movie, used as a lure for a different type of tracking AI that John commandeered after disabling it, and that was about where it stopped, which could have been symbolic or just another part of the movie depending on who you ask. The point of having GNR's song in the movie back then was pretty simple, Arnold liked it and picked it out for the young John Connor played by Edward Furlong. Back then John Connor was kind of punk really that knew how to do certain things that were highly illegal but had been taught to him by his survivalist mother that had been admitted to a nuthouse after being caught trying to destroy any chance of Skynet being born. He was still the favored character of the movie next to the terminator since he was after all the future savior of humanity according to everything we'd learned thus far. As the movie went along however he was still popular, but he was also still something of a punk that didn't seem to understand the way the world worked.
Once he started integrating into the story a little further and it was understood that he wanted his mother to be, well, his mother, it was easier to like him since he was a vulnerable kid that was acting tough and hadn't been given a fair shake at life thanks to his supposed destiny. As the movie went along one got the idea that he wasn't going to just embrace his destiny no matter what happened, but he was going to do his best to survive since he finally started listening to his mother and the terminator when it came to staying alive, and because of this he became a stronger character. It's still a question of how he's going to factor into Dark Fate, but as a lot of people want to believe you simply can't have the Terminator movies without John Connor any longer, as he's been there for every single one apart from the first movie. A rumor that Adam Holmes from CinemaBlend and many others have seemed to latch onto is that John is either dead or in hiding during Dark Fate, as going off the grid is obviously something he has no trouble doing. After all he did this in the third movie and Skynet had to start offing those closest to him since it couldn't find him, which eventually resulted in one of the biggest coincidences in movie history as the terminator ended finding him after seeking out the woman that would become his wife.
It's already been established that the canon from the third movie onward is no longer considered as what's important and that's been accepted by a lot of fans already since the mess that became the Terminator franchise was rolling onward in a constant state of renewal it seems as the machines and humans were attempting to one-up each other continually as they sought to gain dominance. The one vicious blow that the machines finally struck was when Kyle Reese went back in time during Genysis. Skynet struck finally and found John Connor in its clutches, turning him into something that wasn't a typical terminator but wasn't even close to being accepted by the fans. Personally I thought the newest terminator was something kind of interesting, but the two that are showing up in Dark Fate are even more impressive since no terminator until now has been able to copy itself in the manner we've seen in the trailers. That ability alone is reason enough to want to go and see this movie since the promise of new effects and technology is something that tends to draw a lot of people in. But the idea of seeing John Connor and hearing new GNR music could do it too for some people.